4smarts ErgoFix H6 Adjustable Floor Stand For Phone & Tablets - White
This premium quality floor stand from 4smarts gives you the freedom to choose. Use to watch movies, read recipes whilst cooking or even at a hotel to check in!. Place any device between 4.7-15.6" into the clamps, adjust to your chosen height, angle & tilt
Warum diesen Artikel kaufen?
High-quality design
Sleek, professional design
Full freedom of movement
Keep your device stable
Fits devices between 4.7 - 15.6 inches
Brilliant for watching media, working and more
Beschreibung
The ultimate, high quality, premium portable smartphone and tablet stand. This fully adjustable stand from 4smarts is ideal for many different applications including retail spaces, offices, events or restaurants. The simple yet elegant stand is highly portable and therefore can easily be transported to different locations. Choose where to use the stand, at one height, at what tilt and at what angle with this fully adjustable mount from 4smarts. Once you've chosen the perfect angle, the highly sturdy, durable stand will keep your smartphone or tablet locked in place - allowing you to cook, play music or watch a movie without worrying about the screen changing position.
High-quality design
The noble aluminium alloy with its satin finish gives the stand a high-quality and elegant appearance. The silicone retaining clips prevent damage to your device. The mount is made of one piece, and therefore is extremely stable and robust.
The highly durable frame will keep your device completely safe and secure, allowing you to feel secure that when customers use the iPad to check in, it will not fall out! Nor will it move from its position whilst you cook.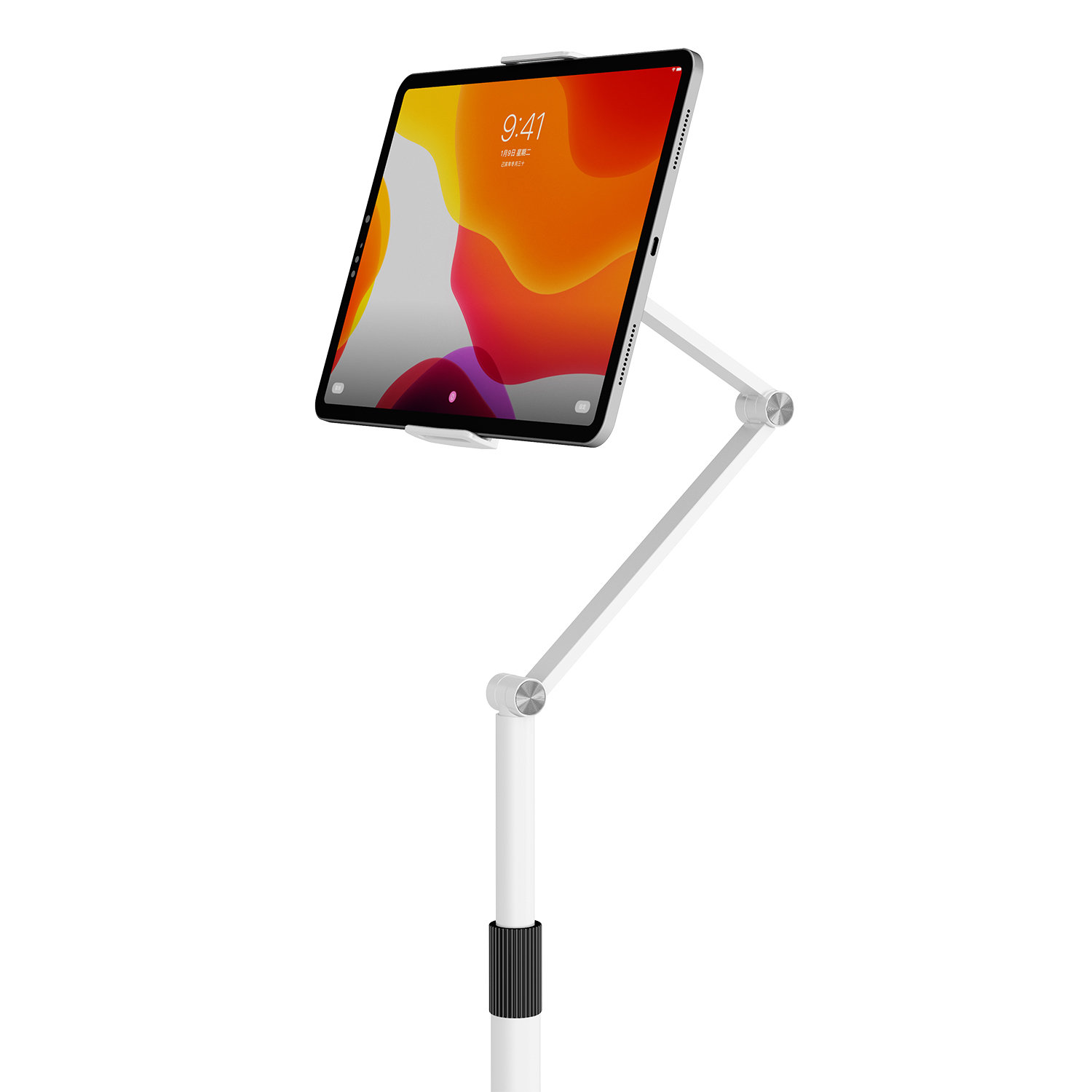 Full freedom of movement
Design your workspace the way you want. Set the most comfortable tilt angle and work in the most comfortable position. The height of the ErgoFix is individually adjustable and the arm as well as the holder can be rotated 360°. This means you can turn the stand to whatever angle you want.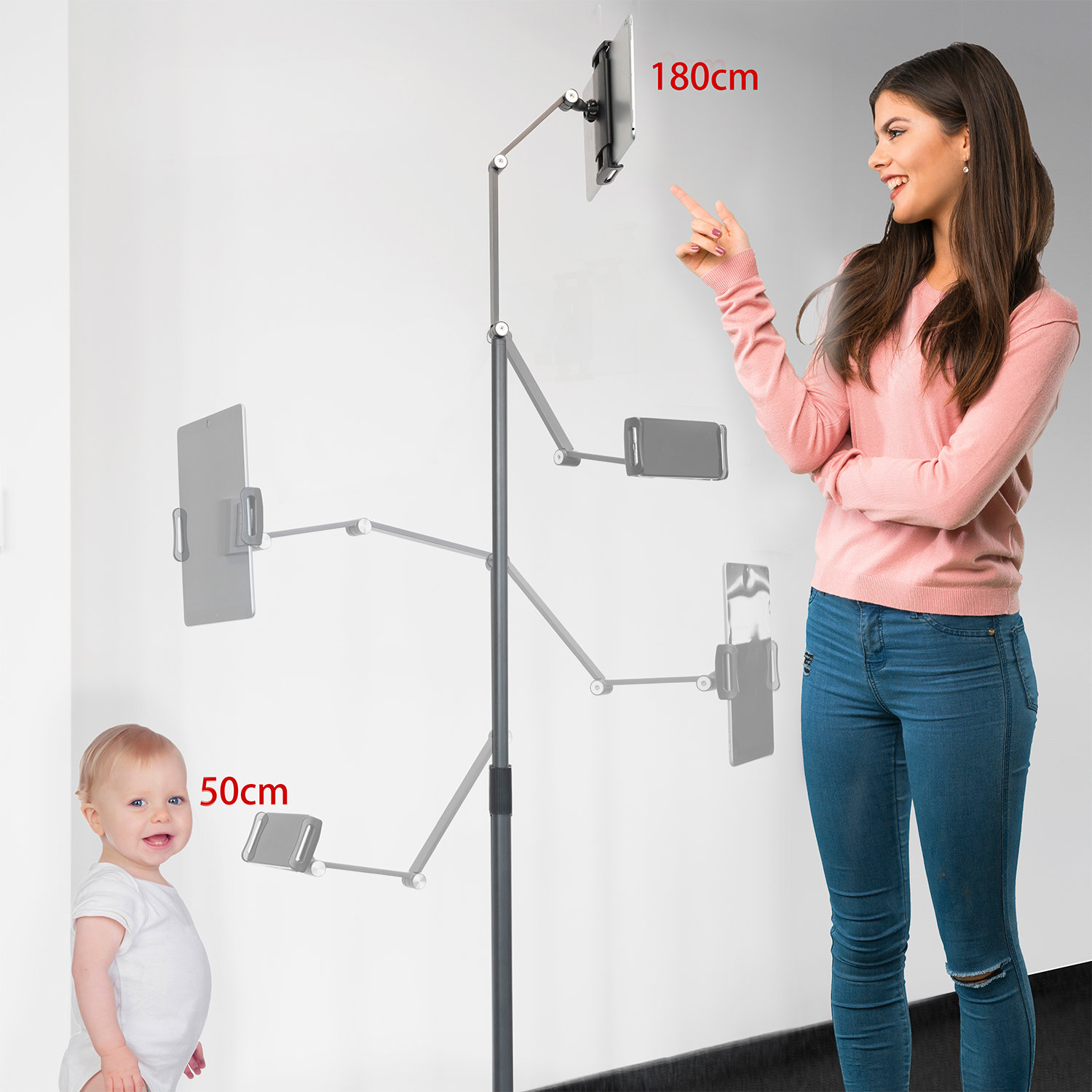 Keep your device stable
Due to the sturdy material this stand has been made from, it keeps your device completely safe and secure. The installation is extremely easy, with no need to drill into anywhere or damaging your case. It simply clamps around your device, keeping it safe at your chosen angle and height.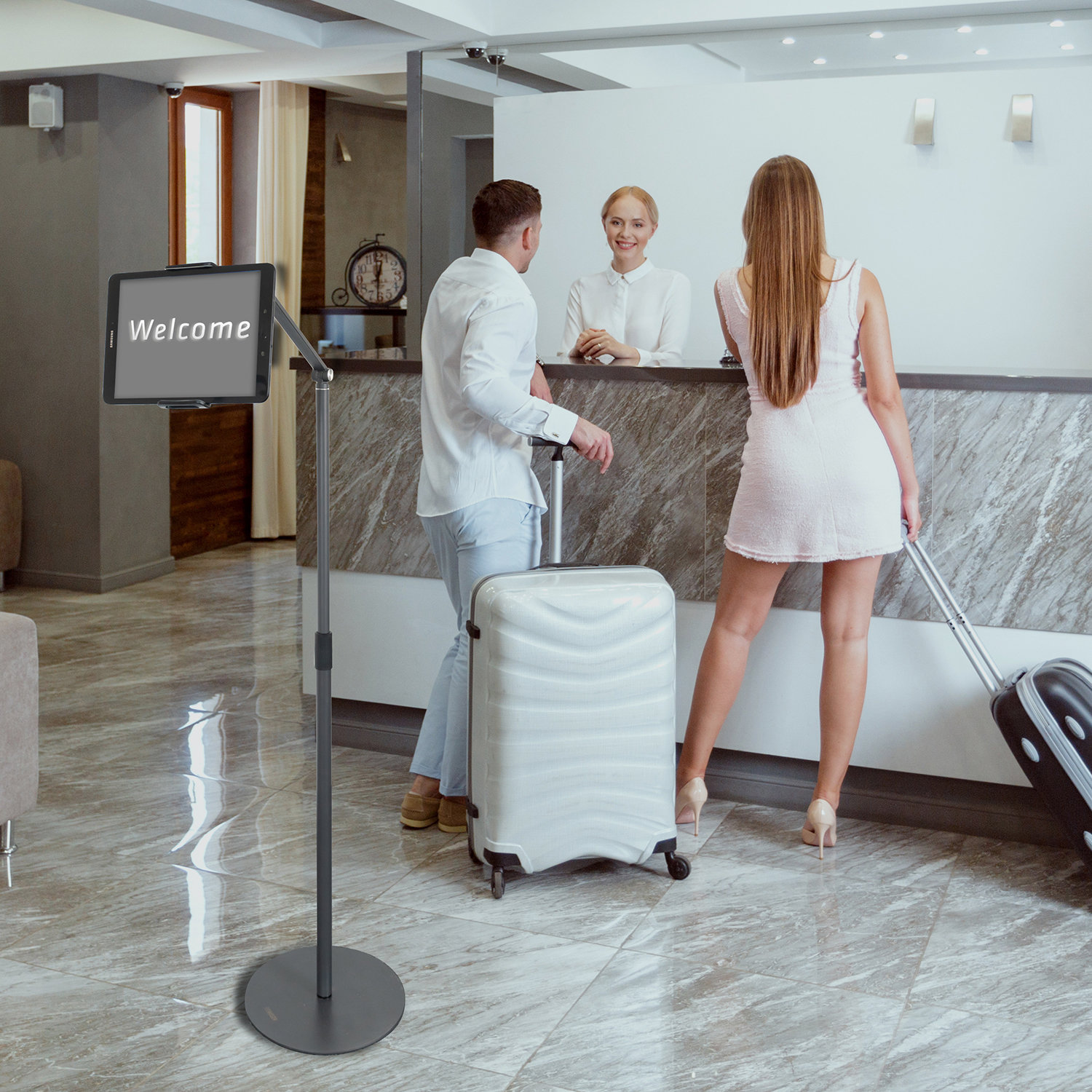 Fits devices between 4.7 - 15.6 inches
This stand fits any devices between 4.7 to 15.6 inches. This includes all mobile devices including Apple & Android phones, iPads, tablets & more. All of these will easily fit into the stand, even when the device has a case on it due to the adjustable clamps.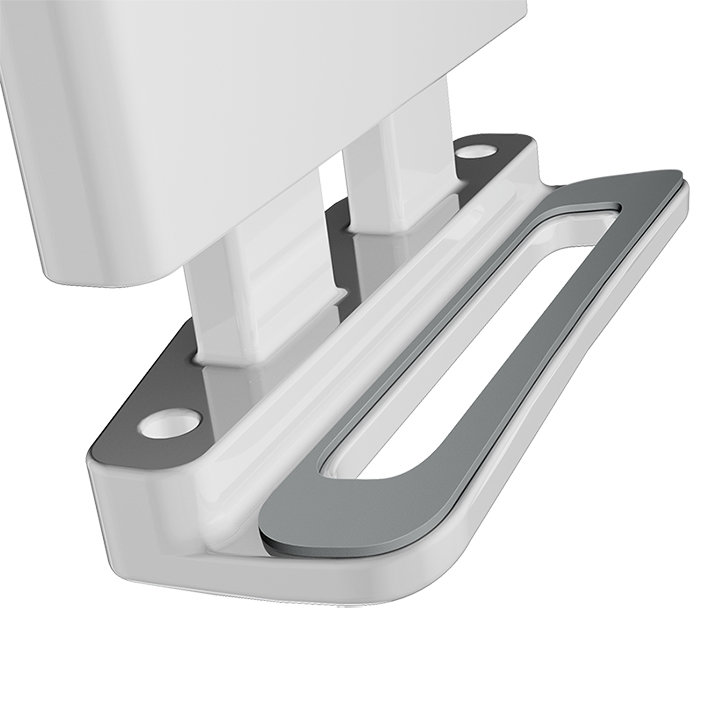 Brilliant for watching media, working and more
Your ErgoFix can be used in many situations. The stand is perfect for watching movies, reading e-books, following recipes, surfing the web, conducting presentations, viewing photos or anything else you can think of. After a simple adjustment, you can alter the angle of how your tablet is held so it is more comfortable for typing. You can even consider it as the perfect easel for artwork. Perfect for using at home, in the office or on public transport. It's a high professional grade product that is affordable and great value for money.
Not only can you use it for personal uses, but it can also be used in a hotel or at a workplace to keep your iPad in the perfect position for those checking in - this is a great feature in the current climate, as it minimises face to face contact and allows all checking in and out to be done virtually.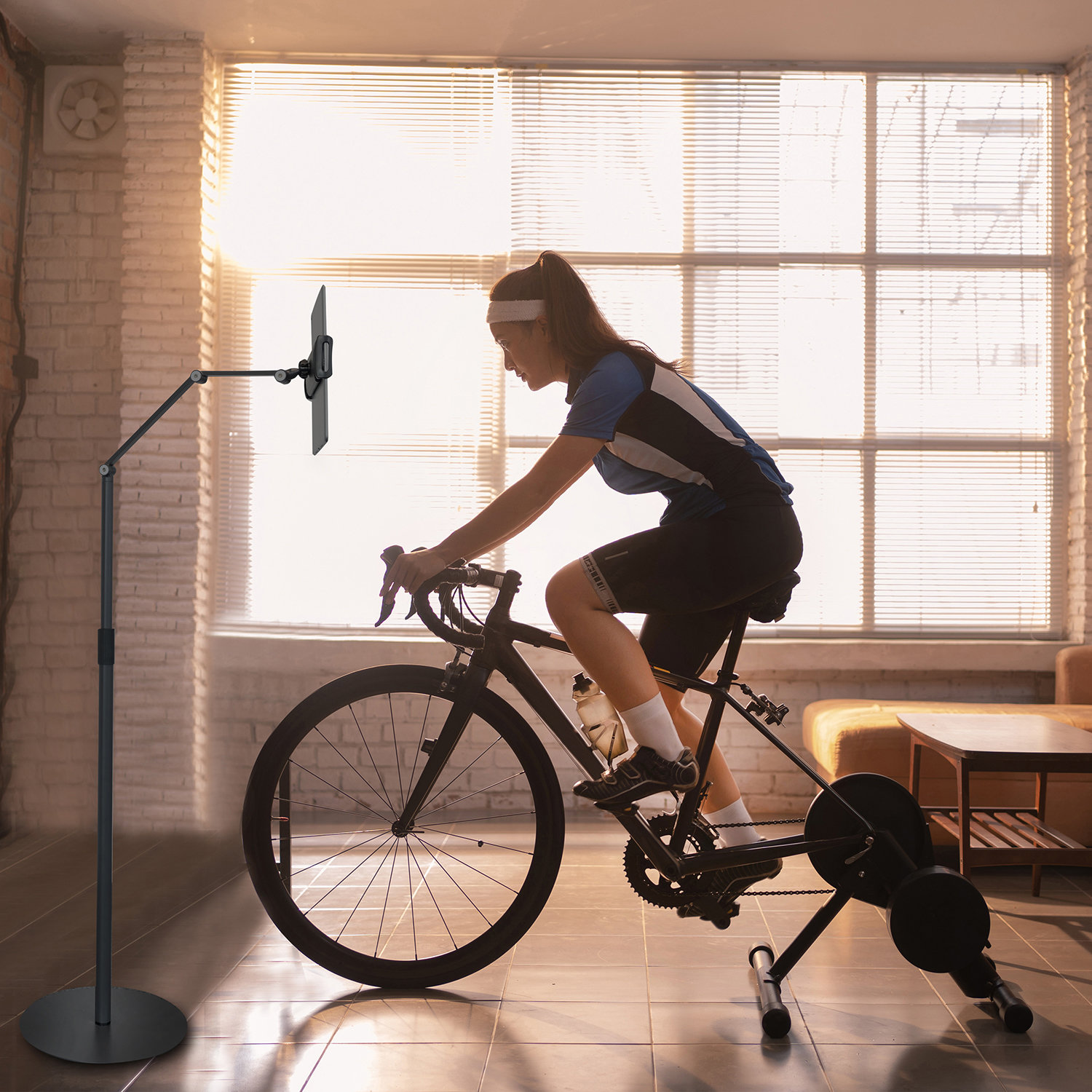 Technical Specifications:
Material: Aluminum alloy + Silicone
Product height: 63-168cm
Base diameter: 30cm
Phone/pad size: 4.7-15.6 inch
Pivot: 360°
Swivel: 180°
Tilt: 120°
Clamp size: 125-255mm
Weight: 4450g
Wesentliche Details
| | |
| --- | --- |
| Part No | 4S469308 |
| UPC | 4250774955129 |
| Mobile Fun ID | 84813 |
| Farbe | Weiss |
Lieferung & Retouren
Liefermöglichkeiten für Deutschland / Österreich:

Warensendung - Versandkosten: 2,99 €
Zustellung ab Versand: in 4-8 Werktagen.
Warensendung mit Sendungsverfolgung - Versandkosten: 10,99 €
Zustellung ab Versand: in 2-4 Werktagen.
DHL Express für Deutschland - Versandkosten: 19,50 €
Zustellung ab Versand: am nächsten Tag (Mo-Fr) bei Bestellung vor 17 Uhr


DHL Express für Österreich - Versandkosten: 22,50 €
Zustellung ab Versand: am nächsten Tag (Mo-Fr) bei Bestellung vor 17 Uhr


HINWEIS: Sie können die Standardzustellung nur mit einem Einkaufskorb unter 60 € auswählen. Ist dies der Fall, müssen Sie eine nachverfolgbare Zustellungsmethode auswählen.
Wenn Ihr Warenkorb über 120 € liegt, müssen Sie aus Sicherheitsgründen DHL Express wählen.
Ab dem 01.01.2021 unterliegen Bestellungen, die in die EU versendet werden, der Einfuhrumsatzsteuer, wenn der kombinierte Produkt- und Versandpreis 22 € übersteigt. Wenn der Bestellwert 150 € überschreitet, fallen möglicherweise auch Zollgebühren an. Weitere Informationen finden Sie auf der Website Ihrer Gemeinde.
Wenn der Wert ihrer Bestellung und Versandkosten (nicht mit DHL) 22€ übersteigt, und Sie verschiedene Artikeln gekauft haben, senden (or liefern) wir Ihnen die Ware einzeln verpackt (bis zu 3 Paketen) wenn möglich um die MwSt. nicht zu entrichten.
Wenn der Wert ihrer Bestellung und Versandkosten unter 22€ liegt, entfällt die MwSt.
Weigerung, Gebühren zu zahlen - Rückgaberecht
Wenn Sie sich weigern, den auf Ihre Sendung erhobenen Einfuhrzoll oder die Mehrwertsteuer zu zahlen, kann dies dazu führen, dass die Sendung an Mobile Fun zurückgesandt wird. In diesem Fall werden alle damit verbundenen Rücknahmegebühren zuzüglich einer Mindestverwaltungsgebühr von £ 5,00 (oder einer entsprechenden Währung zum aktuellen Wechselkurs) auf Ihren endgültigen Rückerstattungsbetrag angerechnet.