Baseus Hermit 2-in-1 Desktop Fan with Wireless Charger - White
Working from your PC and need your phone to be charged at a moment's notice? The Baseus 2in1 desktop fan has you covered! Wirelessly charge your Android smartphone, iPhone or compatible wireless charging smart device whilst having a fan to keep you cool!
Key Features
Wirelessly charge your smart device
Perfect desktop companion
10W fast wireless charging
Oscillating fan
Sleek modern design
Beschreibung

If you often work from a desk - either at home or in the office - and you find yourself hot and stuffy then the Baseus Hermit 2-in-1 Desktop Fan with Wireless Charging is the perfect desktop accessory for you! Not only will the fan blow a cool breeze whilst you work, but you can also wirelessly charge your phone, leaving you with more desk space for your photos and other tech accessories.
Provides Fast Wireless Charging For Your Qi-Enabled Phone
Designed for quick and intuitive fast charging, Qi Wireless Charging allows you to charge your Qi-enabled smartphone without the mess of charging cables at fast charging speeds. The Baseus Hermit 2-in-1 Desktop Fan and Wireless Charger uses Qi induction technology to charge your phone quickly and easily once it is placed onto the base of the fan.

Simply place your Qi-enabled smartphone within the holder and watch as it begins charging without having to connect any wires to the phone.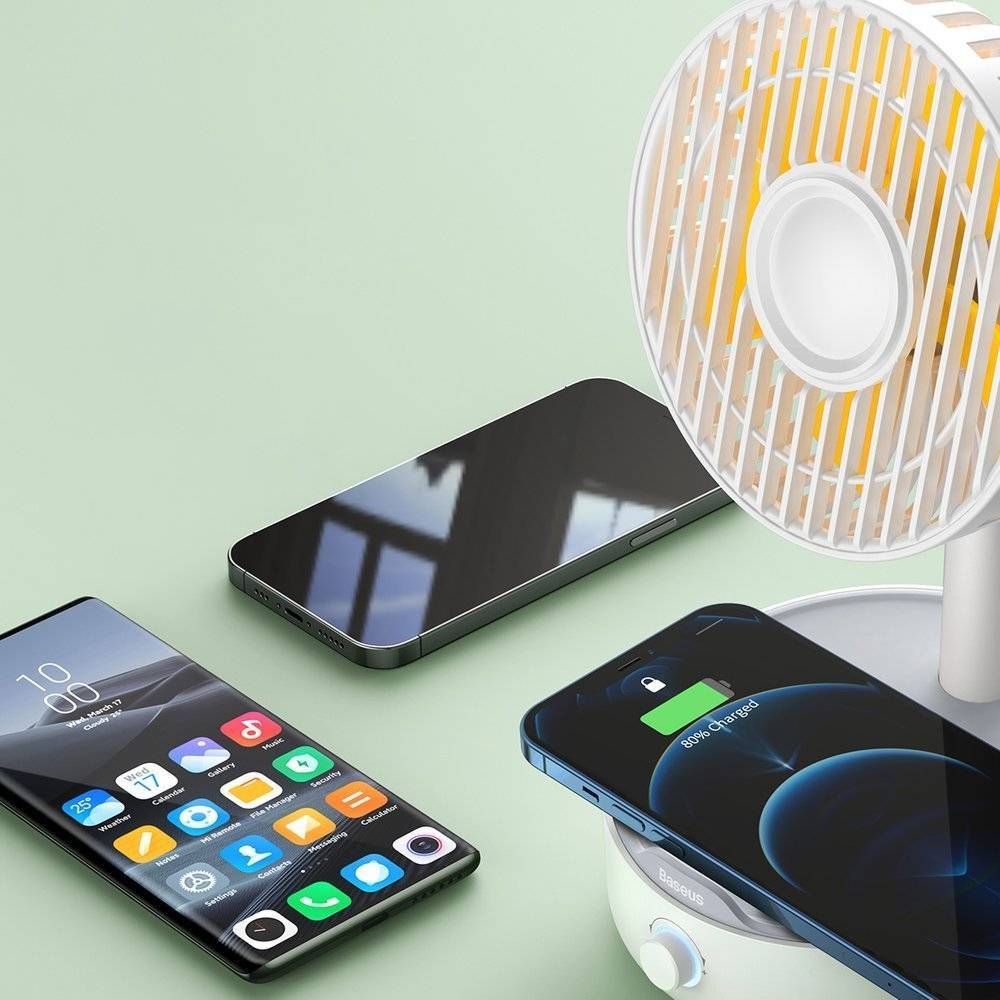 USB-C connectivity
The fan is easily connected with the included USB-C cable and plug!
Desktop Fan
The desktop fan runs at 4w and whilst in automatic mode ranges from right and left from -65° to +65° and up and down from –15° to +30° in manual mode - giving you the perfect cooling breeze to make work, online lectures, social media browsing or digital art creation as stress-free as possible!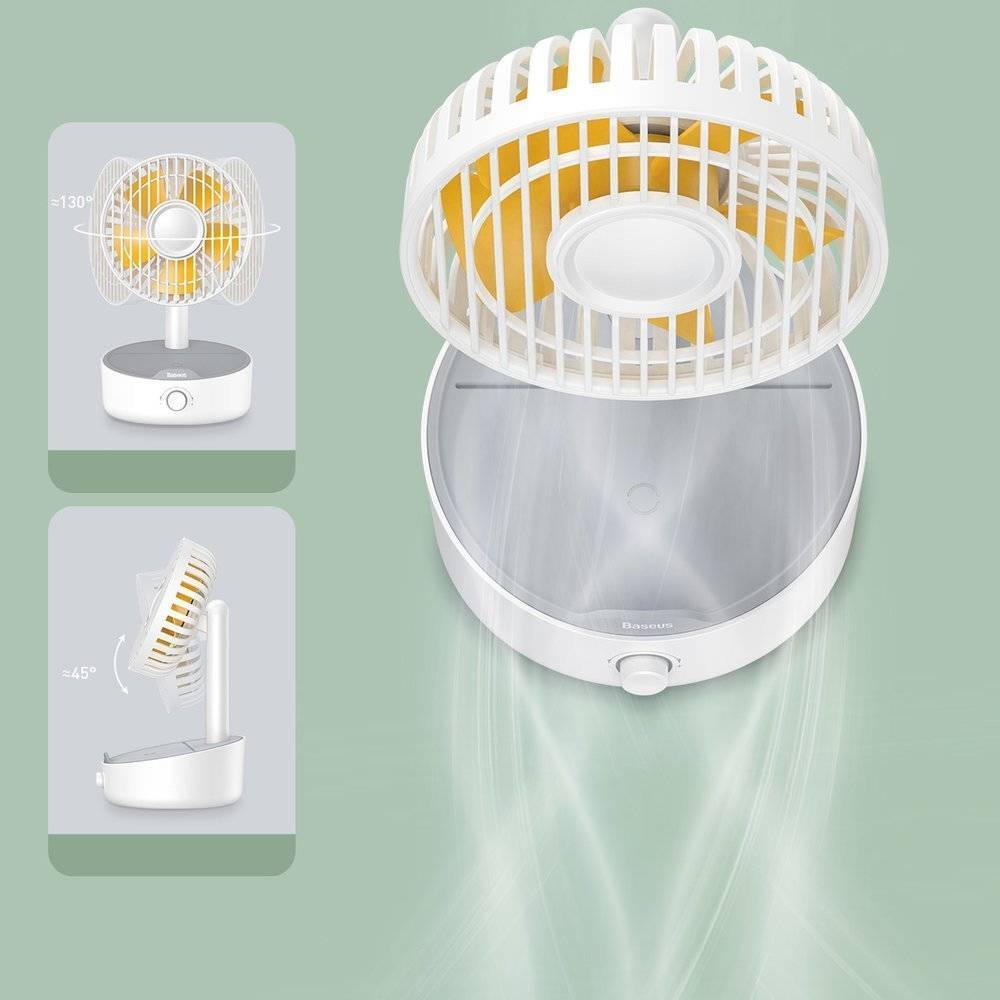 Free Up Valuable Desktop Space
Because this is a 2-in-1 it means that you have more desktop space for the things that really matter, whether that is family photos, paintbrushes and art supplies, textbooks and notepads or even your handy supply of helpful gadgets! No more separate fan and phone charger Baseus has combined both to give you the ultimate convenience!
Sleek Design
The Baseus Hermit 2-in-1 Desktop Fan And Wireless Charger packs a punch with its 2-in-1 features, however, that doesn't mean it can't also be an attractive accessory for your desk! The Baseus Desktop fan is a beautiful sleek gadget that will complement any desk arrangement! With a sleek design, it also means it won't take up your entire desk! All of the Functionality is met with the elegance of Baseus' beautiful design language.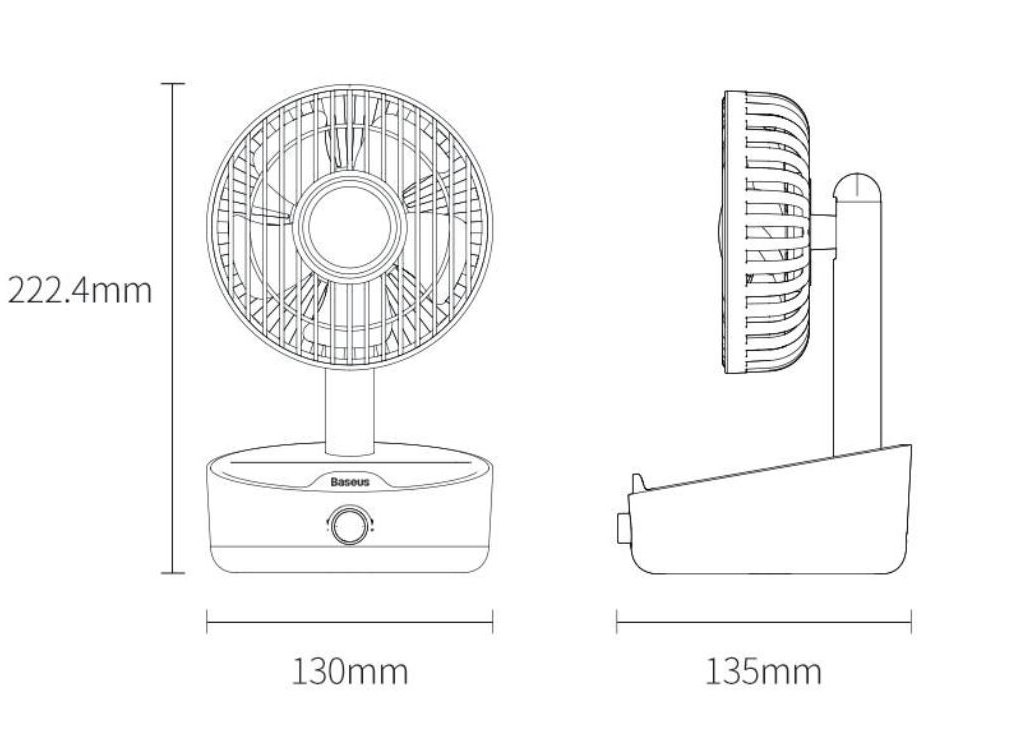 Please note: The Baseus charger comes with an EU 2 pin plug
Was befindet sich in der Box?
1 x Baseus Hermit 2-in-1 Desktop Fan with Wireless Charging
1 X USB-C cable
1 X EU 2 pin plug
Wesentliche Details
| | |
| --- | --- |
| Part No | WXYZ-B02 |
| UPC | 6953156224308 |
| Mobile Fun ID | 89219 |
| Farbe | Weiss |
| Brand Name | Baseus |
Lieferung & Retouren
Liefermöglichkeiten für Deutschland / Österreich:

Warensendung - Versandkosten: 2,99 €
Zustellung ab Versand: in 4-8 Werktagen.
Warensendung mit Sendungsverfolgung - Versandkosten: 10,99 €
Zustellung ab Versand: in 2-4 Werktagen.
DHL Express für Deutschland - Versandkosten: 24,99 €
Zustellung ab Versand: am nächsten Tag (Mo-Fr) bei Bestellung vor 17 Uhr


DHL Express für Österreich - Versandkosten: 26,99 €
Zustellung ab Versand: am nächsten Tag (Mo-Fr) bei Bestellung vor 17 Uhr


HINWEIS: Sie können die Standardzustellung nur mit einem Einkaufskorb unter 60 € auswählen. Ist dies der Fall, müssen Sie eine nachverfolgbare Zustellungsmethode auswählen.
Wenn Ihr Warenkorb über 120 € liegt, müssen Sie aus Sicherheitsgründen DHL Express wählen.
Wenn Ihre Bestellung weniger als 150 € ohne Versandkosten beträgt, ist die Mehrwertsteuer bereits in dem Preis enthalten. Dies bedeutet, dass keine zusätzliche Mehrwertsteuer zur Zahlung fällig wird, wenn Ihre Bestellung an Sie geliefert wird. Weitere Informationen finden Sie an der Lieferbedingungen Seite.


Notiz: Die voraussichtlichen Ankunftszeiten werden direkt den Angaben unserer Kuriere entnommen. Dies sind nur Schätzungen, Mobile Fun ist nicht verantwortlich, wenn dies variiert. Alle Produkte werden aus unserem Lager in Großbritannien versendet. Fehlende oder verspätete Artikel: Bitte beachten Sie, dass wir 20 Arbeitstage warten müssen, bevor wir verlorene Artikel zurückverfolgen, ersetzen oder erstatten können. Der Postdienst steht für Bestellungen mit hohem Wert nicht zur Verfügung, es wird die Expressversandmethode angewendet.
Weigerung, Gebühren zu zahlen - Rückgaberecht
Wenn Sie sich weigern, den auf Ihre Sendung erhobenen Einfuhrzoll oder die Mehrwertsteuer zu zahlen, kann dies dazu führen, dass die Sendung an Mobile Fun zurückgesandt wird. In diesem Fall werden alle damit verbundenen Rücknahmegebühren zuzüglich einer Mindestverwaltungsgebühr von £ 5,00 (oder einer entsprechenden Währung zum aktuellen Wechselkurs) auf Ihren endgültigen Rückerstattungsbetrag angerechnet.