Baseus Mate 100W USB-C 8-in-1 Docking Station and Stand
Synchronise and charge your USB-C compatible smartphone with the stylish and compact 100W USB-C Docking Station and Stand from Baseus. This handy dock also doubles as a desk stand and 8-in-1 hub - unlocking new possibilities for your device.
Key Features
Dual-display
Universal USB-C connector
8-in-1 hub
Super-fast charging
Compact, lightweight build - perfect for portability
Beschreibung

Dual-display
The Baseus Mate 100W USB-C 8-in-1 Docking Station and Stand features two display modes when connected to a smartphone and monitor - expanding and mirroring mode. For the expanding mode, it provides you with split screen operation of the phone, you can use your phone screen and monitor for different functions without interrupting each other. Then in mirroring mode, it synchronises the display of the phone and connected monitor - great for gaming and watching movies/videos.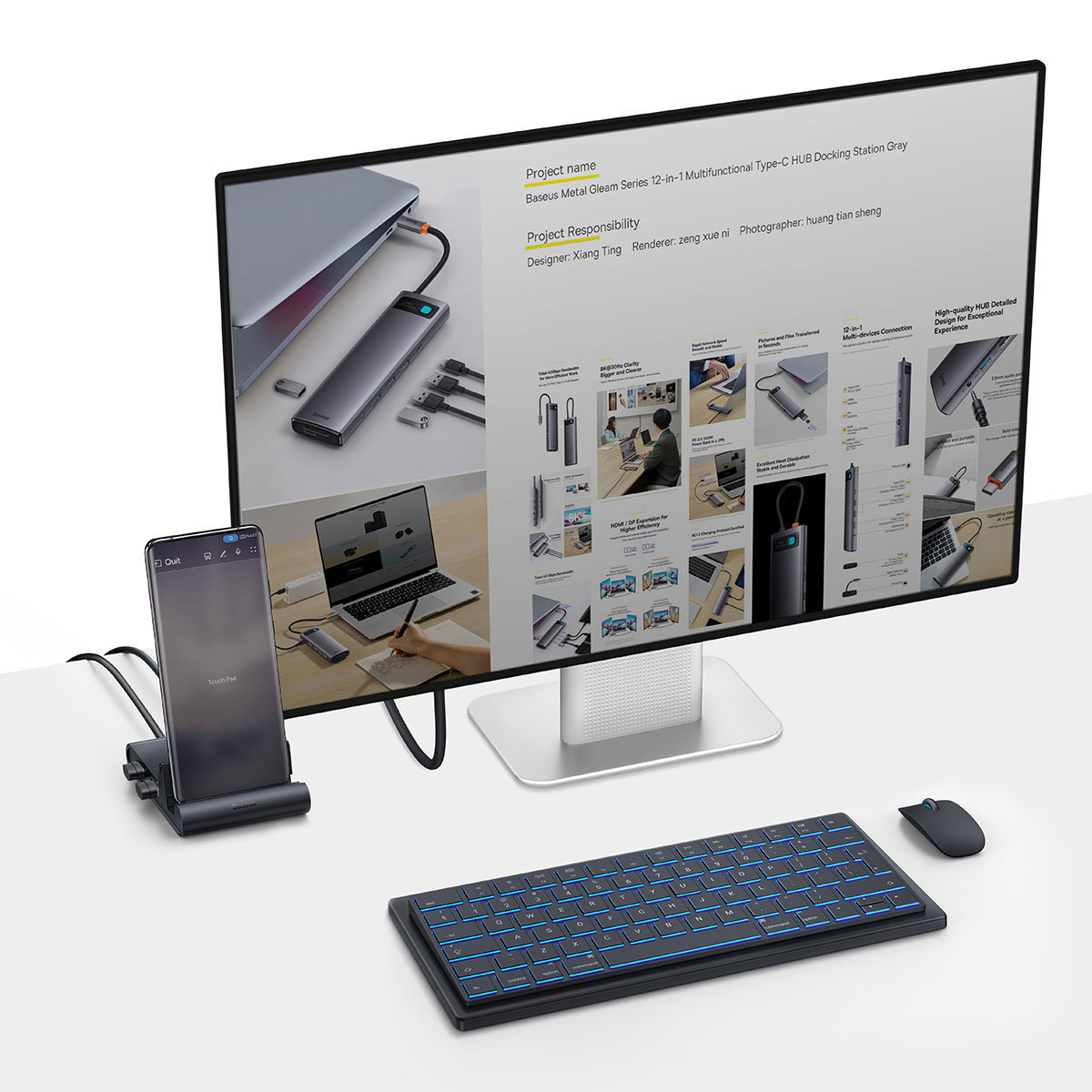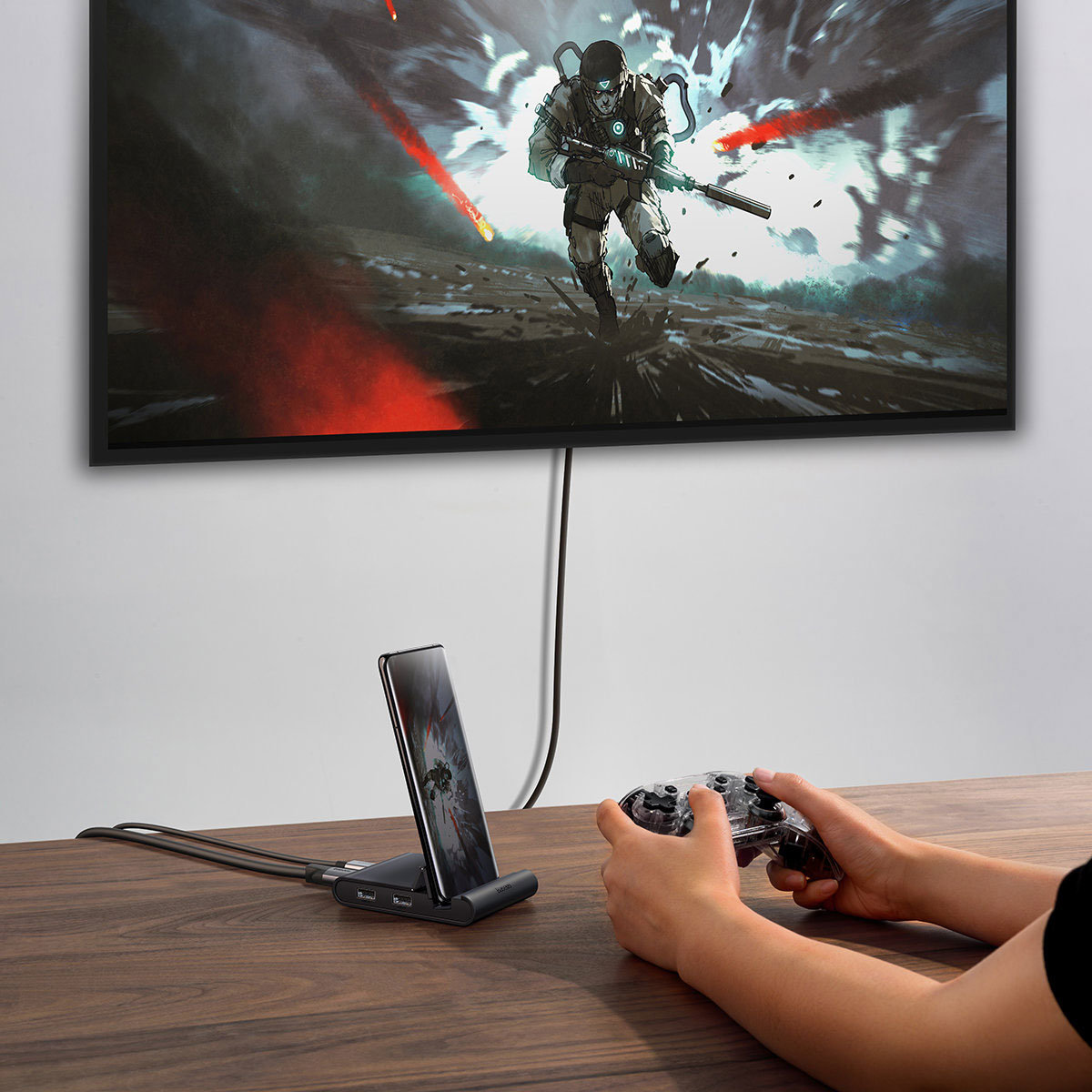 Universal USB-C connector
More and more devices are adopting the USB-C standard - a faster, better and fully reversible connector which is capable of carrying significant current, as well as achieving impressive data transfer speeds. This dock has a universal USB-C connector which will work with any USB-C compatible device on the market with a centred charging port.
8-in-1 hub
The Baseus Mate Docking Station and Stand is an 8-in-1 hub, featuring a USB-C male port, 2x USB 2.0 ports, a TF card slot, an SD card slot, a USB 3.0 port, a Type-C PD port, and a 4K HD port - allowing you to connect multiple devices/accessories.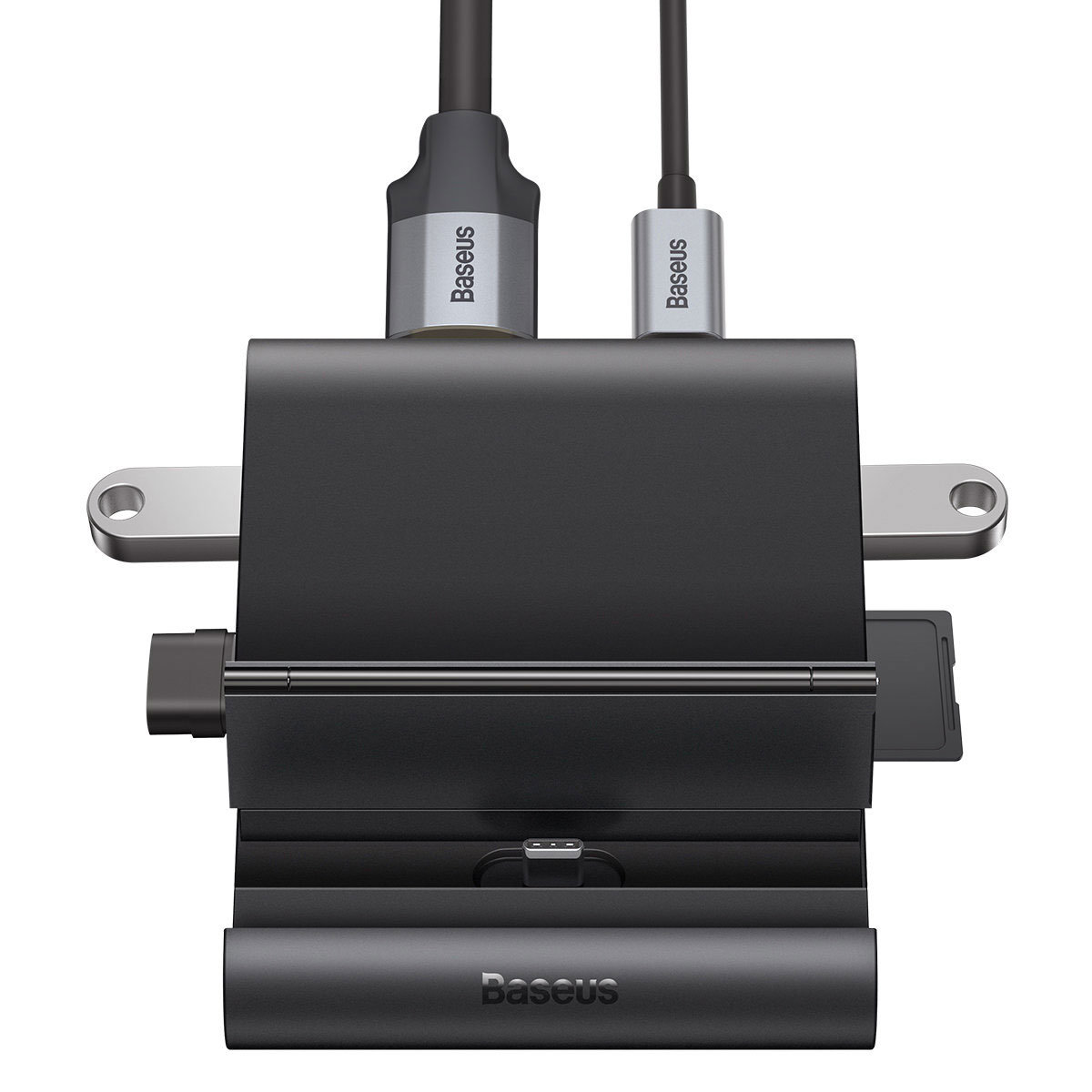 Super-fast charging
This charging dock features a Power Delivery 100W super-fast charging function, which means that you can charge your tablet or phone at high speeds. The Baseus dock also allows for fast data transfer at up to 5Gbps, so you can quickly and easily back up important data from your device onto your computer or laptop.
Compact, lightweight build - perfect for portability
You can take this dock anywhere you need to go. The Baseus docking station folds down to become very compact, making it very portable - why lose access to your charging dock just because you're not at home?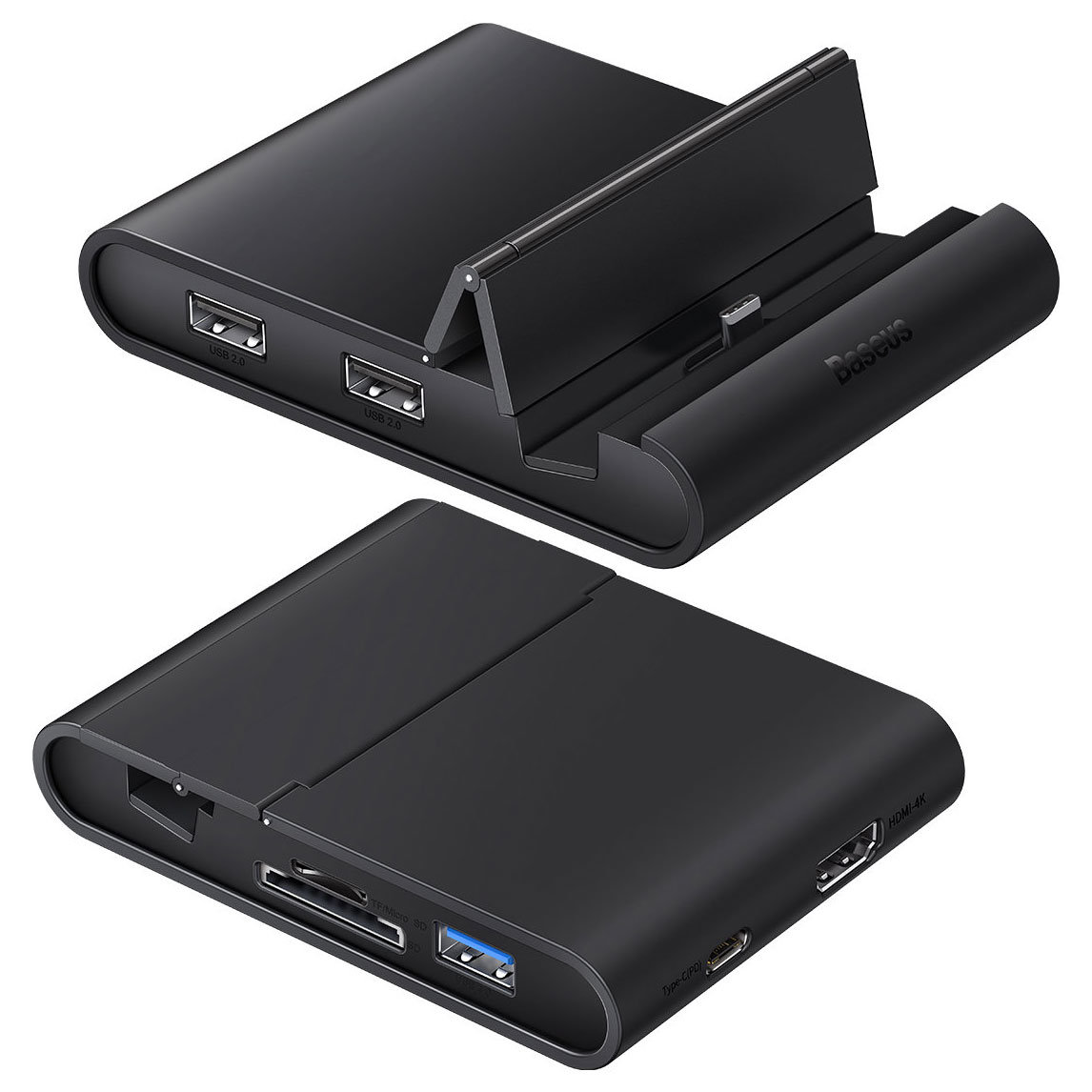 Technical Specifications
Input current: 5V/3A, 9V/3A, 15V/3A, 20V/5A
Output current: 5V/0.9A, 5V/0.5A
Fast charging standard: PD (Power Delivery)
USB standard: USB 2.0 Hi-Speed (USB 480 Mbps); USB 3.2 Gen 1 (USB 5 Gbps) (USB 3.0, USB 3.1 Gen 1)
Connector type: USB-A (female); USB-C (male); USB-C (female); TF; SD; HDMI-A (female)

Wesentliche Details
| | |
| --- | --- |
| Part No | WKMD000001 |
| UPC | 6932172607937 |
| Mobile Fun ID | 96703 |
| Farbe | Schwarz |
| Brand Name | Baseus |
Lieferung & Retouren
Liefermöglichkeiten für Deutschland / Österreich:

Warensendung - Versandkosten: 2,99 €
Zustellung ab Versand: in 4-8 Werktagen.
Warensendung mit Sendungsverfolgung - Versandkosten: 10,99 €
Zustellung ab Versand: in 2-4 Werktagen.
DHL Express für Deutschland - Versandkosten: 24,99 €
Zustellung ab Versand: am nächsten Tag (Mo-Fr) bei Bestellung vor 17 Uhr


DHL Express für Österreich - Versandkosten: 26,99 €
Zustellung ab Versand: am nächsten Tag (Mo-Fr) bei Bestellung vor 17 Uhr


HINWEIS: Sie können die Standardzustellung nur mit einem Einkaufskorb unter 60 € auswählen. Ist dies der Fall, müssen Sie eine nachverfolgbare Zustellungsmethode auswählen.
Wenn Ihr Warenkorb über 120 € liegt, müssen Sie aus Sicherheitsgründen DHL Express wählen.
Wenn Ihre Bestellung weniger als 150 € ohne Versandkosten beträgt, ist die Mehrwertsteuer bereits in dem Preis enthalten. Dies bedeutet, dass keine zusätzliche Mehrwertsteuer zur Zahlung fällig wird, wenn Ihre Bestellung an Sie geliefert wird. Weitere Informationen finden Sie an der Lieferbedingungen Seite.


Notiz: Die voraussichtlichen Ankunftszeiten werden direkt den Angaben unserer Kuriere entnommen. Dies sind nur Schätzungen, Mobile Fun ist nicht verantwortlich, wenn dies variiert. Alle Produkte werden aus unserem Lager in Großbritannien versendet. Fehlende oder verspätete Artikel: Bitte beachten Sie, dass wir 20 Arbeitstage warten müssen, bevor wir verlorene Artikel zurückverfolgen, ersetzen oder erstatten können. Der Postdienst steht für Bestellungen mit hohem Wert nicht zur Verfügung, es wird die Expressversandmethode angewendet.
Weigerung, Gebühren zu zahlen - Rückgaberecht
Wenn Sie sich weigern, den auf Ihre Sendung erhobenen Einfuhrzoll oder die Mehrwertsteuer zu zahlen, kann dies dazu führen, dass die Sendung an Mobile Fun zurückgesandt wird. In diesem Fall werden alle damit verbundenen Rücknahmegebühren zuzüglich einer Mindestverwaltungsgebühr von £ 5,00 (oder einer entsprechenden Währung zum aktuellen Wechselkurs) auf Ihren endgültigen Rückerstattungsbetrag angerechnet.