Baseus Mini Dual Port USB-A UK Mains Charger - White
This White Dual Port 10.5W USB Mains Charger from Baseus is a great value, compact adapter with two universal USB-A charging ports. Use any of your standard USB charging cables to quickly charge a variety of devices, such as mobile phones, tablets & more.
Key Features
High power 10.5W output for fast charging
Features 2 USB-A ports for simultaneous charging
Short circuit and overload protection
Compact, portable design
Universal compatibility
Beschreibung

High power 10.5W output for fast charging
Designed specifically for 10.5W power. This Baseus UK Mains Charger can safely and effectively charge 2 devices at once, without any damage or overheating - providing enhanced safety to users and their devices. Combined with a compatible USB-A cable, your smartphone can charge up to 70% faster - meaning you don't need to keep your phone on charge overnight and damage the battery. Instead, you can plug it in when needed, get on with something else, and take it out less than 2 hours later. This time extra power means less responsibility - what more could you want?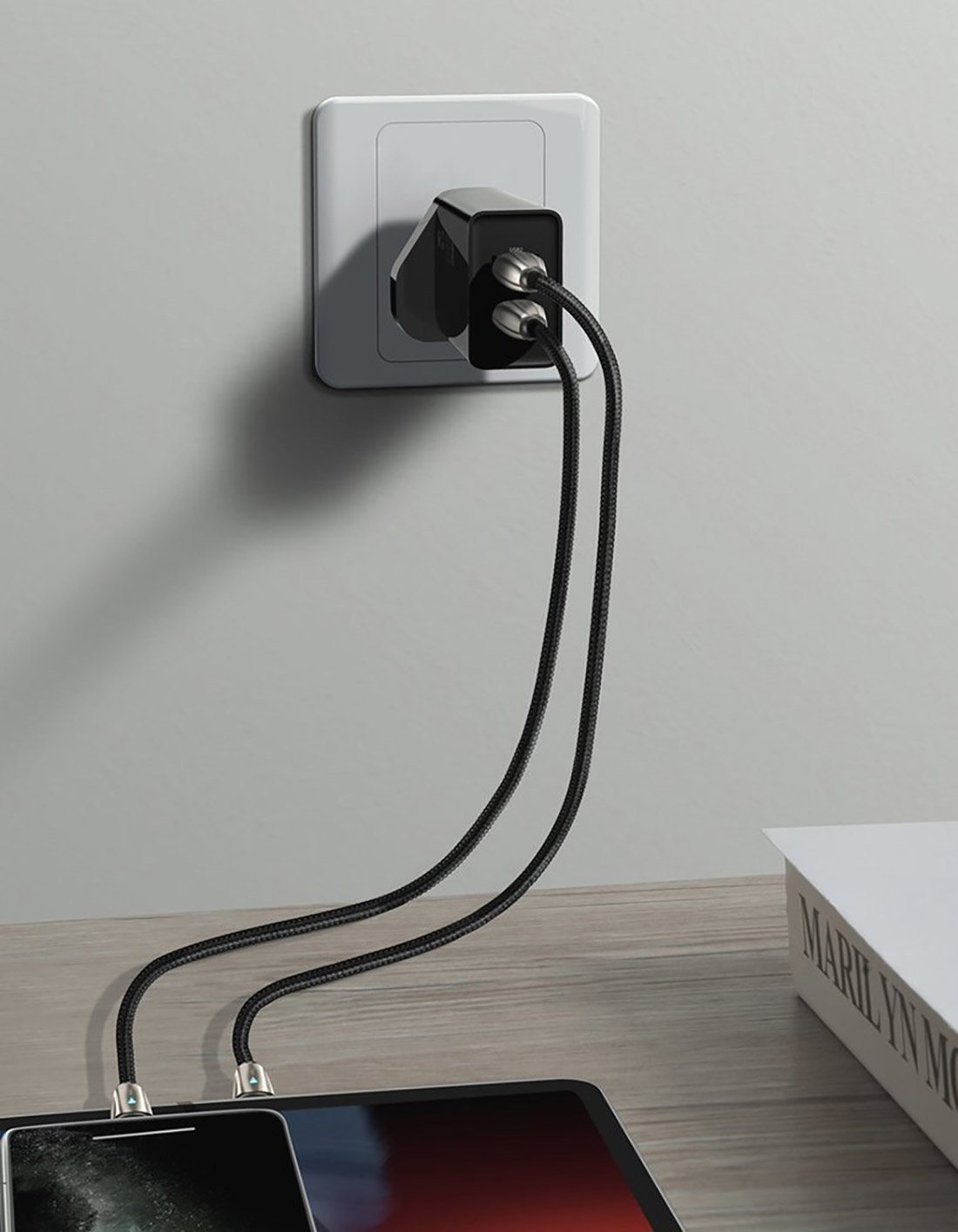 Features 2 USB-A ports for simultaneous charging
With an ever-growing number of devices in each household, having a charger which can simultaneously be used to charge multiple devices is a blessing. This Baseus Dual Port USB Charger can charge two devices at the same time, keeping the cable clutter to the very minimum.
Short circuit and overload protection
This power adapter takes care of your safety by offering a short circuit and overload protection whilst charging. This ensures the appropriate power output is used to charge your devices safely and efficiently, preventing it from overheating and catching fire.
Compact, stylish design
The Dual USB Port Mains charger features a really compact build, which is really similar to your official Apple charger's design. The white colour will ensure it looks classy in any setting - whether that is at home or in the office.
Universal compatibility
If your device charges via USB, you can use this adapter for charging - no matter whether you're using Android, iOS or any other type of device. This doesn't just apply to phones and tablets, either - you can charge e-readers, power banks or anything else which charges with a USB cable.
Please note: the charger does not come with any USB cables required for charging.
Technical Specifications:
Input: AC 100-240V, 50/60Hz, 300mA
USB1/2 output: DC 5V/2A Max.
Total output: DC 5V/2.1A Max.
Built-in load detection chip, automatic power off when overload, safer to use
Automatically matches charging current to reduce current consumption
100V-240V wide range voltage design to meet charging requirements
Product size: 83*48*43mm
Net weight: 62g
Wesentliche Details
| | |
| --- | --- |
| Part No | CCFS-S02 |
| UPC | 6953156216457 |
| Mobile Fun ID | 85466 |
| Farbe | Weiss |
| Brand Name | Baseus |
Lieferung & Retouren
Liefermöglichkeiten für Deutschland / Österreich:

Warensendung - Versandkosten: 2,99 €
Zustellung ab Versand: in 4-8 Werktagen.
Warensendung mit Sendungsverfolgung - Versandkosten: 10,99 €
Zustellung ab Versand: in 2-4 Werktagen.
DHL Express für Deutschland - Versandkosten: 24,99 €
Zustellung ab Versand: am nächsten Tag (Mo-Fr) bei Bestellung vor 17 Uhr


DHL Express für Österreich - Versandkosten: 26,99 €
Zustellung ab Versand: am nächsten Tag (Mo-Fr) bei Bestellung vor 17 Uhr


HINWEIS: Sie können die Standardzustellung nur mit einem Einkaufskorb unter 60 € auswählen. Ist dies der Fall, müssen Sie eine nachverfolgbare Zustellungsmethode auswählen.
Wenn Ihr Warenkorb über 120 € liegt, müssen Sie aus Sicherheitsgründen DHL Express wählen.
Wenn Ihre Bestellung weniger als 150 € ohne Versandkosten beträgt, ist die Mehrwertsteuer bereits in dem Preis enthalten. Dies bedeutet, dass keine zusätzliche Mehrwertsteuer zur Zahlung fällig wird, wenn Ihre Bestellung an Sie geliefert wird. Weitere Informationen finden Sie an der Lieferbedingungen Seite.
Weigerung, Gebühren zu zahlen - Rückgaberecht
Wenn Sie sich weigern, den auf Ihre Sendung erhobenen Einfuhrzoll oder die Mehrwertsteuer zu zahlen, kann dies dazu führen, dass die Sendung an Mobile Fun zurückgesandt wird. In diesem Fall werden alle damit verbundenen Rücknahmegebühren zuzüglich einer Mindestverwaltungsgebühr von £ 5,00 (oder einer entsprechenden Währung zum aktuellen Wechselkurs) auf Ihren endgültigen Rückerstattungsbetrag angerechnet.