Belkin Boost Charge 15W Dual Wireless Charging Pad EU Plug - Black
Nicht mehr lieferbar
-Nicht für den Verkauf verfügbar
Wirelessly charge your iPhone & AirPods using this Belkin Boost Charge Duo Wireless Charging Pad in black. With the option to charge 2 Qi compatible devices at once, this sleek charger from Belkin allows for fast, safe & effective wireless charging!
Key Features
Charge Two Devices Simultaneously
Offers fast charging
Charges through any case thinner than 3mm
Sleek & Ultra slim Belkin Design
Electromagnetic Field For Qi Wireless Charging
Please note this item has a EU Plug
Beschreibung
Fast wireless charging up to 15W for two devices at the same time. From living room to office, it's a perfect solution for a quick power boost when you have more than one phone or want to charge your phone and wireless earbuds at the same time. Universal compatibility keeps everyone happy with fast wireless charging for Android and iOS.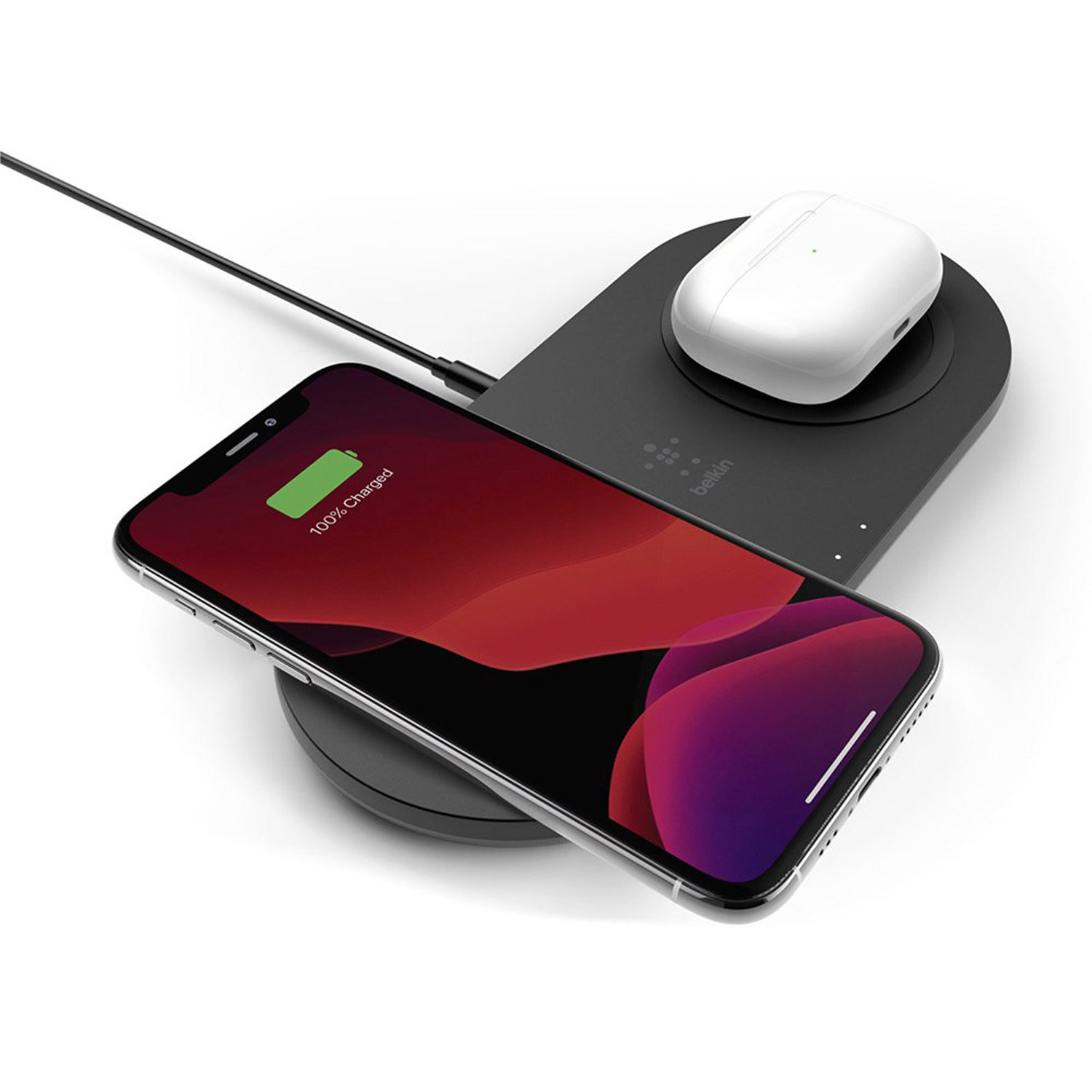 Charge two devices simultaneously
Aptly named, the Belkin Fast Wireless Charger Duo pad has the ability of charging two devices simultaneously. Whether that's two iPhones or one iPhone and your AirPods - the choice is endless with Belkin.
Offers fast charging; no more waiting for 8 hours for your devices to charge
The Belkin Dual Wireless Charging Pads enables you to charge your latest iPhone or Samsung device with seamless compatibility, and ultrafast convenience. The dual wireless charging pads deliver up to 10W of power, for a more reliable and faster charge all-round.
Charges through any case thinner than 3mm
There's no need to remove your device's protective case to enjoy these fast charging benefits, as the Belkin Dual Wireless Charging Pads has been designed to charge through 3mm cases.
Sleek and ultra slim Belkin design
This Belkin Qi wireless charging pad has been designed to complement any home or office. Not only does the charger save tangled cables from cluttering your desk space, but the pad actually looks aesthetically pleasing with its smooth contours and clean lines.
Electromagnetic field for Qi wireless charging
The Belkin Qi Wireless Charging Pad allows your smartphone and any other Qi Certified devices to charge wirelessly via electromagnetic field and inductive coupling that send an energy charge from the charging pad to your phone. This makes for a beautiful space saving way to charge your phone, AirPods or even some smartwatches at your desk, office or at home.
Compatibility
The Duo Pad is compatible with the latest wireless charging devices including the Samsung S & Note series, all Apple devices after iPhone 8 as well as other Qi enabled, wireless charging compatible devices.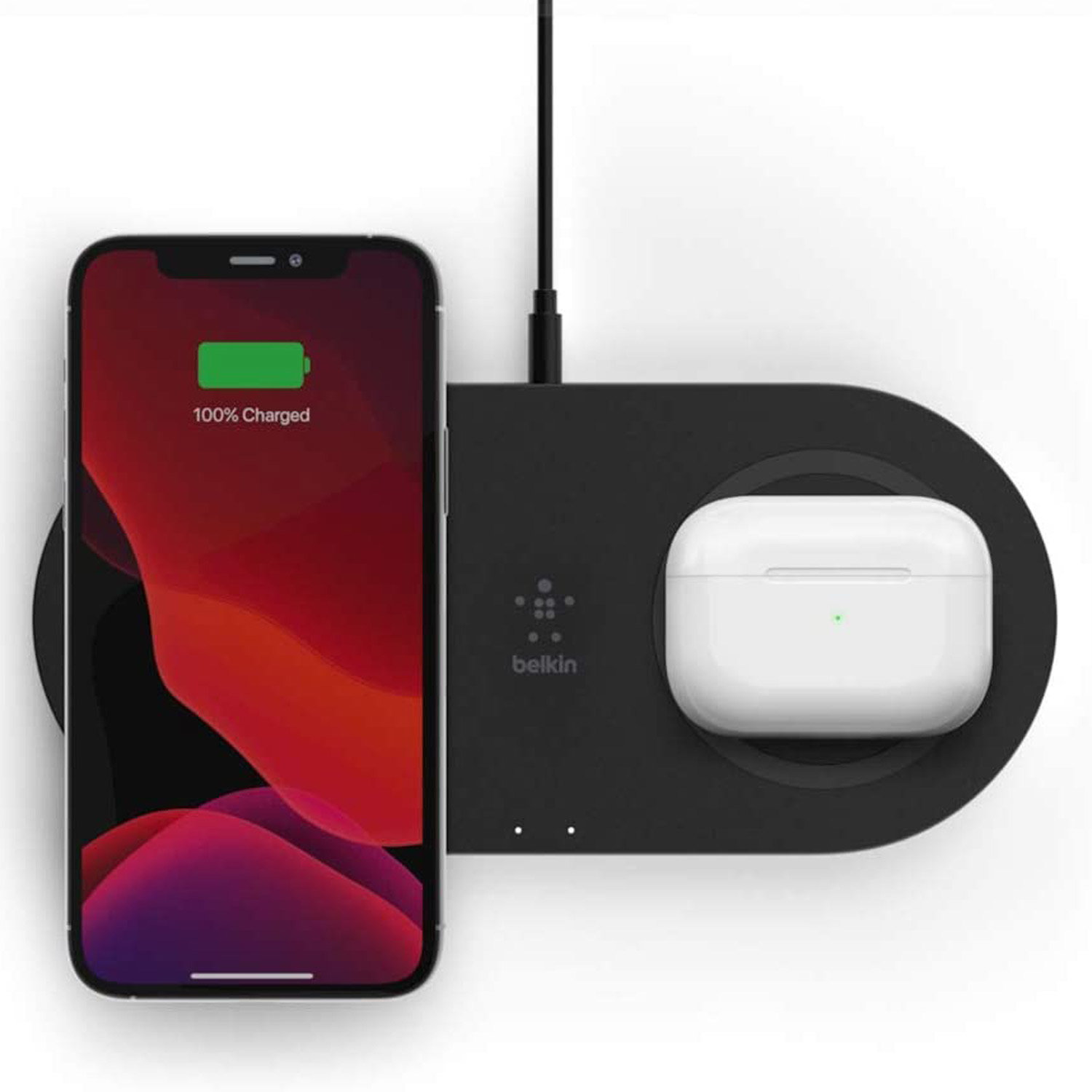 Wesentliche Details
| | |
| --- | --- |
| Part No | WIZ008vfBK |
| UPC | 0745883814329 |
| Mobile Fun ID | 86978 |
| Farbe | Schwarz |
| Brand Name | Belkin |
Lieferung & Retouren
Liefermöglichkeiten für Deutschland / Österreich:

Warensendung - Versandkosten: 2,99 €
Zustellung ab Versand: in 4-8 Werktagen.
Warensendung mit Sendungsverfolgung - Versandkosten: 10,99 €
Zustellung ab Versand: in 2-4 Werktagen.
DHL Express für Deutschland - Versandkosten: 24,99 €
Zustellung ab Versand: am nächsten Tag (Mo-Fr) bei Bestellung vor 17 Uhr


DHL Express für Österreich - Versandkosten: 26,99 €
Zustellung ab Versand: am nächsten Tag (Mo-Fr) bei Bestellung vor 17 Uhr


HINWEIS: Sie können die Standardzustellung nur mit einem Einkaufskorb unter 60 € auswählen. Ist dies der Fall, müssen Sie eine nachverfolgbare Zustellungsmethode auswählen.
Wenn Ihr Warenkorb über 120 € liegt, müssen Sie aus Sicherheitsgründen DHL Express wählen.
Wenn Ihre Bestellung weniger als 150 € ohne Versandkosten beträgt, ist die Mehrwertsteuer bereits in dem Preis enthalten. Dies bedeutet, dass keine zusätzliche Mehrwertsteuer zur Zahlung fällig wird, wenn Ihre Bestellung an Sie geliefert wird. Weitere Informationen finden Sie an der Lieferbedingungen Seite.


Notiz: Die voraussichtlichen Ankunftszeiten werden direkt den Angaben unserer Kuriere entnommen. Dies sind nur Schätzungen, Mobile Fun ist nicht verantwortlich, wenn dies variiert. Alle Produkte werden aus unserem Lager in Großbritannien versendet. Fehlende oder verspätete Artikel: Bitte beachten Sie, dass wir 20 Arbeitstage warten müssen, bevor wir verlorene Artikel zurückverfolgen, ersetzen oder erstatten können. Der Postdienst steht für Bestellungen mit hohem Wert nicht zur Verfügung, es wird die Expressversandmethode angewendet.
Weigerung, Gebühren zu zahlen - Rückgaberecht
Wenn Sie sich weigern, den auf Ihre Sendung erhobenen Einfuhrzoll oder die Mehrwertsteuer zu zahlen, kann dies dazu führen, dass die Sendung an Mobile Fun zurückgesandt wird. In diesem Fall werden alle damit verbundenen Rücknahmegebühren zuzüglich einer Mindestverwaltungsgebühr von £ 5,00 (oder einer entsprechenden Währung zum aktuellen Wechselkurs) auf Ihren endgültigen Rückerstattungsbetrag angerechnet.