Biisafe Buddy V3 Smart Button Location Tracker Device - White
Nicht mehr lieferbar
-Nicht für den Verkauf verfügbar
The new and improved white Biisafe Buddy V3 boasts a wealth of new features, including better Bluetooth tracking and a pedometer with a step count. Attach the Buddy Smart Button to your belongings such as keys and track them via the redesigned app.
Warum diesen Artikel kaufen?
Keep track of your belongings
Locate your lost phone
Improved 100m operating range
100db Alert Sound
One-touch messaging
Share your location with friends and family
Built-in pedometer for activity tracking
New cutting-edge design yet remains small and discrete
Energy efficient
Impressive 2 year battery life
Redesigned iOS and Android app
Beschreibung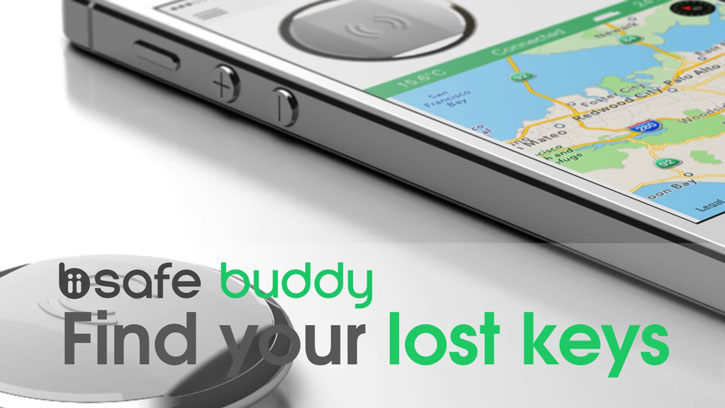 Keep track of your belongings
With the newly improved BiiSafe Buddy Smart Button you can now easily find your lost belongings. Simply attach Buddy Version 2 to your keys, bag, wallet or anything else you wish to track and via the free redesigned app, you'll be able to see exactly where they are.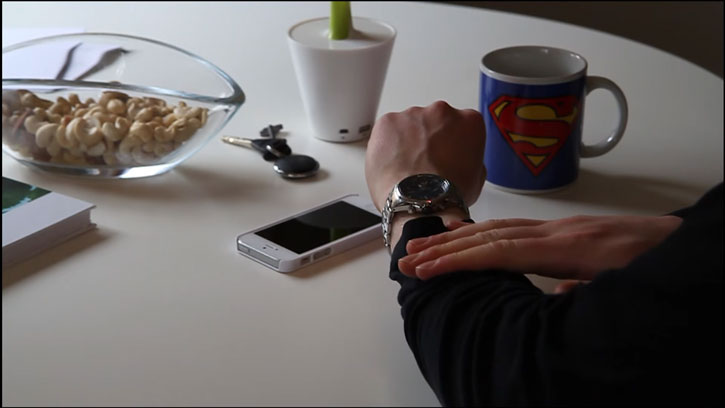 Note: Variations of the Buddy Smart Button shown for illustration purposes only
Locate your lost phone
The BiiSafe Buddy Smart Button can also be used to find your misplaced or lost phone. If you are within Bluetooth range of your phone, simply press the smart button and it will help you to locate it.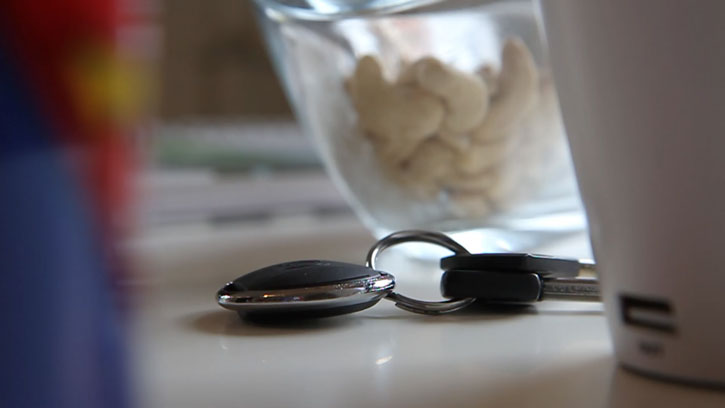 Improved 100 metre operating range
With the Buddy V2 Smart Button, you'll be able to track your belongings from even further away, due to an improved Bluetooth range of approximately 100m (300ft) as opposed to 30m (100ft). If you are ever disconnected due to not being in range, a notification is sent to alert you of this. Once back in range, the BiiSafe Buddy Smart Button will automatically reconnect.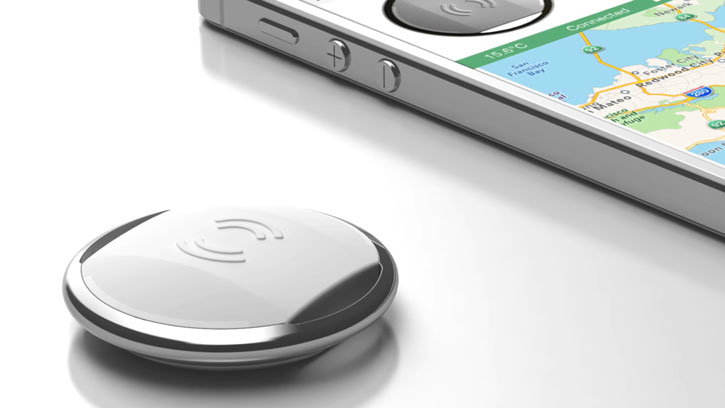 100db Alert Sound
The volume of the alert sound has also been increased up to 100db, meaning finding your keys, bags, wallet or any of your other belongings becomes even easier with Version 2 of the Biisafe Smart Button.
One-touch messaging
Using the free companion app, you can use Buddy to send a message to friends and family who also have a Buddy. Simply create a group and you'll be able to send messages between each other - ideal for checking on your kids, for example, or for making sure someone has reached a location safely.
Share your location with friends and family
With the BiiSafe Buddy Smart Button, no longer will loved ones have to worry about you reaching somewhere safely. Simply press the icon on the Smart Button and give your friends and family peace of mind, by sharing your location with them once you have reached somewhere, all without even touching your phone.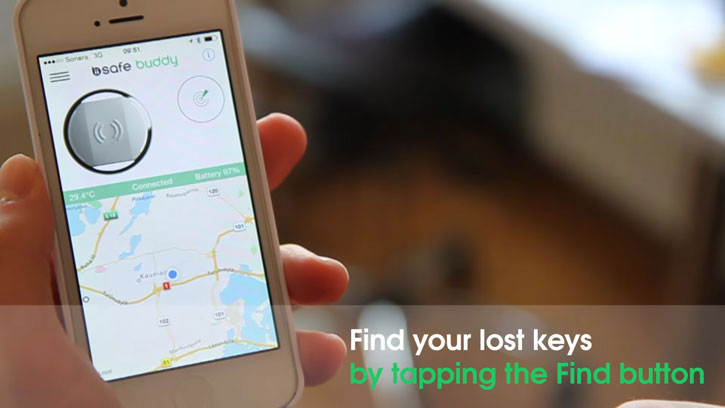 New cutting-edge design yet remains small and discrete
With an improvement on the previous design, the Biisafe Smart Button is manufactured from premium materials, which keeps it small enough to attach to any of your belongings. Making it perfect for attaching to your bag, wallet or keys withing anyone noticing it.
Energy efficient
By using Bluetooth SMART and only using GPS from your device when required, the Buddy Smart Button is extremely efficient.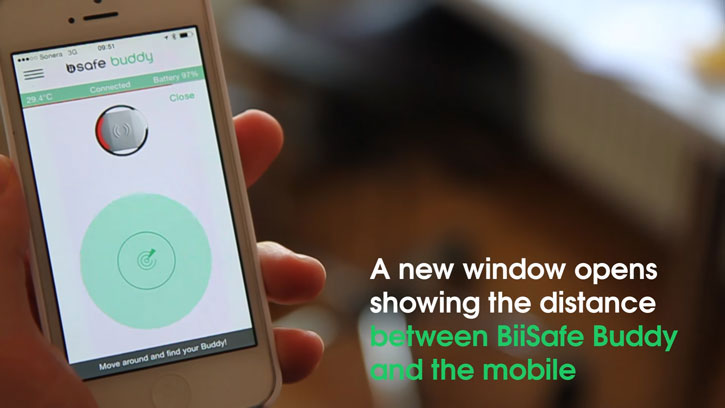 Impressive 2 year battery Life
Building on the previous BiiSafe Buddy, the new Smart Button has been designed to have an even longer battery life of 2 years, which makes it an industry leader in terms of battery life within the location tracking device market. Featuring a replaceable CR2450 coin battery, you'll be able to track your belongings for even longer with the Biisafe Smart Button.
Note: Battery life is dependent on usage
Redesigned iOS and Android App
Biisafe have not only made improvements to Buddy but have also redesigned their app to improve usability. The BiiSafe Buddy Smart Button app is available for both iOS and Android compatible devices. Simply download the app, create an account and you are ready to use your new BiiSafe Buddy Smart Button. Once installed you'll be able to connect multiple Smart Buttons and track a range of your belongings.
You can connect connect up to 5 Buddies at once on an iOS device, however as Android devices have certain Bluetooth Limitations, only one Buddy can be connected.
Smartphone and tablet compatibile
The BiiSafe Buddy Smart Button is compatible with a range of iOS devices including iPhone 4S or newer, iPad 3rd generation or newer and the iPod Touch. Android devices are also compatible, however they must run Android 4.3 or higher.
You can also link your BiiSafe Buddy Smart Button to several devices, however it will only work with one device at a time and only connect to the closest device.
WARNING: Do not use if you have a pacemaker
Specification
Bluetooth: Version 4.2
Bluetooth range: Up to 100 metres (300ft)
Battery Life: Up to 2 years
Battery Type: CR2450
Voltage: 3V
Sound alert (db): 100
Wesentliche Details
| | |
| --- | --- |
| Part No | B2-10-A1-WHI-WHI-SIL-1 |
| Mobile Fun ID | 61372 |
| Farbe | Weiss |
Lieferung & Retouren
Liefermöglichkeiten für Deutschland / Österreich:

Warensendung - Versandkosten: 2,99 €
Zustellung ab Versand: in 4-8 Werktagen.
Sendungsverfolgung - Versandkosten: 6,49 €
Zustellung ab Versand: in 2-3 Werktagen.
DHL Express - Versandkosten: 13,50 €
Zustellung ab Versand: am nächsten Tag (Mo-Fr) bei Bestellung vor 17 Uhr


HINWEIS: Sie können die Standardzustellung nur mit einem Einkaufskorb unter 60 € auswählen. Ist dies der Fall, müssen Sie eine nachverfolgbare Zustellungsmethode auswählen.
Wenn Ihr Warenkorb über 120 € liegt, müssen Sie aus Sicherheitsgründen DHL Express wählen.