Bitmore Foldable Virtual Reality Eye Snap Glasses for Smartphones
Bring virtual reality to your smartphone with this compact, foldable VR eye-snap from Bitmore. The simple yet effective design slots over your smartphone and brings the 3D videos on your device to life!
Frequently bought together
| | |
| --- | --- |
| | |
Key Features
Immerse yourself in VR
Simply attach to your phone and watch the images come to life
Simple, effective design
Works with free 3D videos
High quality lenses
Compatible with all smartphones with screens over 6"
Beschreibung
Discover new worlds through your smartphone with the Bitmore VR Eye Snap. This VR eye snap simply attaches to your phone, bringing the image on your phone to life.
Immerse yourself in VR
Transform any smartphone into a VR device and immerse yourself in high-quality YouTube videos, 3D movies, games and augmented reality apps. The way the headset works, you can create the perfect environment for you to explore virtual worlds or experience sports or films like you were right there in the action.
Simply attach to your phone and watch the images come to life
All you have to do for this to work is attach it to your phone and choose your 3D compatible video. Once attached and your video is chosen, simply look through the high-quality lenses and become fully immersed in the virtual reality.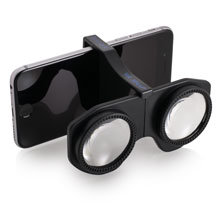 Simple, effective design
The VR Eye Snap a sturdy, rigid design that means you won't damage it no matter how immersive your VR experience gets. Thanks to a sleek minimalist aesthetic that emphasises style and function, these snap on glasses are the perfect way to immerse yourself without having to wear the normal bulky, unattractive VR headsets.
Works with free 3D videos
All you need for this to work is to search for 'side by side' videos on Google and this will allow you to bring your smartphone image to life. If we can watch movies in 3D now, why not also be able to see images on your phone in 3D too?
High quality lenses
The VR eye snap has high quality lenses which help create a high quality, truly enjoyable 3D experience. It's compact size makes it perfect to carry around with you. This is also made even easier by the fact that it can fold down, meaning that it's unlikely to get broken in a bag or storage, as it will be safely compacted together.
Compatible with most smartphones
Most devices nowadays have screens larger than 6" and Bitmore have acknowledged this and made sure that this VR eye snap will work perfectly with your smartphone, no matter its size.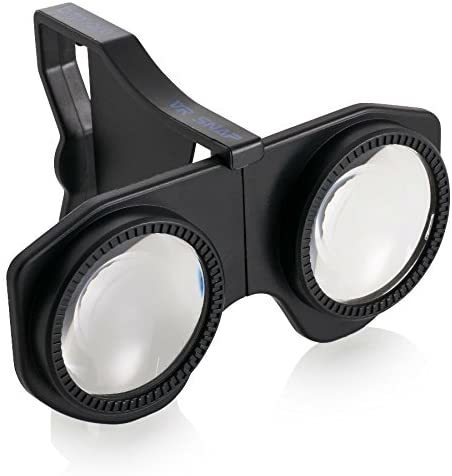 Wesentliche Details
| | |
| --- | --- |
| Part No | BM-VRSNAP |
| UPC | 5060275391925 |
| Mobile Fun ID | 84702 |
| Farbe | Schwarz |
| Brand Name | Bitmore |
Lieferung & Retouren
Liefermöglichkeiten für Deutschland / Österreich:

Warensendung - Versandkosten: 2,99 €
Zustellung ab Versand: in 4-8 Werktagen.
Warensendung mit Sendungsverfolgung - Versandkosten: 10,99 €
Zustellung ab Versand: in 2-4 Werktagen.
DHL Express für Deutschland - Versandkosten: 24,99 €
Zustellung ab Versand: am nächsten Tag (Mo-Fr) bei Bestellung vor 17 Uhr


DHL Express für Österreich - Versandkosten: 28,99 €
Zustellung ab Versand: am nächsten Tag (Mo-Fr) bei Bestellung vor 17 Uhr


HINWEIS: Sie können die Standardzustellung nur mit einem Einkaufskorb unter 60 € auswählen. Ist dies der Fall, müssen Sie eine nachverfolgbare Zustellungsmethode auswählen.
Wenn Ihr Warenkorb über 120 € liegt, müssen Sie aus Sicherheitsgründen DHL Express wählen.
Wenn Ihre Bestellung weniger als 150 € ohne Versandkosten beträgt, ist die Mehrwertsteuer bereits in dem Preis enthalten. Dies bedeutet, dass keine zusätzliche Mehrwertsteuer zur Zahlung fällig wird, wenn Ihre Bestellung an Sie geliefert wird. Weitere Informationen finden Sie an der Lieferbedingungen Seite.
Weigerung, Gebühren zu zahlen - Rückgaberecht
Wenn Sie sich weigern, den auf Ihre Sendung erhobenen Einfuhrzoll oder die Mehrwertsteuer zu zahlen, kann dies dazu führen, dass die Sendung an Mobile Fun zurückgesandt wird. In diesem Fall werden alle damit verbundenen Rücknahmegebühren zuzüglich einer Mindestverwaltungsgebühr von £ 5,00 (oder einer entsprechenden Währung zum aktuellen Wechselkurs) auf Ihren endgültigen Rückerstattungsbetrag angerechnet.