Clckr Universal Carbon Fibre Grip And Kickstand For Smartphones - Navy
Nicht mehr lieferbar
-Nicht für den Verkauf verfügbar
Use your phone better with this universal & multi-functional, carbon fibre phone stand & grip. Thin, stylish and easy to apply - using 3M-adhesive which does not leave a residue. Take the perfect selfie, Facetime all night or binge-watch your favourite sh
Key Features
Easy one-hand usage for easy grip and control
Slide into portrait and landscape stand mode for easy viewing
Adds virtually no extra bulk
Reusable 3m adhesive – residue-free attachment on devices
Wireless charging compatible
Beschreibung

Easy one-hand usage for easy grip and control
The ergonomic CLCKR grip-strap allows you to reach over your screen further than other phone grips, so you have full access to your device without straining or tiring your thumb.
Slide into portrait and landscape stand mode for easy viewing
Want to watch a film, write an email or have a conference call. Hands-free viewing from the CLCKR works in portrait or landscape positions.
Adds virtually no extra bulk
Despite all this functionality, CLCKR barely takes up any space on your device adding only 4.2mm thickness. Thanks to the innovative Slim design, you can easily slide your phone into your bag or pocket, making it easy to store and travel with, unlike other bulky phone kickstands.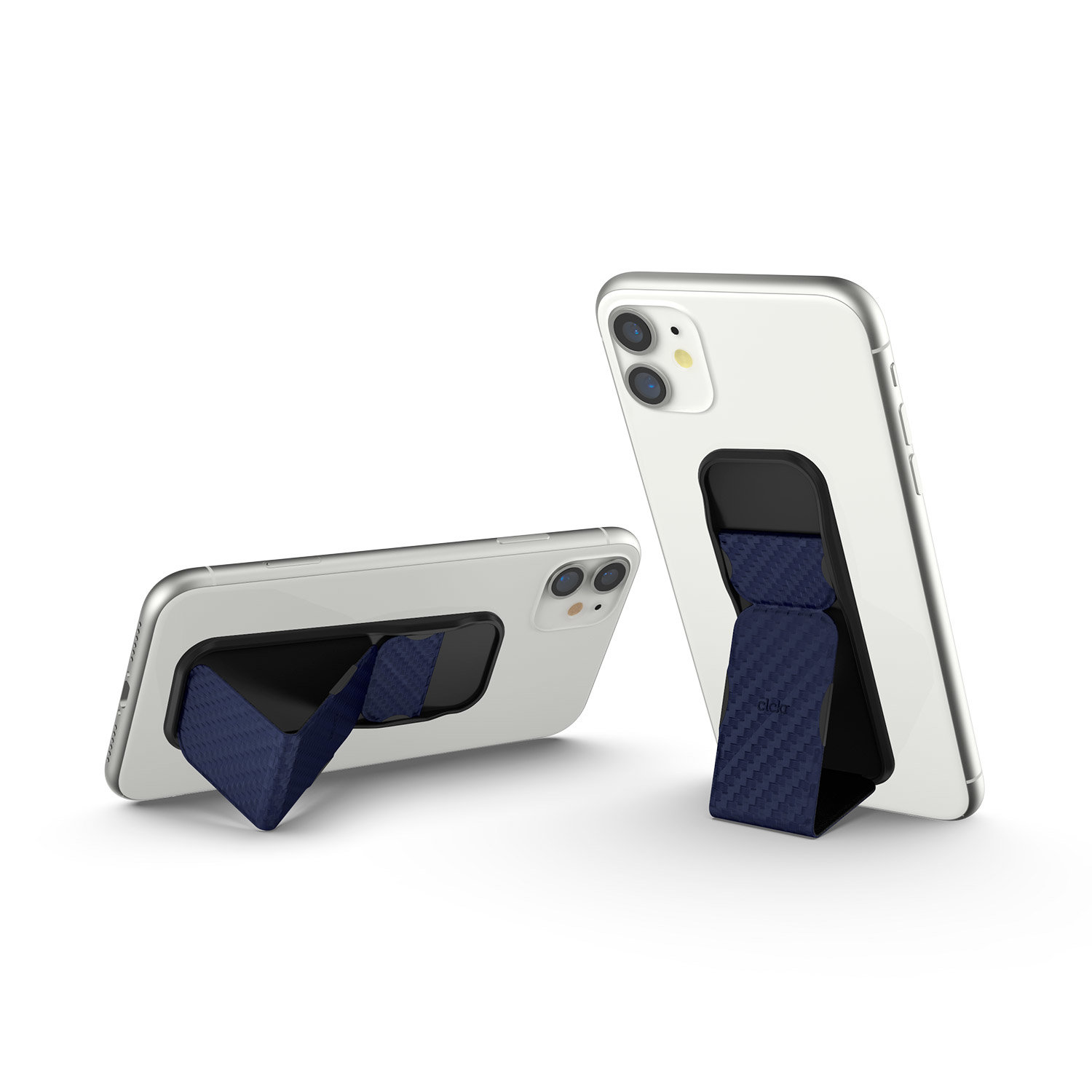 Reusable 3m adhesive – residue-free attachment on devices
CLCKR Mobile Phone Stand has advanced reusable adhesive, is repositionable & washable. Works with most phones & Tablets, including iPhone, iPad, Samsung, Huawei, & LG. CLCKR uses the strongest removable adhesive, unlike many other phone grips. The adhesive leaves no residue so it's able to be attached and detached multiple times. Does Not work with iPhone 11 Pro or iPhone 11 Pro Max.
Wireless charging compatible
Wireless charging works on a majority of cases up to 2mm thickness and with quality wireless chargers. For best results, stick to a smooth hard-shell case.
Wesentliche Details
| | |
| --- | --- |
| Part No | DIS100019292EBA |
| UPC | 8718846077095 |
| Mobile Fun ID | 89791 |
| Farbe | Blau |
| Brand Name | Clckr |
Lieferung & Retouren
Liefermöglichkeiten für Deutschland / Österreich:

Warensendung - Versandkosten: 2,99 €
Zustellung ab Versand: in 4-8 Werktagen.
Warensendung mit Sendungsverfolgung - Versandkosten: 10,99 €
Zustellung ab Versand: in 2-4 Werktagen.
DHL Express für Deutschland - Versandkosten: 24,99 €
Zustellung ab Versand: am nächsten Tag (Mo-Fr) bei Bestellung vor 17 Uhr


DHL Express für Österreich - Versandkosten: 28,99 €
Zustellung ab Versand: am nächsten Tag (Mo-Fr) bei Bestellung vor 17 Uhr


HINWEIS: Sie können die Standardzustellung nur mit einem Einkaufskorb unter 60 € auswählen. Ist dies der Fall, müssen Sie eine nachverfolgbare Zustellungsmethode auswählen.
Wenn Ihr Warenkorb über 120 € liegt, müssen Sie aus Sicherheitsgründen DHL Express wählen.
Wenn Ihre Bestellung weniger als 150 € ohne Versandkosten beträgt, ist die Mehrwertsteuer bereits in dem Preis enthalten. Dies bedeutet, dass keine zusätzliche Mehrwertsteuer zur Zahlung fällig wird, wenn Ihre Bestellung an Sie geliefert wird. Weitere Informationen finden Sie an der Lieferbedingungen Seite.
Weigerung, Gebühren zu zahlen - Rückgaberecht
Wenn Sie sich weigern, den auf Ihre Sendung erhobenen Einfuhrzoll oder die Mehrwertsteuer zu zahlen, kann dies dazu führen, dass die Sendung an Mobile Fun zurückgesandt wird. In diesem Fall werden alle damit verbundenen Rücknahmegebühren zuzüglich einer Mindestverwaltungsgebühr von £ 5,00 (oder einer entsprechenden Währung zum aktuellen Wechselkurs) auf Ihren endgültigen Rückerstattungsbetrag angerechnet.