Joyroom 1.2m Braided USB-C Cable - Black
Nicht mehr lieferbar
-Nicht für den Verkauf verfügbar
Made for gamers and youtube-in-bed watchers! A USB type C cable that is angled at a 90-degree, to allow you to comfortably hold your phone in a horizontal position. Made from a high-quality zinc alloy in a strong nylon braid for a tangle-free cable!
Key Features
transfer music, photos, movies, videos, and documents quickly and easily
Supporting 3A fast charging
Enjoy playing mobile games or watching TV while charging
Built-in smart chip, intelligent distribution of charging current
Widely compatible with most type-c port devices
The cable length is 1.2 meters
Beschreibung
Side-facing 90-degree charger
Unlike your standard charger - whether you're using the one that came with your phone or another branded charging cable - the Joyroom 1.2m Braided USB-C Cable is angled on the side, at a 90-degree angle! This allows the charger to lay flush against your phone rather than sticking out of the bottom! Comfortably hold your phone in bed to play your favourite game or watch your favourite youtube video!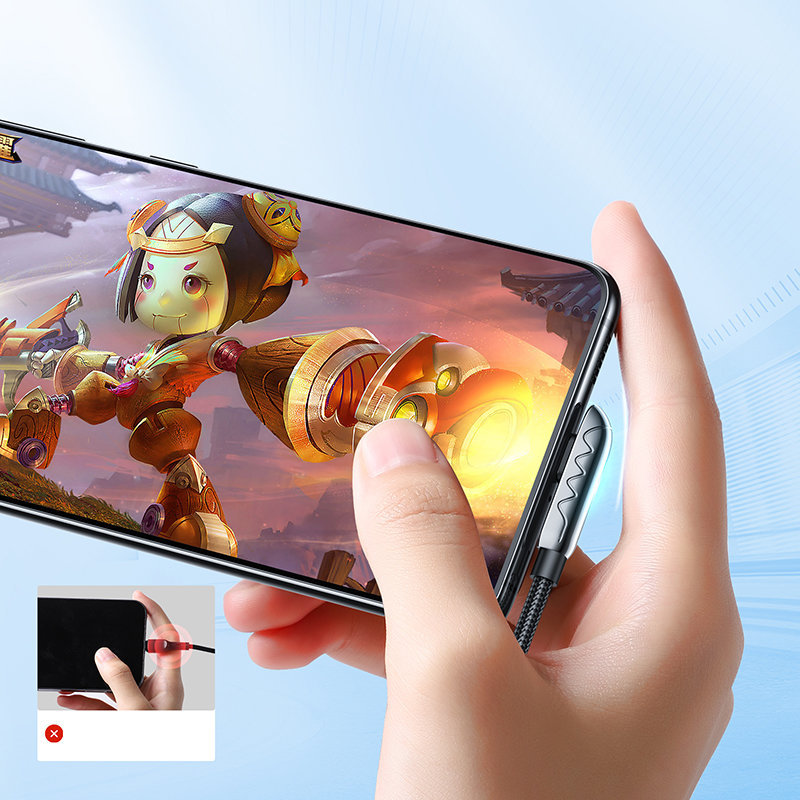 Super fast charging
Supporting power of up to 3A - you won't just be getting a comfortable charge but a fast one!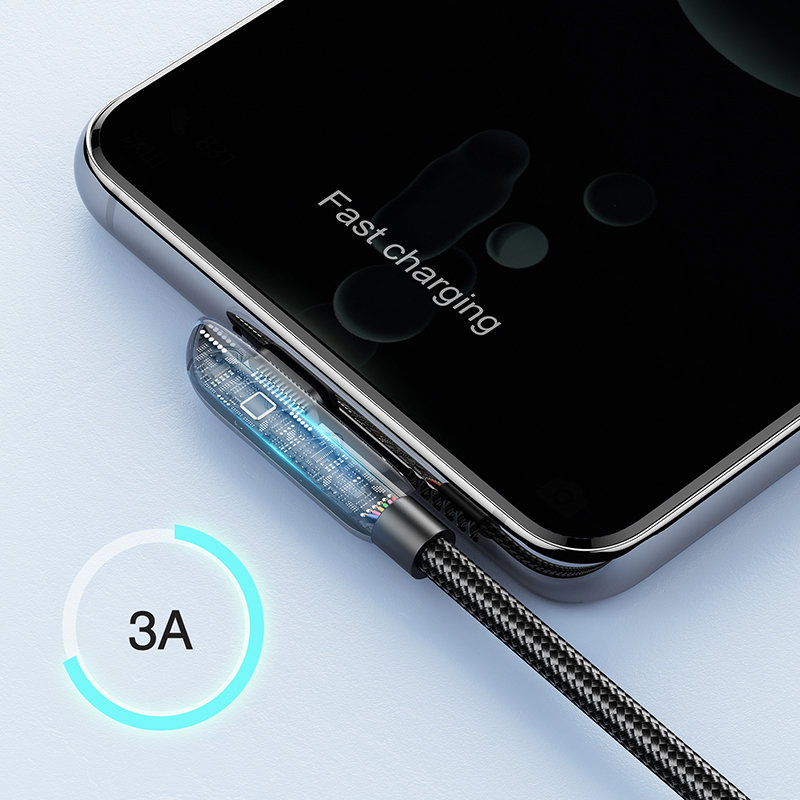 1.2m length
At 1.2 metres long, this cable is sure to be perfect for plug sockets that aren't close to your bed! Whether you're charging your phone on the sofa, in your bed or in a hotel room - the Joyroom 1.2m Braided USB-C Cable will be the perfect accessory and reach any plug!
Specifications
Brand: Joyroom
Plugs: USB, USB Type C
Material: Nylon + zinc alloy
Working current: 3A
Length: 1.2 m
Functions: Data loading / transfer
Compatibility: Devices with USB-C port
Additional features: Side plug

Wesentliche Details
| | |
| --- | --- |
| Part No | S-1230K3 |
| UPC | 6941237155580 |
| Mobile Fun ID | 89631 |
| Brand Name | JoyRoom |
Lieferung & Retouren
Liefermöglichkeiten für Deutschland / Österreich:

Warensendung - Versandkosten: 2,99 €
Zustellung ab Versand: in 4-8 Werktagen.
Warensendung mit Sendungsverfolgung - Versandkosten: 10,99 €
Zustellung ab Versand: in 2-4 Werktagen.
DHL Express für Deutschland - Versandkosten: 24,99 €
Zustellung ab Versand: am nächsten Tag (Mo-Fr) bei Bestellung vor 17 Uhr


DHL Express für Österreich - Versandkosten: 26,99 €
Zustellung ab Versand: am nächsten Tag (Mo-Fr) bei Bestellung vor 17 Uhr


HINWEIS: Sie können die Standardzustellung nur mit einem Einkaufskorb unter 60 € auswählen. Ist dies der Fall, müssen Sie eine nachverfolgbare Zustellungsmethode auswählen.
Wenn Ihr Warenkorb über 120 € liegt, müssen Sie aus Sicherheitsgründen DHL Express wählen.
Wenn Ihre Bestellung weniger als 150 € ohne Versandkosten beträgt, ist die Mehrwertsteuer bereits in dem Preis enthalten. Dies bedeutet, dass keine zusätzliche Mehrwertsteuer zur Zahlung fällig wird, wenn Ihre Bestellung an Sie geliefert wird. Weitere Informationen finden Sie an der Lieferbedingungen Seite.


Notiz: Die voraussichtlichen Ankunftszeiten werden direkt den Angaben unserer Kuriere entnommen. Dies sind nur Schätzungen, Mobile Fun ist nicht verantwortlich, wenn dies variiert. Alle Produkte werden aus unserem Lager in Großbritannien versendet. Fehlende oder verspätete Artikel: Bitte beachten Sie, dass wir 20 Arbeitstage warten müssen, bevor wir verlorene Artikel zurückverfolgen, ersetzen oder erstatten können. Der Postdienst steht für Bestellungen mit hohem Wert nicht zur Verfügung, es wird die Expressversandmethode angewendet.
Weigerung, Gebühren zu zahlen - Rückgaberecht
Wenn Sie sich weigern, den auf Ihre Sendung erhobenen Einfuhrzoll oder die Mehrwertsteuer zu zahlen, kann dies dazu führen, dass die Sendung an Mobile Fun zurückgesandt wird. In diesem Fall werden alle damit verbundenen Rücknahmegebühren zuzüglich einer Mindestverwaltungsgebühr von £ 5,00 (oder einer entsprechenden Währung zum aktuellen Wechselkurs) auf Ihren endgültigen Rückerstattungsbetrag angerechnet.