Official Samsung Galaxy SmartTag Bluetooth Compatible Tracker - 4 Pack
Never lose what's important to you again with the stylish, Official Samsung 4 Pack of Galaxy SmartTag Android trackers. You can track where your most important possessions are, like your Bud Pros, wallets, keys, luggage and more. Feel secure with Samsung.
Frequently bought together
Key Features
Works with Samsung's SmartThings Find feature
Connect to devices over Bluetooth
Sleek, compact design
Keep track of objects like wallets, keys, earbuds, and more
4 pack, 4 times the security
Beschreibung

Never lose your keys again with the sleek, Official Samsung Galaxy SmartTag Bluetooth Compatible Tracker in Oatmeal. It will use Samsung's new SmartThings Find feature to effectively find your most important possessions, so you can spend more time enjoying your day, and less time worrying.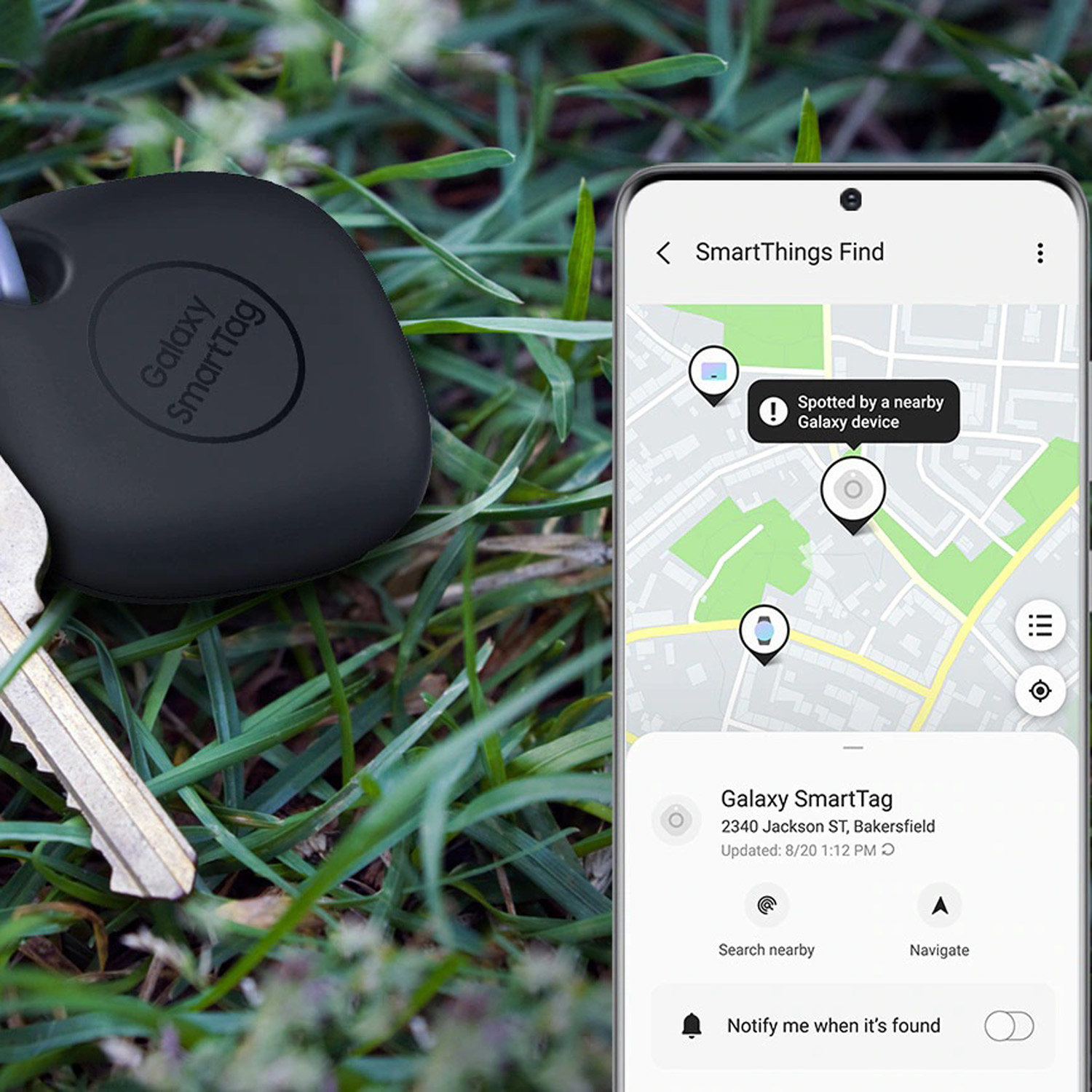 Works with Samsung's SmartThings Find feature
Samsung has created a new feature called SmartThings Find, which allows you to add a little bit of smartness to your home. If you're unsure where your keys are, simply look on the SmartThings app and you can locate where they are easily, quickly and effectively. This saves the major panic in the morning when late for work, as you don't have to start looking everywhere and can instead just open the app and find them instantly.
Connect to devices over Bluetooth
The SmartTags can easily and effectively be connected to your device through Bluetooth. Unlike other forms of connection such as WIFI which requires an internet connection, this is an effective, reliable and secure way to connect your SmartTags to your device.
If the item is outside of your Bluetooth range, SmartThings Find will use other devices, safely and securely, to help find your device. This is completely secure and offers all the privacy that makes Samsung such a popular brand.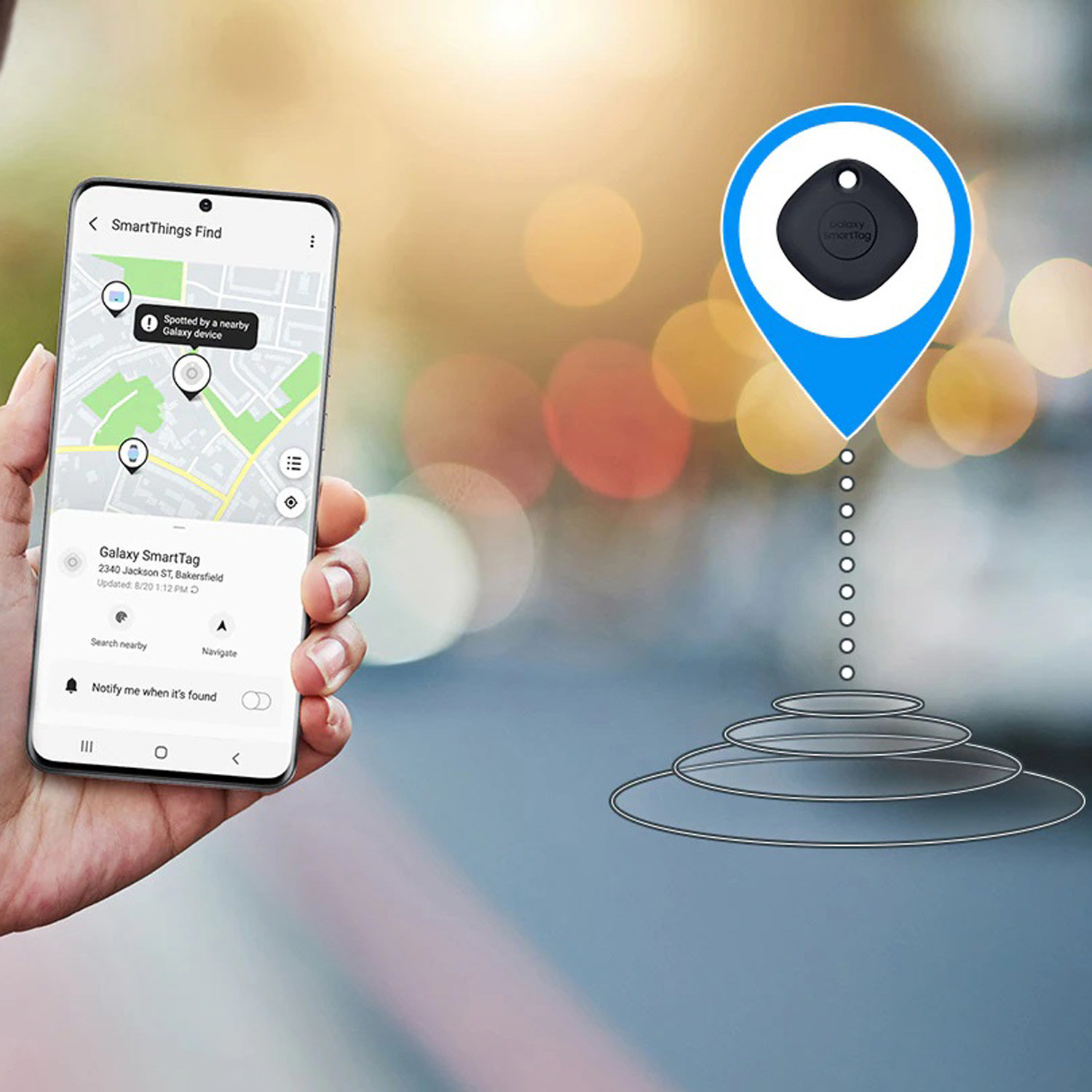 Sleek, compact design
The design is a sleek, thin square-shaped device, stopping it from looking obvious or obnoxious on your keys or wallet. The SmartTag features a small hole which can be used to attach the device to a keyring or a lanyard, keeping it secure in place for your peace of mind.
Keep track of objects like wallets, keys, earbuds, and more
The SmartTag has a small hole which means it can easily be attached to your keys or a lanyard. You can also fit the SmartTag into your wallet or connect it to your Buds Pro / Buds Live case, helping keep the devices that are most important to you safe and secure.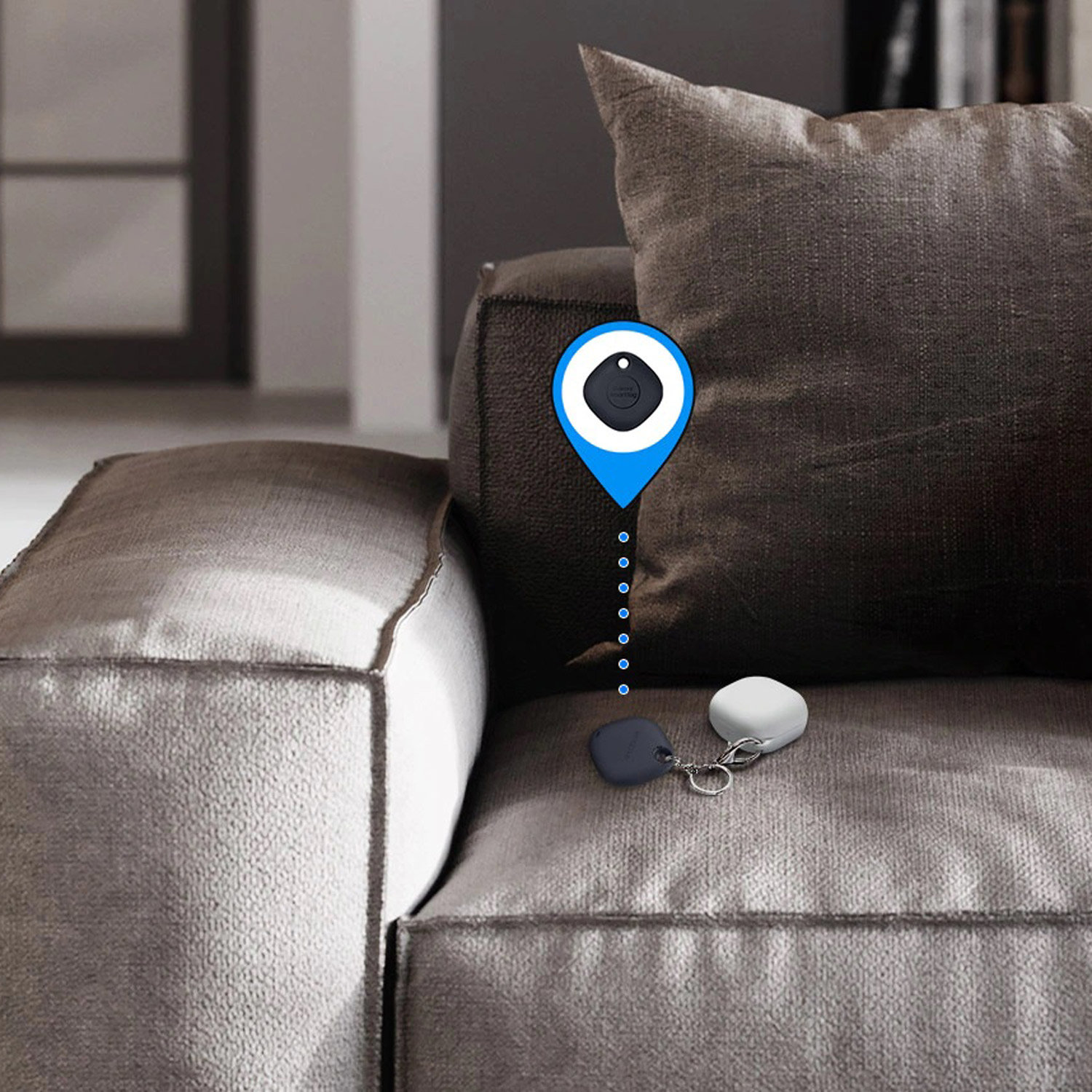 4 pack, 4 times the security
Let's be honest, we have a lot of devices that we want to keep track of. With this Official Samsung 4 pack of SmartTags you can rest assured that you have enough trackers to track your phone, earbuds, car keys, luggage and many more!
Wesentliche Details
| | |
| --- | --- |
| Part No | EI-T5300KBEGEU |
| UPC | 8806092058095 |
| Mobile Fun ID | 85948 |
| Farbe | Schwarz |
| Brand Name | Samsung |
Videos
Lieferung & Retouren
Liefermöglichkeiten für Deutschland / Österreich:

Warensendung - Versandkosten: 2,99 €
Zustellung ab Versand: in 4-8 Werktagen.
Warensendung mit Sendungsverfolgung - Versandkosten: 10,99 €
Zustellung ab Versand: in 2-4 Werktagen.
DHL Express für Deutschland - Versandkosten: 24,99 €
Zustellung ab Versand: am nächsten Tag (Mo-Fr) bei Bestellung vor 17 Uhr


DHL Express für Österreich - Versandkosten: 26,99 €
Zustellung ab Versand: am nächsten Tag (Mo-Fr) bei Bestellung vor 17 Uhr


HINWEIS: Sie können die Standardzustellung nur mit einem Einkaufskorb unter 60 € auswählen. Ist dies der Fall, müssen Sie eine nachverfolgbare Zustellungsmethode auswählen.
Wenn Ihr Warenkorb über 120 € liegt, müssen Sie aus Sicherheitsgründen DHL Express wählen.
Wenn Ihre Bestellung weniger als 150 € ohne Versandkosten beträgt, ist die Mehrwertsteuer bereits in dem Preis enthalten. Dies bedeutet, dass keine zusätzliche Mehrwertsteuer zur Zahlung fällig wird, wenn Ihre Bestellung an Sie geliefert wird. Weitere Informationen finden Sie an der Lieferbedingungen Seite.


Notiz: Die voraussichtlichen Ankunftszeiten werden direkt den Angaben unserer Kuriere entnommen. Dies sind nur Schätzungen, Mobile Fun ist nicht verantwortlich, wenn dies variiert. Alle Produkte werden aus unserem Lager in Großbritannien versendet. Fehlende oder verspätete Artikel: Bitte beachten Sie, dass wir 20 Arbeitstage warten müssen, bevor wir verlorene Artikel zurückverfolgen, ersetzen oder erstatten können. Der Postdienst steht für Bestellungen mit hohem Wert nicht zur Verfügung, es wird die Expressversandmethode angewendet.
Weigerung, Gebühren zu zahlen - Rückgaberecht
Wenn Sie sich weigern, den auf Ihre Sendung erhobenen Einfuhrzoll oder die Mehrwertsteuer zu zahlen, kann dies dazu führen, dass die Sendung an Mobile Fun zurückgesandt wird. In diesem Fall werden alle damit verbundenen Rücknahmegebühren zuzüglich einer Mindestverwaltungsgebühr von £ 5,00 (oder einer entsprechenden Währung zum aktuellen Wechselkurs) auf Ihren endgültigen Rückerstattungsbetrag angerechnet.
Kompatibilität
Samsung:
A300
,
Ativ S
,
ATIV SE
,
B210
,
B2100 Solid Extreme
,
B2700
,
B300
,
B3210 Corby TXT
,
B3310
,
B3410
,
B510
,
B5310 Corby PRO
,
B5722
,
B7502
,
B7620 Giorgio Armani
,
B7722
,
Beam I8520
,
Beat DISC
,
Blade
,
Book 2 Pro 360
,
C100
,
C110
,
C120
,
C130
,
C140
,
C170
,
C3050
,
C3060
,
C3110
,
C3212
,
C3300 Libre
,
C3350 Solid X Cover
,
C3510
,
C3630
,
C5212
,
C5510
,
C6112
,
C6620
,
C6625
,
Champ Deluxe Duos
,
Chat 222
,
Chat 322
,
Chat 335
,
Chat B3410W
,
Core LTE
,
D410
,
D500
,
D520
,
D600
,
D780 DuoS
,
D800
,
D820
,
D830
,
D840
,
D880 DuoS
,
D900
,
D900i
,
D980 DuoS
,
Diva Diamond
,
E1050
,
E1080
,
E1100
,
E1107 Solar Guru
,
E1120
,
E1150i
,
E1170
,
E1360B
,
E2100
,
E2120
,
E2120B
,
E2121
,
E2121B
,
E215
,
E2210B
,
E2330
,
E2370
,
E250
,
E250i
,
E2600
,
E300
,
E310
,
E330
,
E350
,
E370
,
E390
,
E400
,
E420
,
E530
,
E570
,
E590
,
E600
,
E620
,
E630
,
E700
,
E710
,
E720
,
E730
,
E760
,
E770
,
E780
,
E800
,
E810
,
E820
,
E840
,
E870
,
E880
,
E900
,
Exhilarate i577
,
F110 MiCoach
,
F200
,
F210
,
F250
,
F300
,
F400
,
F480 Player Style
,
F480 Tocco
,
F490
,
F700
,
Flutter
,
G400
,
G600
,
G800
,
G810
,
G9098
,
Galaxy
,
Galaxy 3 I5800
,
Galaxy 550
,
Galaxy 551
,
Galaxy A01
,
Galaxy A02s
,
Galaxy A03
,
Galaxy A03 Core
,
Galaxy A03 US Version
,
Galaxy A03s
,
Galaxy A04s
,
Galaxy A10
,
Galaxy A10e
,
Galaxy A10s
,
Galaxy A11
,
Galaxy A12
,
Galaxy A13 4G
,
Galaxy A14
,
Galaxy A20
,
Galaxy A20e
,
Galaxy A21
,
Galaxy A21s
,
Galaxy A22 4G
,
Galaxy A22 5G
,
Galaxy A23 5G
,
Galaxy A24
,
Galaxy A3
,
Galaxy A3 2015
,
Galaxy A3 2016
,
Galaxy A3 2017
,
Galaxy A3 2018
,
Galaxy A30
,
Galaxy A30s
,
Galaxy A31
,
Galaxy A32 4G
,
Galaxy A32 5G
,
Galaxy A34 5G
,
Galaxy A40
,
Galaxy A40s
,
Galaxy A41
,
Galaxy A42 5G
,
Galaxy A5
,
Galaxy A5 2015
,
Galaxy A5 2016
,
Galaxy A5 2017
,
Galaxy A50
,
Galaxy A50s
,
Galaxy A51
,
Galaxy A51 5G
,
Galaxy A52
,
Galaxy A52 5G
,
Galaxy A52s 5G
,
Galaxy A53 5G
,
Galaxy A54 5G
,
Galaxy A6 2018
,
Galaxy A6 Plus 2018
,
Galaxy A60
,
Galaxy A6s
,
Galaxy A7
,
Galaxy A7 2015
,
Galaxy A7 2016
,
Galaxy A7 2017
,
Galaxy A7 2018
,
Galaxy A70
,
Galaxy A70s
,
Galaxy A71
,
Galaxy A71 5G
,
Galaxy A72
,
Galaxy A72 5G
,
Galaxy A73
,
Galaxy A8
,
Galaxy A8 2018
,
Galaxy A8 Plus 2018
,
Galaxy A80
,
Galaxy A82 5G
,
Galaxy A8s
,
Galaxy A9
,
Galaxy A9 2016
,
Galaxy A9 2018
,
Galaxy A90 5G
,
Galaxy Ace 2
,
Galaxy Ace 3 3G
,
Galaxy Ace 3 4G
,
Galaxy Ace 4
,
Galaxy Ace Duos S6802
,
Galaxy Ace Plus
,
Galaxy Ace S5830
,
Galaxy Ace Style
,
Galaxy Alpha
,
Galaxy Amp 2
,
Galaxy Amp Prime
,
Galaxy Apollo i5801
,
Galaxy Avant
,
Galaxy Axiom
,
Galaxy Beam
,
Galaxy Beam 2
,
Galaxy Book 2 Pro
,
Galaxy Book 2 Pro 360
,
Galaxy Chat B5330
,
Galaxy Core
,
Galaxy Core 4G
,
Galaxy Core Advance
,
Galaxy Core II
,
Galaxy Core Prime
,
Galaxy E5
,
Galaxy E7
,
Galaxy Europa I5500
,
Galaxy Express 2
,
Galaxy Express Prime
,
Galaxy Extreme
,
Galaxy F
,
Galaxy Fame
,
Galaxy Fit S5670
,
Galaxy Fold
,
Galaxy Gio S5660
,
Galaxy Grand
,
Galaxy Grand 2
,
Galaxy Grand Prime
,
Galaxy Grand Z
,
Galaxy J Max
,
Galaxy J1
,
Galaxy J1 2015
,
Galaxy J1 Ace 4G
,
Galaxy J1 Mini
,
Galaxy J2
,
Galaxy J2 2015
,
Galaxy J3
,
Galaxy J3 2017
,
Galaxy J3 2017 US Version
,
Galaxy J3 Pro
,
Galaxy J3 V
,
Galaxy J5
,
Galaxy J5 2015
,
Galaxy J5 2016
,
Galaxy J5 2017
,
Galaxy J5 Prime
,
Galaxy J6
,
Galaxy J6 2018
,
Galaxy J6 Plus
,
Galaxy J7
,
Galaxy J7 2015
,
Galaxy J7 2017
,
Galaxy J7 2018
,
Galaxy J7 Nxt
,
Galaxy J7 Prime
,
Galaxy J8 2018
,
Galaxy K Zoom
,
Galaxy Lite
,
Galaxy M Pro
,
Galaxy M01
,
Galaxy M10
,
Galaxy M11
,
Galaxy M20
,
Galaxy M21
,
Galaxy M23 5G
,
Galaxy M30
,
Galaxy M31
,
Galaxy M33 5G
,
Galaxy M40
,
Galaxy Mega 2
,
Galaxy Mega 5.8
,
Galaxy Mega 6.3
,
Galaxy Mini 2
,
Galaxy Mini S5570
,
Galaxy Nexus
,
Galaxy Note
,
Galaxy Note 10
,
Galaxy Note 10 Lite
,
Galaxy Note 10 Plus
,
Galaxy Note 10 Plus 5G
,
Galaxy Note 2
,
Galaxy Note 20
,
Galaxy Note 20 5G
,
Galaxy Note 20 Ultra
,
Galaxy Note 3
,
Galaxy Note 3 Neo
,
Galaxy Note 4
,
Galaxy Note 5
,
Galaxy Note 8
,
Galaxy Note 9
,
Galaxy Note Edge
,
Galaxy Note Pro
,
Galaxy On5
,
Galaxy On7
,
Galaxy Pocket
,
Galaxy Portal
,
Galaxy Pro
,
Galaxy Quantum 2
,
Galaxy R
,
Galaxy Round
,
Galaxy S Advance
,
Galaxy S Duos
,
Galaxy S I9000
,
Galaxy S Plus I9001
,
Galaxy S10
,
Galaxy S10 5G
,
Galaxy S10 Lite
,
Galaxy S10 Plus
,
Galaxy S10e
,
Galaxy S2
,
Galaxy S2 LTE
,
Galaxy S20
,
Galaxy S20 FE
,
Galaxy S20 FE 5G
,
Galaxy S20 Plus
,
Galaxy S20 Ultra
,
Galaxy S21
,
Galaxy S21 FE
,
Galaxy S21 Plus
,
Galaxy S21 Ultra
,
Galaxy S22
,
Galaxy S22 Plus
,
Galaxy S22 Ultra
,
Galaxy S23 Plus
,
Galaxy S23 Ultra
,
Galaxy S3
,
Galaxy S3 LTE
,
Galaxy S3 Mini
,
Galaxy S4
,
Galaxy S4 Active
,
Galaxy S4 Mini
,
Galaxy S4 Zoom
,
Galaxy S5
,
Galaxy S5 Active
,
Galaxy S5 Mini
,
Galaxy S5 Neo
,
Galaxy S5 Prime
,
Galaxy S5 Sport
,
Galaxy S6
,
Galaxy S6 Active
,
Galaxy S6 Edge
,
Galaxy S6 Edge Plus
,
Galaxy S7
,
Galaxy S7 Active
,
Galaxy S7 Edge
,
Galaxy S8
,
Galaxy S8 Active
,
Galaxy S8 Plus
,
Galaxy S9
,
Galaxy S9 Plus
,
Galaxy Star 2
,
Galaxy Stellar
,
Galaxy Tab 3 Lite
,
Galaxy Tab 4 10.1
,
Galaxy Tab 4 7.0
,
Galaxy Tab 4 8.0
,
Galaxy Tab A 10.1 2016
,
Galaxy Tab A 10.1 2019
,
Galaxy Tab A 10.5
,
Galaxy Tab A 7.0
,
Galaxy Tab A 8.0
,
Galaxy Tab A 8.0 2019
,
Galaxy Tab A 9.7
,
Galaxy Tab A7 10.4
,
Galaxy Tab A7 Lite
,
Galaxy Tab A8 10.5 (2021)
,
Galaxy Tab Active 2
,
Galaxy Tab Active 3
,
Galaxy Tab E 9.6
,
Galaxy Tab Pro 10.1
,
Galaxy Tab Pro 12.2
,
Galaxy Tab Pro 8.4
,
Galaxy Tab S 10.5
,
Galaxy Tab S 8.4
,
Galaxy Tab S2 8.0
,
Galaxy Tab S2 9.7
,
Galaxy Tab S3
,
Galaxy Tab S4
,
Galaxy Tab S5e
,
Galaxy Tab S6
,
Galaxy Tab S6 Lite
,
Galaxy Tab S7
,
Galaxy Tab S7 FE
,
Galaxy Tab S7 Plus
,
Galaxy Tab S8
,
Galaxy Tab S8 Plus
,
Galaxy Tab S8 Ultra
,
Galaxy TabPro S
,
Galaxy Teos
,
Galaxy Trend Plus
,
Galaxy Victory 4G
,
Galaxy View
,
Galaxy W
,
Galaxy Watch Active 2
,
Galaxy Xcover
,
Galaxy Xcover 2
,
Galaxy Xcover 3
,
Galaxy Xcover 4
,
Galaxy Y
,
Galaxy Y Pro
,
Galaxy Young
,
Galaxy Young 2
,
Galaxy Z Flip 3 5G
,
Galaxy Z Flip 4
,
Galaxy Z Flip 5G
,
Galaxy Z Flip5
,
Galaxy Z Fold 2 5G
,
Galaxy Z Fold 3 5G
,
Galaxy Z Fold 4
,
Galaxy Z Fold5
,
Genio PRO
,
Genio Qwerty
,
Genio Slide
,
Genio Touch
,
Glamour S5150
,
Google Nexus S
,
Grand Neo
,
i200
,
i300
,
i300x
,
i320
,
I550
,
i5500 Corby
,
i5500 Galaxy 5
,
i560
,
i5700 Galaxy Portal
,
i600
,
i620
,
i640
,
i7110 Pilot
,
i7410
,
I7500
,
i780
,
i8510 INNOV8
,
I8520 Halo
,
i900 Omnia
,
I9003 Galaxy SL
,
I9010 Galaxy S Giorgio Armani
,
J400
,
J600i
,
J700
,
Jet S8000
,
Jet Ultra Edition
,
Knox
,
L170
,
L310
,
L320
,
L760
,
L770
,
Lucido
,
M110 Solid
,
M150
,
M200
,
M2310
,
M2510
,
M300
,
M310
,
M3200 Beat S
,
M3310
,
M3510 Beat B
,
M5650 Lindy
,
M7500 Emporio Armani
,
M7600 Beat DJ
,
M8800 Pixon
,
Miss Player
,
Monte Bar C3200
,
Monte S5620
,
Monte Slider E2550
,
Naos
,
Omnia 7
,
Omnia HD i8910
,
Omnia II I8000
,
Omnia Lite
,
Omnia M
,
Omnia PRO 4 B7350
,
Omnia Pro B7330
,
Omnia Pro B7610
,
Omnia W
,
P180
,
P200
,
P260
,
P300
,
P310
,
P400
,
P510
,
P520 Armani
,
P730
,
P960
,
Pixon12
,
Player 5
,
Player Light
,
Player Mini
,
Player One
,
Player Star
,
Player Star 2
,
Preston
,
Qbowl
,
Rex 60
,
Rex 70
,
Rex 80
,
Rex 90
,
Rocky E1130
,
S2 Plus
,
S300
,
S3100
,
S3110
,
S3370
,
S3500
,
S3600
,
S3650 Corby
,
S400i
,
S401i
,
S500i
,
S5050
,
S5200 Slide
,
S5230 Star
,
S5260 Star II
,
S5530
,
S5560
,
S5600
,
S5750
,
S6700
,
S8300 Ultra Touch
,
S9110
,
S9402 Ego
,
Samsung Galaxy A33 5G
,
Serenata
,
Serene
,
SGH C300
,
SGH U300
,
SGH X700
,
SGH Z500
,
SGH-S100
,
Shark 2 S5550
,
Shark 3 S3550
,
Shark S5350
,
Solid Immerse
,
Steel Phone
,
T100
,
Teos
,
Tobi
,
Tocco Icon
,
Tocco Lite
,
Tocco Lite 2
,
Tocco Quick Tap
,
Tocco Ultra Edition
,
U100
,
U600
,
U700
,
U800 Soul b
,
U900 Soul
,
V200
,
Wave 2 Pro S5330
,
Wave 2 S5250
,
Wave 3
,
Wave 525
,
Wave 533
,
Wave 575
,
Wave 723
,
Wave II S8530
,
Wave M
,
Wave S8500
,
X100
,
X450
,
X460
,
X530
,
X600
,
X640
,
X660
,
X680
,
X820
,
X830
,
Z1
,
Z105
,
Z107
,
Z130
,
Z140
,
Z300
,
Z320i
,
Z400
,
Z510
,
Z540
,
Z560
,
Z650i
,
Z720
,
ZM60
,
ZV40