Official Samsung UV Smartphone Steriliser With 10W Wireless Charger
Introducing the sleek, compact Official Samsung phone sanitiser & wireless charger on the go. Featuring UV lights, it cleanses your phone from harmful bacteria & viruses, while also having the capability of fast charging your Qi enabled device on the go!
Key Features
2-in-1 cleaning and charging for your smartphone
UVC light for maximum germ-killing efficiency in 10 minutes
ITFIT UV Steriliser's single button automatically turns off after 10 minutes
Wirelessly charges Qi-enabled smartphones
Compact, portable design
Beschreibung
Your phone has 18x more bacteria than a public restroom. Yet you will use it all day without question. With this UV Smartphone Steriliser, you can minimise the risk of spreading bacteria and getting ill - helping you stay safe! Not only does it function as a UV smartphone steriliser, it can even wirelessly charge your device. Once the 10 minutes are up of decontaminating your phone, you can keep it in the holder for longer to keep your phone charged!
2-in-1 cleaning and charging for your smartphone or other devices
There are many products on the market that clean your phone. There are also many products that charge your phone. However, there are none that simultaneously offer both of these functions...until now. Meet Samsung UV steriliser, a safe, convenient sanitiser that purges your phone of nasty germs and charges your device at the same time.
Enjoy the peace of mind Samsung offers, knowing your phone is not only as clean as it can possibly be, but fully charged and ready for your day too.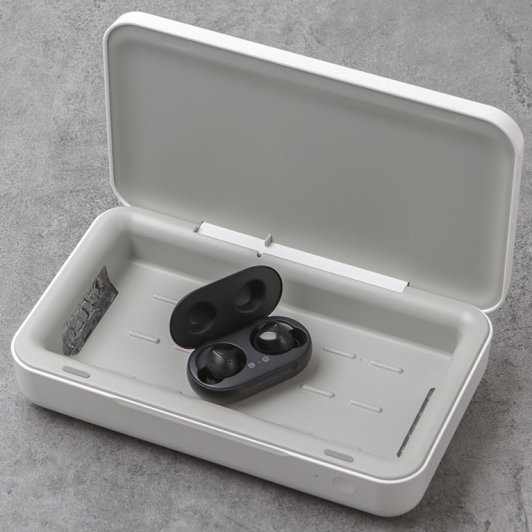 You don't have to just put your smartphone in here; you can also put earphones and other smaller products to sanitise them too!
UVC light for maximum germ-killing efficiency in 10 minutes
All you need to do is place your smartphone, glasses, earphones, or other smaller gadgets in this UV steriliser from Samsung, and you will get rid of it within 10 minutes.
It features two UV-C lamps which produce a special light capable of penetrating the cell walls of bacteria and viruses, compromising their DNA and stopping their infection-causing potential in its tracks. Thanks to this unique method of cleansing, Samsung can also kill bugs and germs which have developed an immunity to traditional cleaning methods. Let the light shine through with Samsung.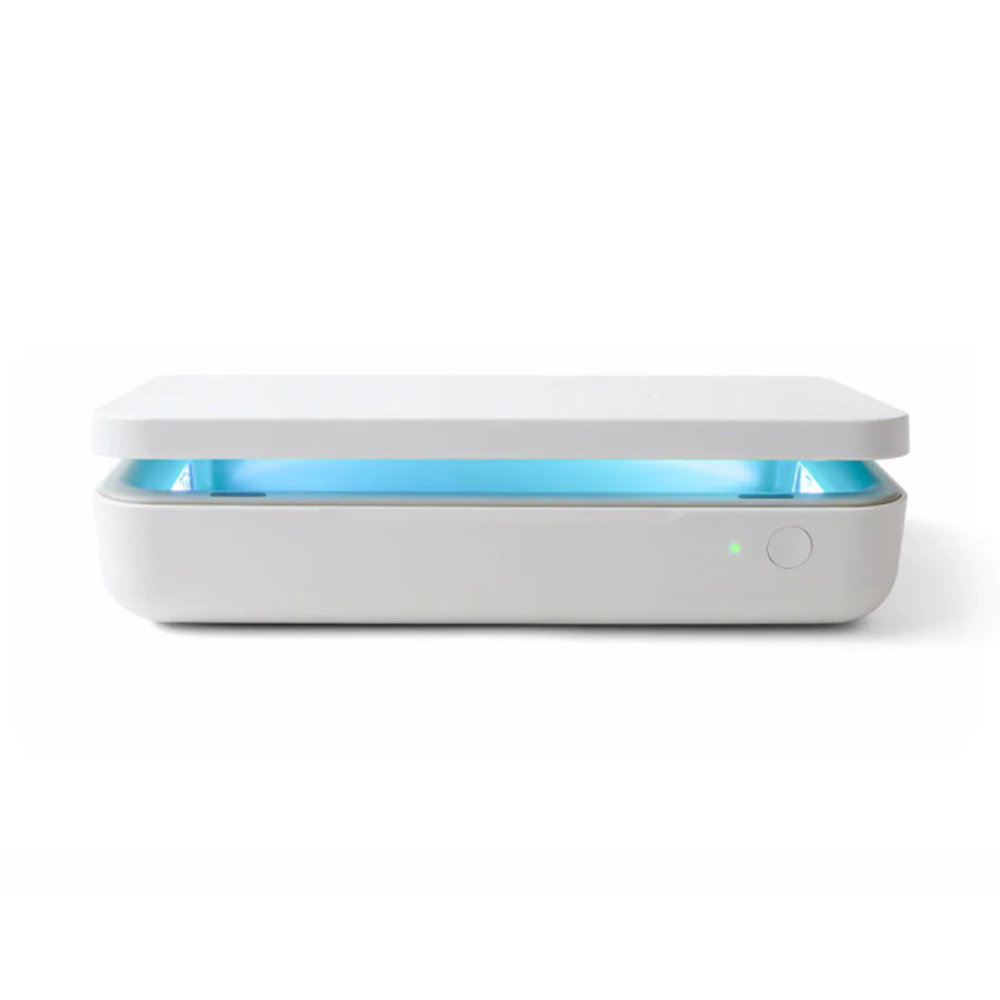 ITFIT UV Steriliser's single button automatically turns off after 10 minutes
You won't have to be without your phone for more than ten minutes, as that's all it takes for Samsung to complete a top-to-bottom clean of your phone. It's an efficient, quick and safe way to make sure your phone is pristine. A blue LED indicator on the front of the device will let you know when the cleaning process is complete, so you can stay informed.
Once done, you can easily leave your phone in there for longer if you want to wirelessly charge; completely up to you!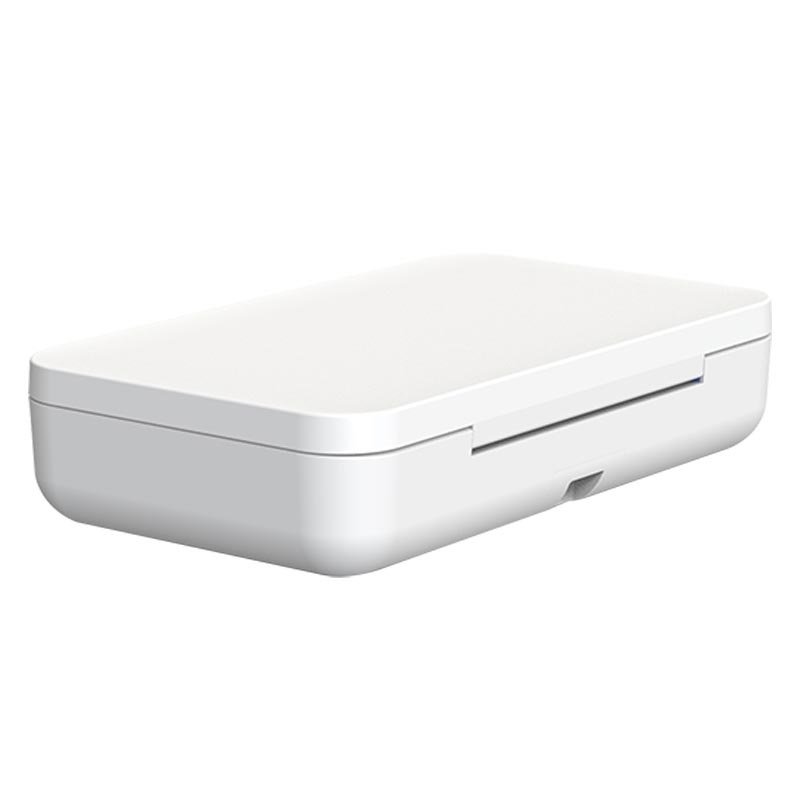 Wirelessly charges Qi-enabled smartphones
The UV steriliser uses wireless Qi technology to quickly charge your smartphone - it's compatible with the latest iOS and Android devices that support wireless charging.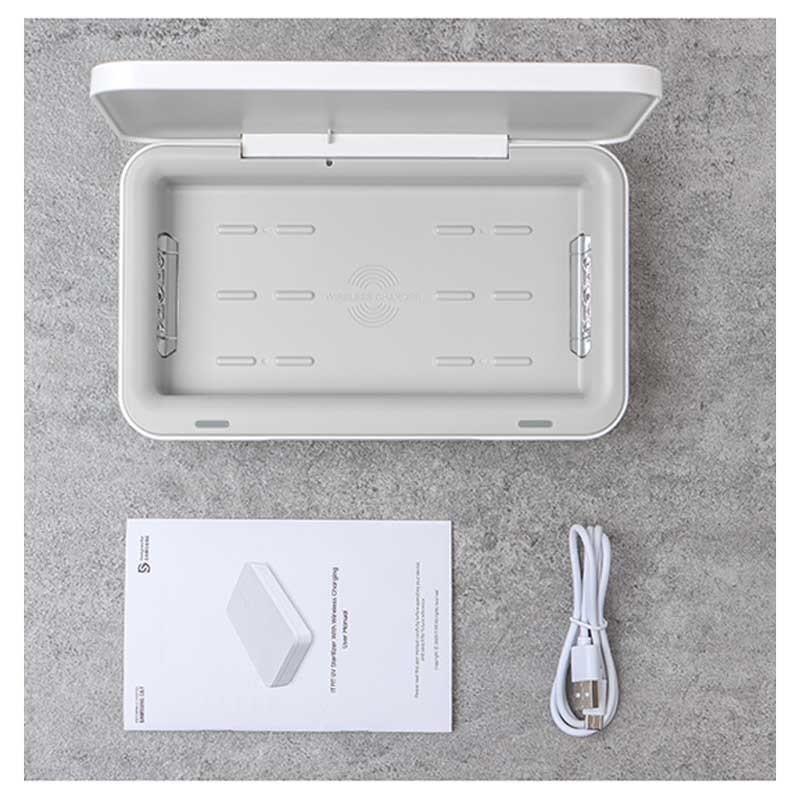 Technical Specifications:
- Type: ITFIT UV Steriliser
- Input interface: Type-C
- Total power: 10W
- UV light power: 1W each
- Sterilizing time: 10min
- Dimensions: 228mm x 133mm x 49.5mm
- Inner dimensions: 196mm x 96mm x 33mm
- Weight - 369g

Was befindet sich in der Box?
UV Steriliser
Type-C cable
User Manual
Mobile phone cleaning cloth
Wesentliche Details
| | |
| --- | --- |
| Part No | GP-TOU020SACWJ |
| UPC | 8801790032842 |
| Mobile Fun ID | 85193 |
| Farbe | Weiss |
| Brand Name | Samsung |
Lieferung & Retouren
Liefermöglichkeiten für Deutschland / Österreich:

Warensendung - Versandkosten: 2,99 €
Zustellung ab Versand: in 4-8 Werktagen.
Warensendung mit Sendungsverfolgung - Versandkosten: 10,99 €
Zustellung ab Versand: in 2-4 Werktagen.
DHL Express für Deutschland - Versandkosten: 24,99 €
Zustellung ab Versand: am nächsten Tag (Mo-Fr) bei Bestellung vor 17 Uhr


DHL Express für Österreich - Versandkosten: 26,99 €
Zustellung ab Versand: am nächsten Tag (Mo-Fr) bei Bestellung vor 17 Uhr


HINWEIS: Sie können die Standardzustellung nur mit einem Einkaufskorb unter 60 € auswählen. Ist dies der Fall, müssen Sie eine nachverfolgbare Zustellungsmethode auswählen.
Wenn Ihr Warenkorb über 120 € liegt, müssen Sie aus Sicherheitsgründen DHL Express wählen.
Wenn Ihre Bestellung weniger als 150 € ohne Versandkosten beträgt, ist die Mehrwertsteuer bereits in dem Preis enthalten. Dies bedeutet, dass keine zusätzliche Mehrwertsteuer zur Zahlung fällig wird, wenn Ihre Bestellung an Sie geliefert wird. Weitere Informationen finden Sie an der Lieferbedingungen Seite.


Notiz: Die voraussichtlichen Ankunftszeiten werden direkt den Angaben unserer Kuriere entnommen. Dies sind nur Schätzungen, Mobile Fun ist nicht verantwortlich, wenn dies variiert. Alle Produkte werden aus unserem Lager in Großbritannien versendet. Fehlende oder verspätete Artikel: Bitte beachten Sie, dass wir 20 Arbeitstage warten müssen, bevor wir verlorene Artikel zurückverfolgen, ersetzen oder erstatten können. Der Postdienst steht für Bestellungen mit hohem Wert nicht zur Verfügung, es wird die Expressversandmethode angewendet.
Weigerung, Gebühren zu zahlen - Rückgaberecht
Wenn Sie sich weigern, den auf Ihre Sendung erhobenen Einfuhrzoll oder die Mehrwertsteuer zu zahlen, kann dies dazu führen, dass die Sendung an Mobile Fun zurückgesandt wird. In diesem Fall werden alle damit verbundenen Rücknahmegebühren zuzüglich einer Mindestverwaltungsgebühr von £ 5,00 (oder einer entsprechenden Währung zum aktuellen Wechselkurs) auf Ihren endgültigen Rückerstattungsbetrag angerechnet.