Olixar Basics True Wireless Earbuds With Charging Case - White
Enjoy up to 5 hours of uninterrupted music whilst on the go with the Olixar Basics TW Earpods in white. Designed with Bluetooth compatibility & including a rechargeable case you can enjoy great sound quality wire-free. Olixar Basics, everyday essentials.
Frequently bought together
Key Features
Enjoy your music with total wireless freedom
Haptic feedback support
True Wireless
iOS & Android compatibility
Built-in microphone
Auto-pairing function
10m Bluetooth distance
1 Hour charging time
Beschreibung

Enjoy your music experience with this stunning music experience. With auto-pairing, your earbuds will automatically connect to your phone and then allow for up to 5 hours of seamless, high-quality talk and music time.
Enjoy your music with total freedom
The Olixar Basics true wireless earbuds are designed to ensure a sound experience with no strings attached. Enjoy a stable and authentic sound for up to 5 hours. Recharge the earbuds by using the portable charging case and get even more hours of playtime, wherever and whenever you want.
Haptic feedback support
The Olixar Earbuds have been equipped with haptic feedback buttons so you can pause and play your music without having to get your phone out.
True Wireless
The True Wireless Earbuds are completely wireless and very easy to connect to your mobile device. Pair them via Bluetooth and enjoy your music with total freedom. These earphones also come with a charging case to provide your earphones with more playtime!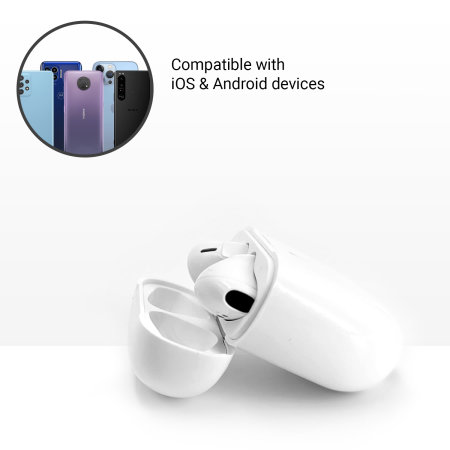 iOS & Android compatibility
Working with both Android and Apple devices, the True Wireless Earbuds allow for an effortless listening experience regardless of what operating system your device runs on.
Built-in microphone
The Olixar Earbuds have built-in microphones that ensure that you can answer calls with the touch of your earbuds and not have to keep relying on your phone.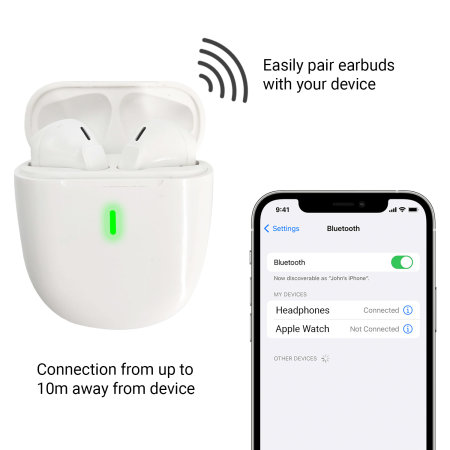 Auto-pairing function
These Earbuds have auto-pairing technology, which means that as long as your Bluetooth is on, your Earbuds will automatically connect.
10m Bluetooth range
These Bluetooth Wireless Earbuds can work up to 10m away from your device. This means that if you wander away from your phone, then the music experience will continue for up to 10m away.
1 Hour charging time
Enjoy listening to music as fast as possible with only 1 hour of charging time! So you never have to worry about waiting around for long periods of time waiting for your earbuds to charge.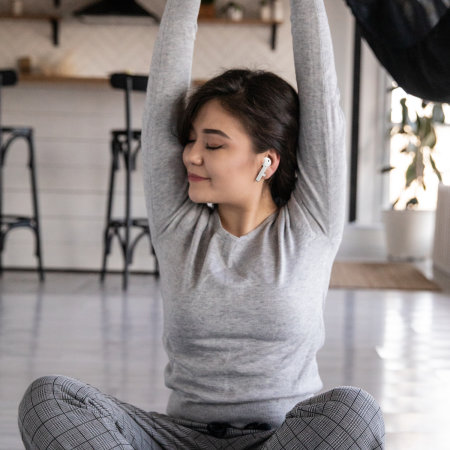 Technical Specifications:
Bluetooth chipset: JL6973, BT5.3
Bluetooth Version: V5.3
Profiles: HFP, HSP, A2DP, AVRCP
Wireless range: 10m
Frequency: 20Hz-20kHz
Playtime: 5 hours
Standby time: 90 Days
Charging Case Battery: 3.7V 30mAh
Earbuds Battery: 3.7V 25mAh
Charging Input: 5V 50mAh
Working Temperature: -10 to -50 Celsius
Was befindet sich in der Box?
1 x Olixar True Wireless Earbuds - White
1 x Charging Case
1 X USB-A to USB-C 10cm Charging Cable
1 x User manual
Wesentliche Details
| | |
| --- | --- |
| Part No | OLX-91800 |
| UPC | 5056610817021 |
| Mobile Fun ID | 91800 |
| Farbe | Weiss |
| Brand Name | Olixar Basics |
Lieferung & Retouren
Liefermöglichkeiten für Deutschland / Österreich:

Warensendung - Versandkosten: 2,99 €
Zustellung ab Versand: in 4-8 Werktagen.
Warensendung mit Sendungsverfolgung - Versandkosten: 10,99 €
Zustellung ab Versand: in 2-4 Werktagen.
DHL Express für Deutschland - Versandkosten: 24,99 €
Zustellung ab Versand: am nächsten Tag (Mo-Fr) bei Bestellung vor 17 Uhr


DHL Express für Österreich - Versandkosten: 26,99 €
Zustellung ab Versand: am nächsten Tag (Mo-Fr) bei Bestellung vor 17 Uhr


HINWEIS: Sie können die Standardzustellung nur mit einem Einkaufskorb unter 60 € auswählen. Ist dies der Fall, müssen Sie eine nachverfolgbare Zustellungsmethode auswählen.
Wenn Ihr Warenkorb über 120 € liegt, müssen Sie aus Sicherheitsgründen DHL Express wählen.
Wenn Ihre Bestellung weniger als 150 € ohne Versandkosten beträgt, ist die Mehrwertsteuer bereits in dem Preis enthalten. Dies bedeutet, dass keine zusätzliche Mehrwertsteuer zur Zahlung fällig wird, wenn Ihre Bestellung an Sie geliefert wird. Weitere Informationen finden Sie an der Lieferbedingungen Seite.


Notiz: Die voraussichtlichen Ankunftszeiten werden direkt den Angaben unserer Kuriere entnommen. Dies sind nur Schätzungen, Mobile Fun ist nicht verantwortlich, wenn dies variiert. Alle Produkte werden aus unserem Lager in Großbritannien versendet. Fehlende oder verspätete Artikel: Bitte beachten Sie, dass wir 20 Arbeitstage warten müssen, bevor wir verlorene Artikel zurückverfolgen, ersetzen oder erstatten können. Der Postdienst steht für Bestellungen mit hohem Wert nicht zur Verfügung, es wird die Expressversandmethode angewendet.
Weigerung, Gebühren zu zahlen - Rückgaberecht
Wenn Sie sich weigern, den auf Ihre Sendung erhobenen Einfuhrzoll oder die Mehrwertsteuer zu zahlen, kann dies dazu führen, dass die Sendung an Mobile Fun zurückgesandt wird. In diesem Fall werden alle damit verbundenen Rücknahmegebühren zuzüglich einer Mindestverwaltungsgebühr von £ 5,00 (oder einer entsprechenden Währung zum aktuellen Wechselkurs) auf Ihren endgültigen Rückerstattungsbetrag angerechnet.