Olixar Black Circular Air Vent Car Phone Holder For Smartphones - For Mercedes Benz C Class (2018 & Newer)
Dock your phone securely in the car with this Olixar car holder designed for the Mercedes Benz C-Class. Perfect for when you need to use your phone as a Sat Nav. Offering a comprehensive fit, this Olixar car bracket works with 4.5 to 6.5-inch smartphones.
Key Features
Rubberised Mounting
360-degree rotation
Inner Silicone grips hold and protect your phone
Universal design and compatible with many smartphones
Compatible for Smartphones 4.5-6.5 inch Screen size
Designed specifically for circular air vents
Compatible with majority of circular air vents
Beschreibung

Rubberised Mounting
The rubberised mounting clip on the holder allows you to slot it easily onto the air circular vents in your vehicle. It doesn't matter how your vents are positioned or shaped, this Olixar holder is sure to fit and fit well - with a firm and stable hold that you need when mounting a smart device. Perfect for long journeys and bumpy rads, your device will be held securely.
360-degree rotation
The mounting clip can be completely rotated clockwise or anti-clockwise. So there's no angle you can't get. That also means you can switch your device between portrait and landscape in a split second. You can also use the movement in your vehicle's air vents too if you wish, for that little bit of extra control.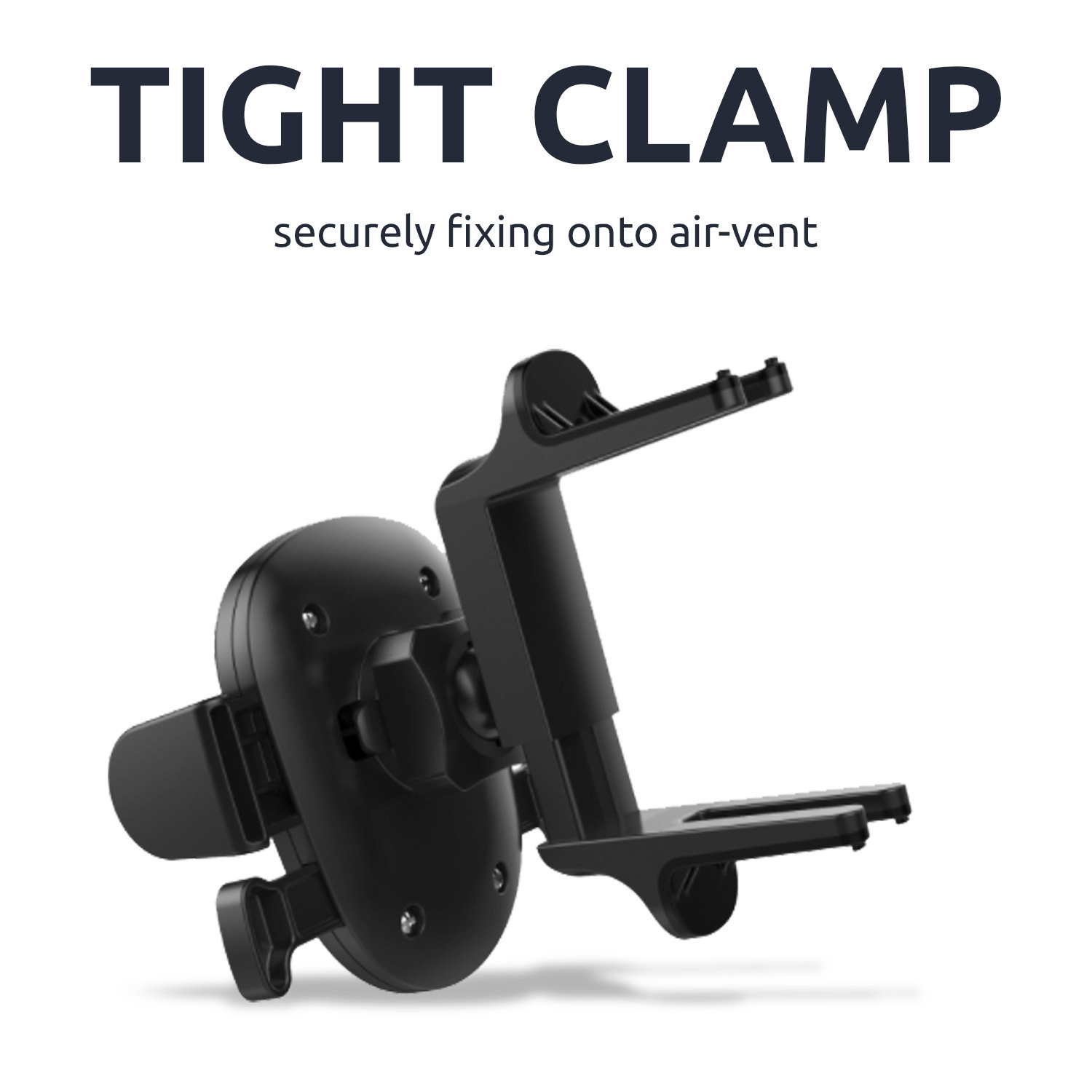 Inner Silicone grips hold and protect your phone
Not only will your phone be secure in your car while driving, but the silicone padded clips cushion and protect your phone when in the mount. The tight grip ensures your phone remains in position while protecting the sides of your phone from any marks or scratches.
Universal design and compatible with many smartphones
Designed to accommodate virtually any smartphone, the Olixar circular vent in-car holder accommodates devices from between 4.5 and 6.5 inches, making it suitable for larger devices such as the Pro Max's and Plus-sized phone models.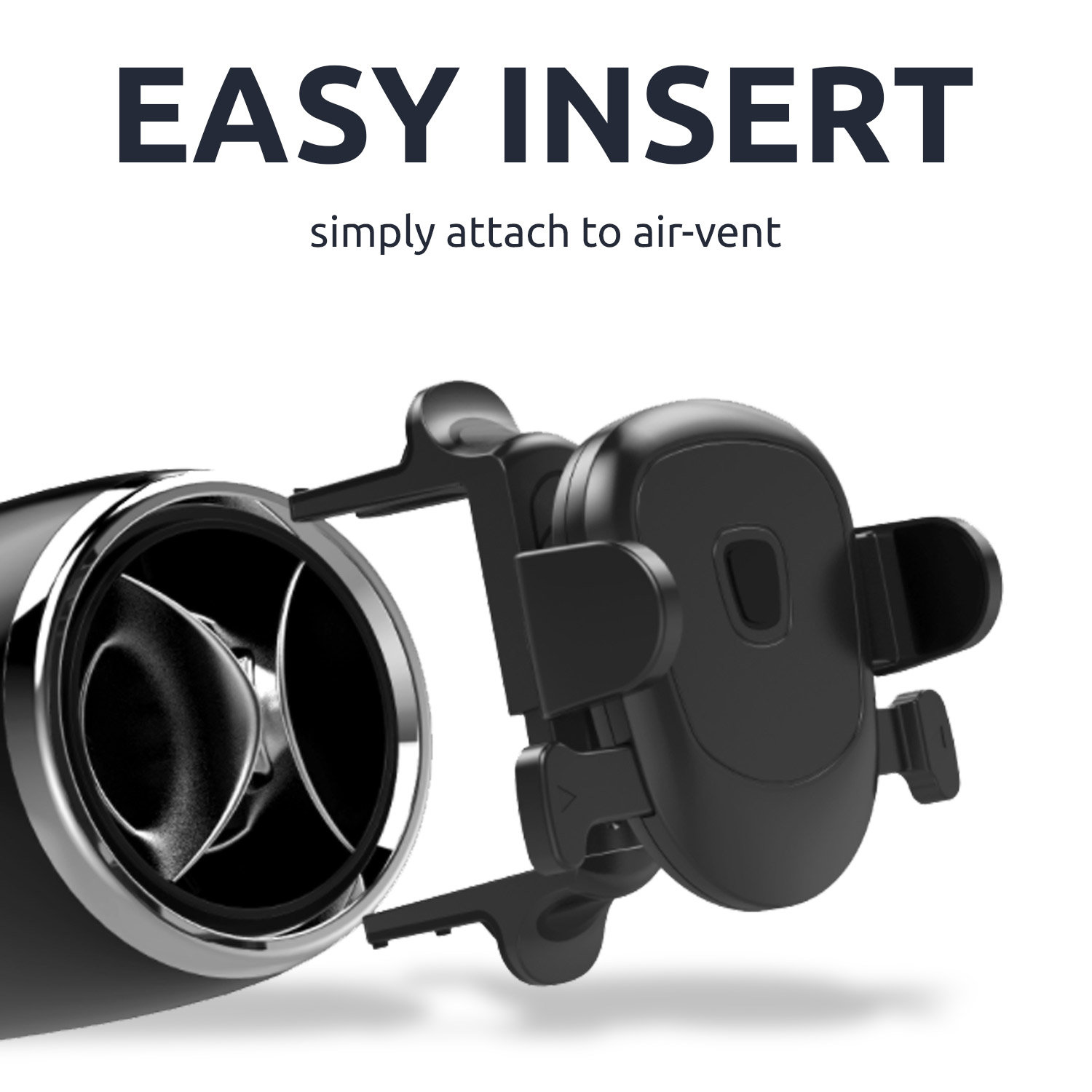 Designed specifically for circular air vents
Circular air vents look great but that means that 99% of the phone holders on the market will not work with your vehicle. Do not worry anymore, Olixar has brought an excellent and reliable solution to this with this sleek car phone holder.
Compatible with the majority of circular air vents
Works perfectly with air outlets between 60mm and 70mm in diameter and with an outlet depth of 34mm or more. See the below images for the types of air vent outlets this will work with.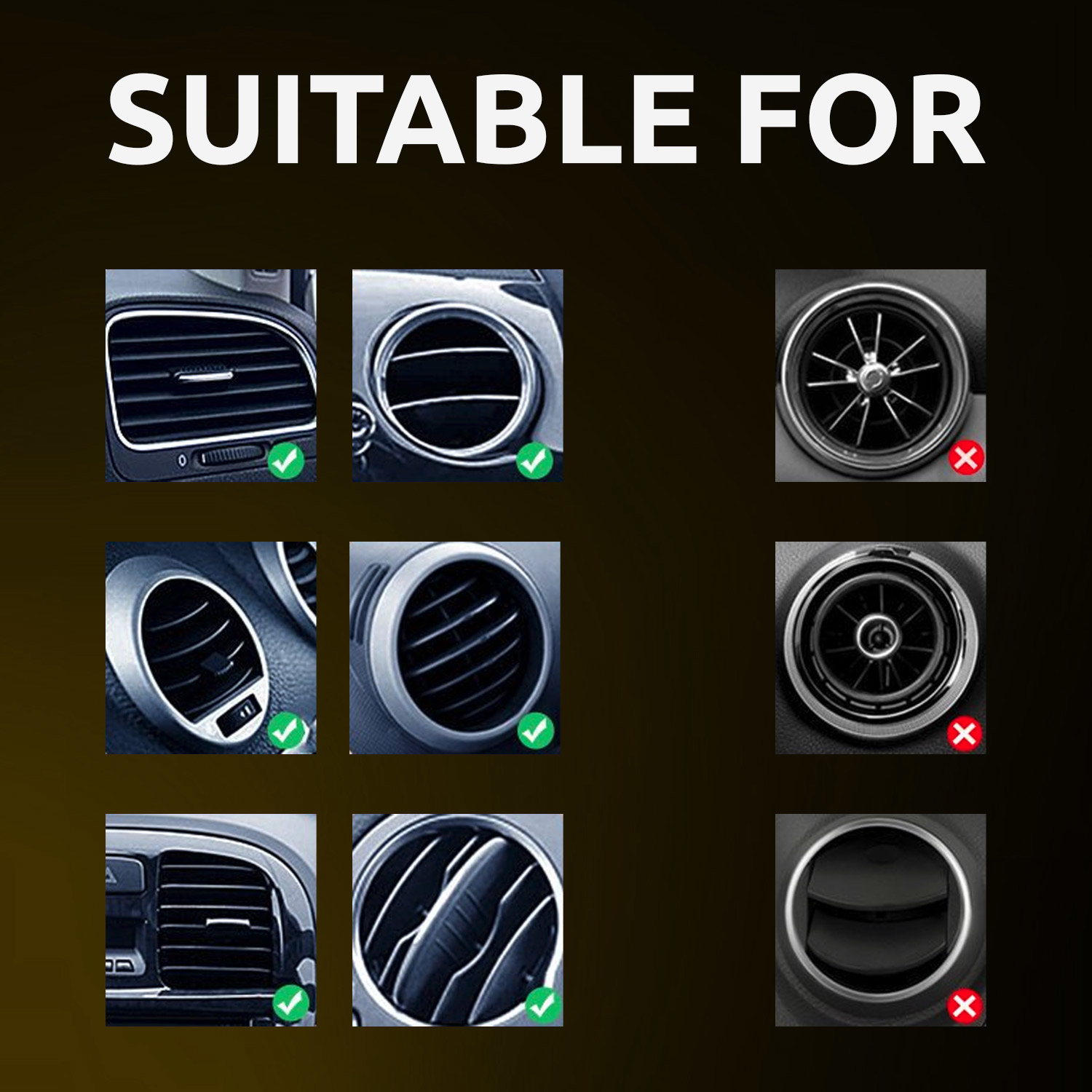 Wesentliche Details
| | |
| --- | --- |
| Part No | OLX-90195 |
| UPC | 5056610807435 |
| Mobile Fun ID | 90195 |
| Farbe | Schwarz |
| Brand Name | Olixar |
Lieferung & Retouren
Liefermöglichkeiten für Deutschland / Österreich:

Warensendung - Versandkosten: 2,99 €
Zustellung ab Versand: in 4-8 Werktagen.
Warensendung mit Sendungsverfolgung - Versandkosten: 10,99 €
Zustellung ab Versand: in 2-4 Werktagen.
DHL Express für Deutschland - Versandkosten: 24,99 €
Zustellung ab Versand: am nächsten Tag (Mo-Fr) bei Bestellung vor 17 Uhr


DHL Express für Österreich - Versandkosten: 26,99 €
Zustellung ab Versand: am nächsten Tag (Mo-Fr) bei Bestellung vor 17 Uhr


HINWEIS: Sie können die Standardzustellung nur mit einem Einkaufskorb unter 60 € auswählen. Ist dies der Fall, müssen Sie eine nachverfolgbare Zustellungsmethode auswählen.
Wenn Ihr Warenkorb über 120 € liegt, müssen Sie aus Sicherheitsgründen DHL Express wählen.
Wenn Ihre Bestellung weniger als 150 € ohne Versandkosten beträgt, ist die Mehrwertsteuer bereits in dem Preis enthalten. Dies bedeutet, dass keine zusätzliche Mehrwertsteuer zur Zahlung fällig wird, wenn Ihre Bestellung an Sie geliefert wird. Weitere Informationen finden Sie an der Lieferbedingungen Seite.


Notiz: Die voraussichtlichen Ankunftszeiten werden direkt den Angaben unserer Kuriere entnommen. Dies sind nur Schätzungen, Mobile Fun ist nicht verantwortlich, wenn dies variiert. Alle Produkte werden aus unserem Lager in Großbritannien versendet. Fehlende oder verspätete Artikel: Bitte beachten Sie, dass wir 20 Arbeitstage warten müssen, bevor wir verlorene Artikel zurückverfolgen, ersetzen oder erstatten können. Der Postdienst steht für Bestellungen mit hohem Wert nicht zur Verfügung, es wird die Expressversandmethode angewendet.
Weigerung, Gebühren zu zahlen - Rückgaberecht
Wenn Sie sich weigern, den auf Ihre Sendung erhobenen Einfuhrzoll oder die Mehrwertsteuer zu zahlen, kann dies dazu führen, dass die Sendung an Mobile Fun zurückgesandt wird. In diesem Fall werden alle damit verbundenen Rücknahmegebühren zuzüglich einer Mindestverwaltungsgebühr von £ 5,00 (oder einer entsprechenden Währung zum aktuellen Wechselkurs) auf Ihren endgültigen Rückerstattungsbetrag angerechnet.