Olixar Dual Screen Laptop Connector Mount for Tablets & Smartphones - 2 Pack
Create a dual screen setup without the need for a separate stand or monitor. Simply clip your tablet or smartphone onto your laptop's screen using one or two clips and adjust its height to suit your needs. Quick, easy and portable for working on the go.
Frequently bought together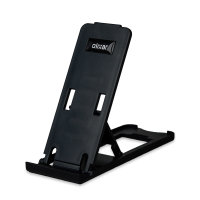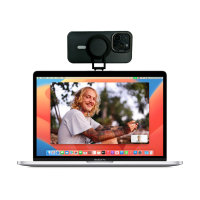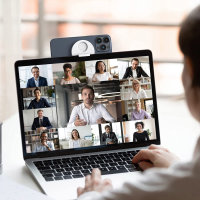 Key Features
Clip your phone or tablet to your laptop for seamless multi-tasking
Strong rubberised grips
Cable management system
Compact and lightweight
Universal compatibility
Beschreibung
Clip your phone or tablet to your laptop for seamless multi-tasking
Featuring dual rubberised grips, the Olixar Connector Clips are the perfect accessory to create a quick and secure multi-monitor setup. Simply clip one side to your laptop and the other to your tablet or mobile device and you'll be able to simultaneously work with dual screens to watch films, read articles and browse the web. Designed to offer a seamless full screen experience, the Olixar Connector Clips impressively hold your second screen only 4mm away from your main laptop display.
Strong rubberised grips
The dual grips of the Olixar Connector Clips have been designed to provide a strong and secure mount for your tablet to ensure it does not slip off. You can even mount your tablet in either portrait or landscape mode by utilising both clips for extra stability and versatility.
Cable management system
Featuring a charging cable pass through design, the Olixar Connector Clips allows for your tablet to be charged, even when mounted in landscape orientation. Designed to ensure the cable is out of your way, the cable pass through system redirects your charging cable so that it is hidden behind your laptop's screen.
Compact and lightweight
With their compact and lightweight design, the Olixar Connector Clips are ideal for creating an efficient desk space, whilst also being perfect to take away in your bag or pocket to create your multi-monitor setup wherever you are.
Universal tablet compatibility
The Connector Clips are compatible with virtually any smartphone or tablet which have a thickness between 5 - 9 mm, which includes the iPad Pro, iPad Air, Samsung Galaxy Tab and Kindle Fire HD. Additionally they are compatible with most laptops, including MacBooks.
Wesentliche Details
| | |
| --- | --- |
| Part No | OLX-81085 |
| UPC | 5056208148087 |
| Mobile Fun ID | 81085 |
| Farbe | Schwarz |
| Brand Name | Olixar |
Videos
Lieferung & Retouren
Liefermöglichkeiten für Deutschland / Österreich:

Warensendung - Versandkosten: 2,99 €
Zustellung ab Versand: in 4-8 Werktagen.
Warensendung mit Sendungsverfolgung - Versandkosten: 10,99 €
Zustellung ab Versand: in 2-4 Werktagen.
DHL Express für Deutschland - Versandkosten: 24,99 €
Zustellung ab Versand: am nächsten Tag (Mo-Fr) bei Bestellung vor 17 Uhr


DHL Express für Österreich - Versandkosten: 26,99 €
Zustellung ab Versand: am nächsten Tag (Mo-Fr) bei Bestellung vor 17 Uhr


HINWEIS: Sie können die Standardzustellung nur mit einem Einkaufskorb unter 60 € auswählen. Ist dies der Fall, müssen Sie eine nachverfolgbare Zustellungsmethode auswählen.
Wenn Ihr Warenkorb über 120 € liegt, müssen Sie aus Sicherheitsgründen DHL Express wählen.
Wenn Ihre Bestellung weniger als 150 € ohne Versandkosten beträgt, ist die Mehrwertsteuer bereits in dem Preis enthalten. Dies bedeutet, dass keine zusätzliche Mehrwertsteuer zur Zahlung fällig wird, wenn Ihre Bestellung an Sie geliefert wird. Weitere Informationen finden Sie an der Lieferbedingungen Seite.


Notiz: Die voraussichtlichen Ankunftszeiten werden direkt den Angaben unserer Kuriere entnommen. Dies sind nur Schätzungen, Mobile Fun ist nicht verantwortlich, wenn dies variiert. Alle Produkte werden aus unserem Lager in Großbritannien versendet. Fehlende oder verspätete Artikel: Bitte beachten Sie, dass wir 20 Arbeitstage warten müssen, bevor wir verlorene Artikel zurückverfolgen, ersetzen oder erstatten können. Der Postdienst steht für Bestellungen mit hohem Wert nicht zur Verfügung, es wird die Expressversandmethode angewendet.
Weigerung, Gebühren zu zahlen - Rückgaberecht
Wenn Sie sich weigern, den auf Ihre Sendung erhobenen Einfuhrzoll oder die Mehrwertsteuer zu zahlen, kann dies dazu führen, dass die Sendung an Mobile Fun zurückgesandt wird. In diesem Fall werden alle damit verbundenen Rücknahmegebühren zuzüglich einer Mindestverwaltungsgebühr von £ 5,00 (oder einer entsprechenden Währung zum aktuellen Wechselkurs) auf Ihren endgültigen Rückerstattungsbetrag angerechnet.