Olixar Earphone Buds Cleaning Accessories Kit
Keep your earphones, wireless buds & AirPods, clean & free of dirt for more safety & better hygiene. Regular cleaning also ensures optimal performance & extends the life of your buds. Feel secure with the Olixar earbuds 11-piece cleaning set!
Frequently bought together
Key Features
Keep Your Ears Clean
Keep Your Earbuds Clean
Enhance Performance & Lifespan
Universal Use
Beschreibung

A recent study found that earbuds, earphones and other in-ear audio accessories can carry up to 119,186 colony-forming units. That is a lot of bacteria that could potentially harm you - thankfully Olixar has the solution.
Clean Ears
The Olixar Earphone bud Cleaning Accessories Kit ensures that your earphones are kept clean, hygienic and safe for you to use, with studies showing that earphones can carry 6 times more bacteria than a kitchen - you'll definitely be wanting to keep your earphones/buds clean! Not only will this keep your earphones clean, but it will help you to keep your ears clean too - saving you from nasty ear infections and other illnesses!
Clean Earphones
The cleaning kit ensures to keep your earbuds clean making sure they are in mint condition allowing you to get the best quality sound your earbuds can offer! Asides from giving you healthy ears and the best sound quality your buds can offer, they'll also look great too!
Enhance Performance & Lifespan
keep your earbuds clean using the Olixar Earphone bud Cleaning Accessories Kit and you can improve and maintain their lifespan and quality with virtually no/less dust and dirt. This will also aid to increase the lifespan of your earbuds.
Universal Use
Be creative! You can use this cleaning kit with other devices and products such as games consoles, gaming controllers, laptops, keyboards, tablets, smartphones and more.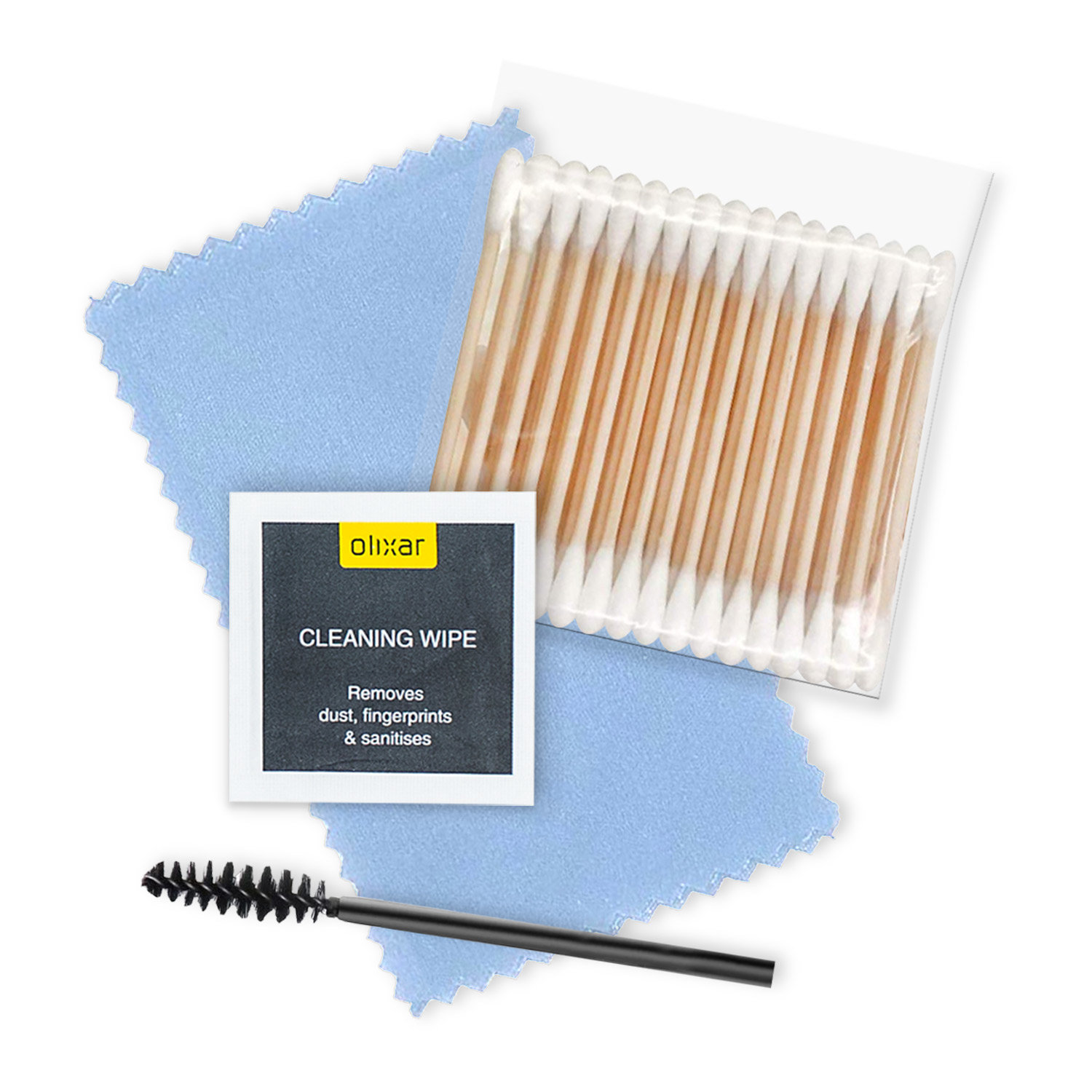 Was befindet sich in der Box?
2 Soft Bristle Brushes
5 Cleaning Swabs
1 Soft Brush
1 Cleansing Spray Bottle
2 Anti-Static Cleansing Wipes
Wesentliche Details
| | |
| --- | --- |
| Part No | OLX-85482 |
| UPC | 5056208174901 |
| Mobile Fun ID | 85482 |
| Farbe | Klar |
| Brand Name | Olixar |
Lieferung & Retouren
Liefermöglichkeiten für Deutschland / Österreich:

Warensendung - Versandkosten: 2,99 €
Zustellung ab Versand: in 4-8 Werktagen.
Warensendung mit Sendungsverfolgung - Versandkosten: 10,99 €
Zustellung ab Versand: in 2-4 Werktagen.
DHL Express für Deutschland - Versandkosten: 24,99 €
Zustellung ab Versand: am nächsten Tag (Mo-Fr) bei Bestellung vor 17 Uhr


DHL Express für Österreich - Versandkosten: 26,99 €
Zustellung ab Versand: am nächsten Tag (Mo-Fr) bei Bestellung vor 17 Uhr


HINWEIS: Sie können die Standardzustellung nur mit einem Einkaufskorb unter 60 € auswählen. Ist dies der Fall, müssen Sie eine nachverfolgbare Zustellungsmethode auswählen.
Wenn Ihr Warenkorb über 120 € liegt, müssen Sie aus Sicherheitsgründen DHL Express wählen.
Wenn Ihre Bestellung weniger als 150 € ohne Versandkosten beträgt, ist die Mehrwertsteuer bereits in dem Preis enthalten. Dies bedeutet, dass keine zusätzliche Mehrwertsteuer zur Zahlung fällig wird, wenn Ihre Bestellung an Sie geliefert wird. Weitere Informationen finden Sie an der Lieferbedingungen Seite.
Weigerung, Gebühren zu zahlen - Rückgaberecht
Wenn Sie sich weigern, den auf Ihre Sendung erhobenen Einfuhrzoll oder die Mehrwertsteuer zu zahlen, kann dies dazu führen, dass die Sendung an Mobile Fun zurückgesandt wird. In diesem Fall werden alle damit verbundenen Rücknahmegebühren zuzüglich einer Mindestverwaltungsgebühr von £ 5,00 (oder einer entsprechenden Währung zum aktuellen Wechselkurs) auf Ihren endgültigen Rückerstattungsbetrag angerechnet.