Olixar Headrest Mounted Multifunctional Food & Drink Storage Tray for Cars
The Olixar car seat headrest tray securely attaches to your headrest, providing you & your family with a useful place to keep your food & drink. With 2 cup holders, a phone slot & a snack tray, this tray will fit all you need & more on your journey!
Frequently bought together
Key Features
Securely attaches to your headrest, to stay stable on your adventure
Contains two cup holders, a snack slot, a phone holder and a base tray
Easily folds up when not in use
Stops spills from ruining a long car journey
Beschreibung

Never have to worry about having no room for your drinks & snacks whilst you drive with this high-quality, durable & sturdy multipurpose tray from Olixar. The tray securely attaches to your car headrest, keeping your food and drink secure until you need them! With this Olixar tray, you'll never have to be messing about looking for where your biscuit fell to, or having to hold your drink between your legs for the whole journey; you'll have a comfortable place to place all your car journey must haves - whether that's your iPad for watching movies, your snacks or your book. Have it all in one place with Olixar.
Securely attaches to your headrest, to stay stable on your adventure
This cup holder mount can securely attach to your headrest! It's super easy and fast to attach, meaning no time is wasted setting the cup holder up and more time can be spent on your adventure! Once attached, the tray can be folded up until you need it.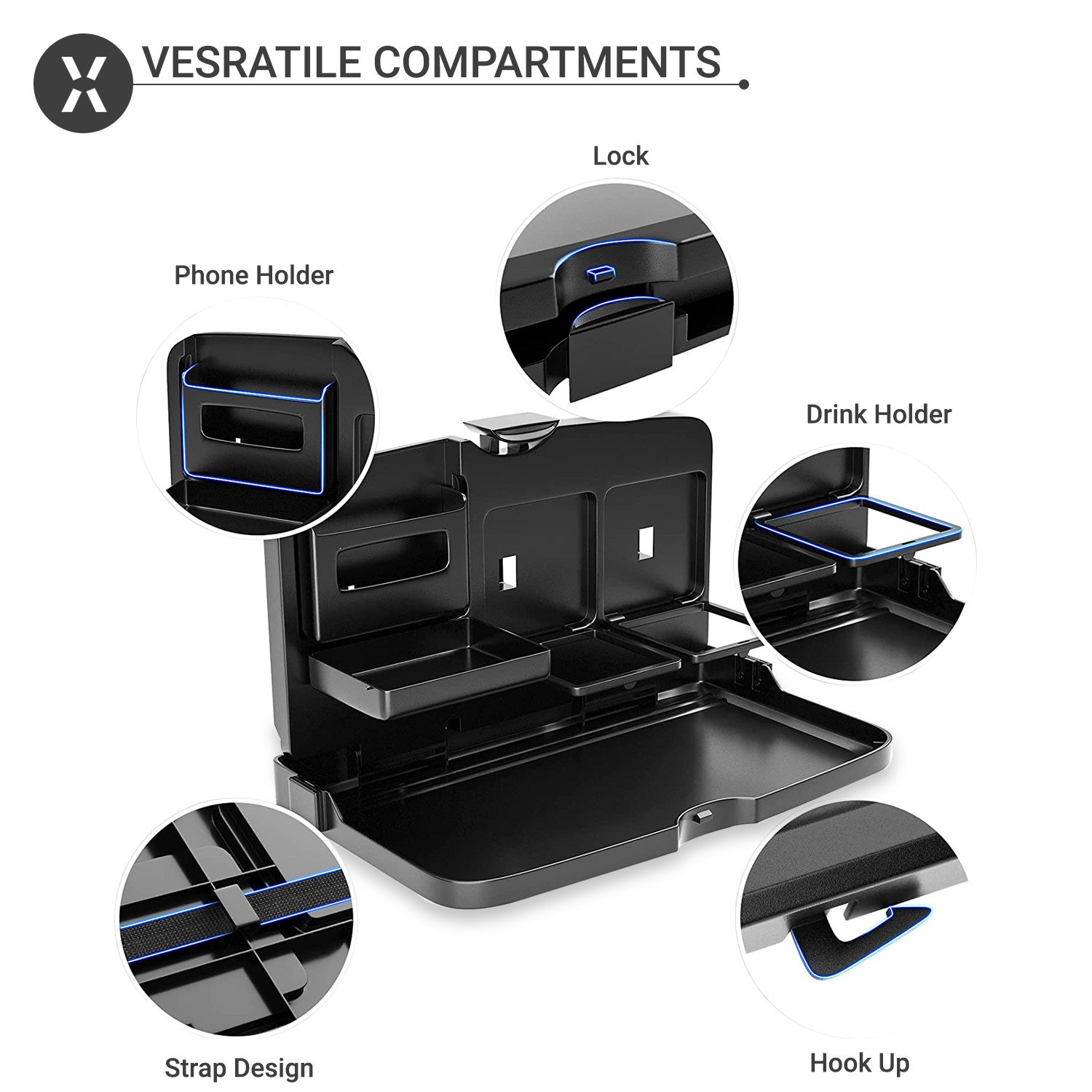 Two cup holders, that can also double as a phone holder whilst you eat!
This comes with two holders, rather than one; meaning you can have two drinks secure! No more fighting over whose drink has to be balanced on the floor, instead be able to place both in one with Olixar.
Not only does it have 2 cup holders, it also comes with a useful phone holder to put your phone away whilst you eat or nap, a little snack slot to keep your chocolate and biscuits to yourself (hidden away from others so they can't steal them) and even with all of this, there is still room on the base tray to put down your sandwiches or even your iPad to comfortably watch a movie whilst you're on the go.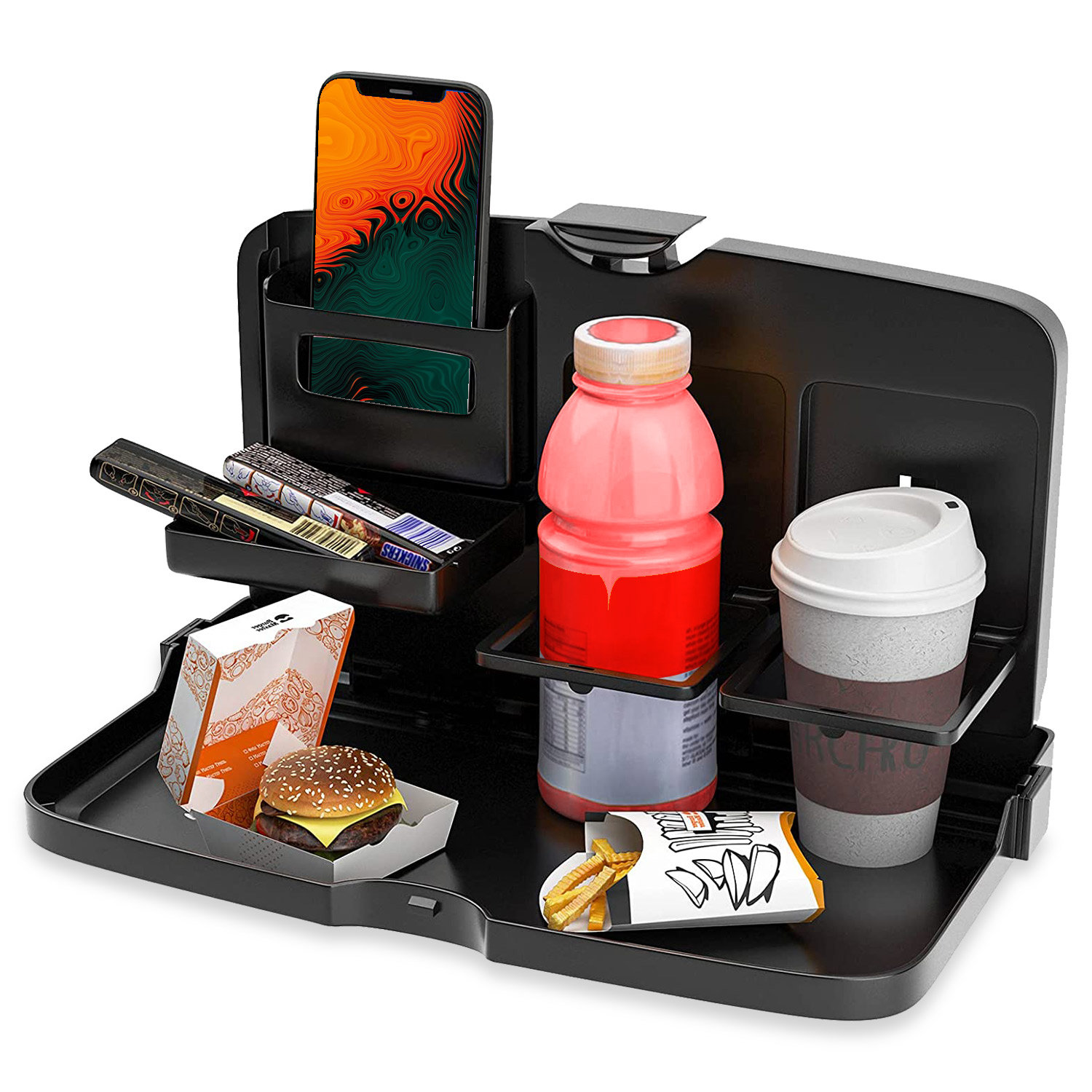 Easily folds up when not in use
As a safety precaution, when this is not in use, it can easily fold up so it stops taking up unnecessary room in your car.
Stops spills from ruining a long car journey
Car journeys can be a lot of things; boring, uncomfortable, long. With Olixar, we want to minimise this discomfort by providing an extra accessory to make your journey easier! With 2 drink holders, you can securely keep your drinks safe until you need another sip!
Wesentliche Details
| | |
| --- | --- |
| Part No | OLX-85761 |
| UPC | 5056208176004 |
| Mobile Fun ID | 85761 |
| Farbe | Schwarz |
| Brand Name | Olixar |
Lieferung & Retouren
Liefermöglichkeiten für Deutschland / Österreich:

Warensendung - Versandkosten: 2,99 €
Zustellung ab Versand: in 4-8 Werktagen.
Warensendung mit Sendungsverfolgung - Versandkosten: 10,99 €
Zustellung ab Versand: in 2-4 Werktagen.
DHL Express für Deutschland - Versandkosten: 24,99 €
Zustellung ab Versand: am nächsten Tag (Mo-Fr) bei Bestellung vor 17 Uhr


DHL Express für Österreich - Versandkosten: 26,99 €
Zustellung ab Versand: am nächsten Tag (Mo-Fr) bei Bestellung vor 17 Uhr


HINWEIS: Sie können die Standardzustellung nur mit einem Einkaufskorb unter 60 € auswählen. Ist dies der Fall, müssen Sie eine nachverfolgbare Zustellungsmethode auswählen.
Wenn Ihr Warenkorb über 120 € liegt, müssen Sie aus Sicherheitsgründen DHL Express wählen.
Wenn Ihre Bestellung weniger als 150 € ohne Versandkosten beträgt, ist die Mehrwertsteuer bereits in dem Preis enthalten. Dies bedeutet, dass keine zusätzliche Mehrwertsteuer zur Zahlung fällig wird, wenn Ihre Bestellung an Sie geliefert wird. Weitere Informationen finden Sie an der Lieferbedingungen Seite.


Notiz: Die voraussichtlichen Ankunftszeiten werden direkt den Angaben unserer Kuriere entnommen. Dies sind nur Schätzungen, Mobile Fun ist nicht verantwortlich, wenn dies variiert. Alle Produkte werden aus unserem Lager in Großbritannien versendet. Fehlende oder verspätete Artikel: Bitte beachten Sie, dass wir 20 Arbeitstage warten müssen, bevor wir verlorene Artikel zurückverfolgen, ersetzen oder erstatten können. Der Postdienst steht für Bestellungen mit hohem Wert nicht zur Verfügung, es wird die Expressversandmethode angewendet.
Weigerung, Gebühren zu zahlen - Rückgaberecht
Wenn Sie sich weigern, den auf Ihre Sendung erhobenen Einfuhrzoll oder die Mehrwertsteuer zu zahlen, kann dies dazu führen, dass die Sendung an Mobile Fun zurückgesandt wird. In diesem Fall werden alle damit verbundenen Rücknahmegebühren zuzüglich einer Mindestverwaltungsgebühr von £ 5,00 (oder einer entsprechenden Währung zum aktuellen Wechselkurs) auf Ihren endgültigen Rückerstattungsbetrag angerechnet.