Olixar True Wireless Earbuds With Charging Case - Blue
The Olixar True Wireless (TWS) Grey/Blue Earpods with rechargeable case ensures the perfect sound experience, without the need for annoying wires. Answer calls with the inbuilt mic or pick a song & immerse yourself in high-quality music for up to 5 hours!
Frequently bought together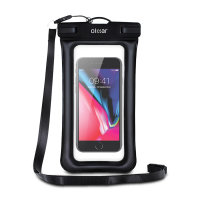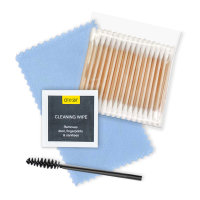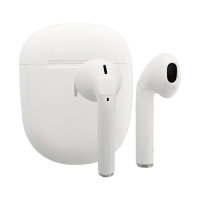 Key Features
5 hour battery life
Charging case charges earbuds in 1 hour
Phenomenal sound quality allows you to block out the world
Hands-free calling through in-built mic
Charging case charges via USB-C cable
Beschreibung

These wireless in-ear headphones - with 5 hour battery life - produce a balanced audio experience with crisp highs, detailed mids and deep bass, which ensures you can listen to your music with no interference. The solidly made headphones have a built-in microphone with high sensitivity for easy use. The earbuds are precisely profiled so that they lie comfortably and do not fall out whether you're on a run in the rain, sat on a train or on a work call!
Wireless design makes them easy to use & store
Be free from any cables or neckbands with the Olixar True earbuds and enjoy unrestricted movement. Whether you're at the office, working from home, working out or taking calls, it's made easy with Olixar. With a 15 metre wireless Bluetooth compatible range, Olixar provides total freedom.

5 hour battery life
These earphones from Olixar have a 5 hour battery life! This means that they can last for a work day, a journey across country and easily any walk or run you may decide to go on! It is super easy to charge them when necessary & they can be charged quickly, meaning you won't have to wait long till you can listen to your favourite song happily again.
Wireless charging case charges earbuds in 1 hour
These earbuds come in a charging case, that allow you to charge your earbuds in only 1 hour! This means if you have spare time between calls or before you go out, you can quickly stick them on charge ready for when your next adventure!
Phenomenal sound quality allows you to block out the world
These headphones offer high-quality audio that allows for the perfect music experience. No crackling or sound interference will occur with these earphones, these are designed to deliver a balanced audio experience through clean treble and deep bass, these in-ear phones ensure you enjoy your music the way it was intended to be heard.

Hands-free calling through in-built mic
Don't have to pick up your phone unnecessarily or hold it up whilst on the go due to the high-quality, in built mic. This allows you to keep your handsfree for what matters, like having a cup of tea or eating a snack!

Wesentliche Details
| | |
| --- | --- |
| Part No | OLX-85522 |
| UPC | 5056208175144 |
| Mobile Fun ID | 85522 |
| Farbe | Blau |
| Brand Name | Olixar |
Lieferung & Retouren
Liefermöglichkeiten für Deutschland / Österreich:

Warensendung - Versandkosten: 2,99 €
Zustellung ab Versand: in 4-8 Werktagen.
Warensendung mit Sendungsverfolgung - Versandkosten: 10,99 €
Zustellung ab Versand: in 2-4 Werktagen.
DHL Express für Deutschland - Versandkosten: 24,99 €
Zustellung ab Versand: am nächsten Tag (Mo-Fr) bei Bestellung vor 17 Uhr


DHL Express für Österreich - Versandkosten: 26,99 €
Zustellung ab Versand: am nächsten Tag (Mo-Fr) bei Bestellung vor 17 Uhr


HINWEIS: Sie können die Standardzustellung nur mit einem Einkaufskorb unter 60 € auswählen. Ist dies der Fall, müssen Sie eine nachverfolgbare Zustellungsmethode auswählen.
Wenn Ihr Warenkorb über 120 € liegt, müssen Sie aus Sicherheitsgründen DHL Express wählen.
Wenn Ihre Bestellung weniger als 150 € ohne Versandkosten beträgt, ist die Mehrwertsteuer bereits in dem Preis enthalten. Dies bedeutet, dass keine zusätzliche Mehrwertsteuer zur Zahlung fällig wird, wenn Ihre Bestellung an Sie geliefert wird. Weitere Informationen finden Sie an der Lieferbedingungen Seite.


Notiz: Die voraussichtlichen Ankunftszeiten werden direkt den Angaben unserer Kuriere entnommen. Dies sind nur Schätzungen, Mobile Fun ist nicht verantwortlich, wenn dies variiert. Alle Produkte werden aus unserem Lager in Großbritannien versendet. Fehlende oder verspätete Artikel: Bitte beachten Sie, dass wir 20 Arbeitstage warten müssen, bevor wir verlorene Artikel zurückverfolgen, ersetzen oder erstatten können. Der Postdienst steht für Bestellungen mit hohem Wert nicht zur Verfügung, es wird die Expressversandmethode angewendet.
Weigerung, Gebühren zu zahlen - Rückgaberecht
Wenn Sie sich weigern, den auf Ihre Sendung erhobenen Einfuhrzoll oder die Mehrwertsteuer zu zahlen, kann dies dazu führen, dass die Sendung an Mobile Fun zurückgesandt wird. In diesem Fall werden alle damit verbundenen Rücknahmegebühren zuzüglich einer Mindestverwaltungsgebühr von £ 5,00 (oder einer entsprechenden Währung zum aktuellen Wechselkurs) auf Ihren endgültigen Rückerstattungsbetrag angerechnet.