Olixar Ultra Slim and Compact QWERTY Wireless Keyboard
The Olixar QWERTY Wireless Keyboard is essential for your home, office, or study. The slim, lightweight, and compact design allows you to carry the keyboard with ease. Compatible across iOS, Android, and Microsoft devices, this is a must-have accessory.
Key Features
Slim and compact design
Wireless Bluetooth connectivity
QWERTY keyboard
Keyboard shortcuts for all operating systems
Idle mode function
Built-in keyboard riser
Widely compatible
Beschreibung


With Olixar you can work on a minimalist keyboard that places every key, command, and shortcut at your fingertips. The minimalist form factor aligns your shoulders and allows you to place your mouse closer to your keyboard for less hand reaching – for better posture and improved overall ergonomics.
Slim and compact design
The Olixar QWERTY Keyboard features a slim, lightweight design making it easy to take with you where you need it. Ideal for use at home, at work, or on the go, the keyboard can neatly fit in your bag and is light enough to carry anywhere.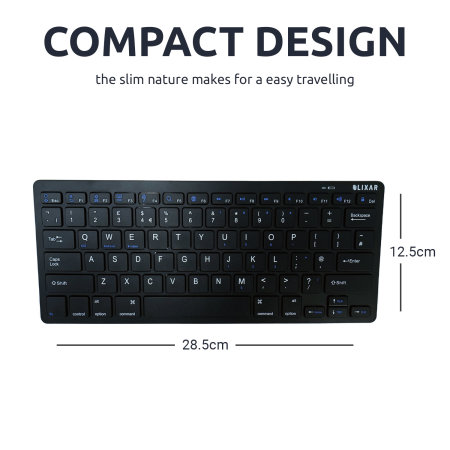 Wireless Bluetooth connectivity
The Olixar QWERTY Keyboard was designed with ease of use in mind, it connects via Bluetooth to any device with an external keyboard support, so you can work seamlessly with Windows®, macOS, iPadOS, Chrome OS™, Android™, and iOS.
QWERTY keyboard
You can turn your device into a fully functioning laptop with a premium and comfortable QWERTY keyboard, essential for writing essays, work reports, or blogging.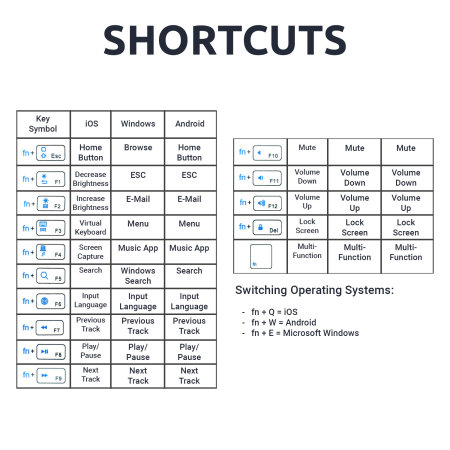 Keyboard shortcuts for all operating systems
Keyboard shortcuts allow you to type efficiently and enhance your productivity levels no matter the operating system. The keyboard allows you to switch between multiple operating systems in order to use their unique multimedia keys. The Olixar keyboard can increase and decrease your Mac's brightness, screen capture, or easily access the search function on your macOS, access the escape function, your e-mail, or lock your screen on Windows and search or play and pause music on your android device. Please note, this is not an exhaustive list of shortcuts, a full list can be found above.
Idle mode function
The Olixar QWERTY keyboard has a built-in idle mode function, meaning it will switch off to idle mode automatically if it's not used for more than 15 minutes, saving on battery life. Pressing any key will re-activate the keyboard and it will be ready for use again.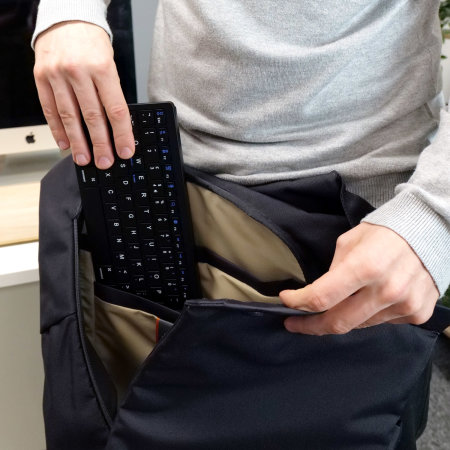 Perfect for working on the go and studying
Whether in a meeting, at school or university or just working whilst on the go, this keyboard will be useful for every situation! The extra-small footprint lets you place your mouse closer for less arm reaching, more comfort, and better body posture. Scooped, low-profile keys love the shape of your fingertips, offering a fluid, quiet, familiar laptop-like typing experience. Plus, it fits in your bag.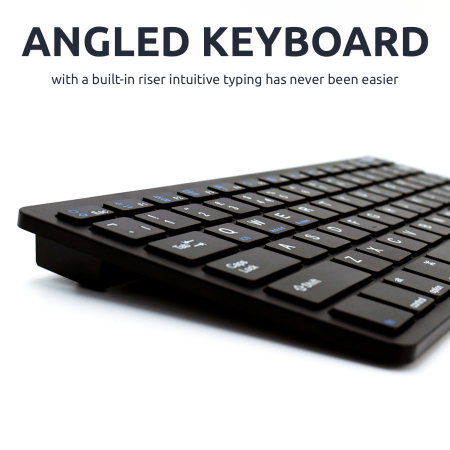 Built-in keyboard riser
The Olixar keyboard has a raised back in order to ensure that you benefit from an intuitive typing position and you can see all the keys on the keyboard, making working a more relaxed and easy activity.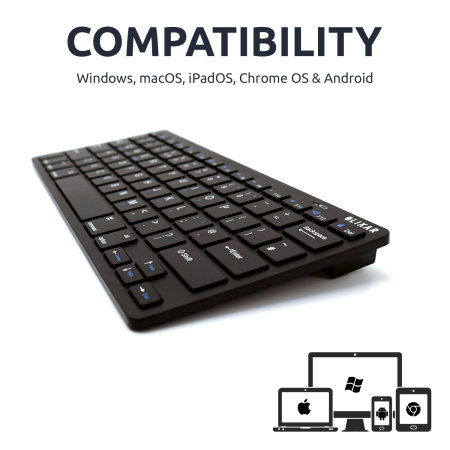 Widely Compatible
The Olixar QWERTY Keyboard is suitable and compatible across Windows®, macOS, iPadOS, Chrome OS™, Android™, and iOS operating systems. One keyboard across all of your devices.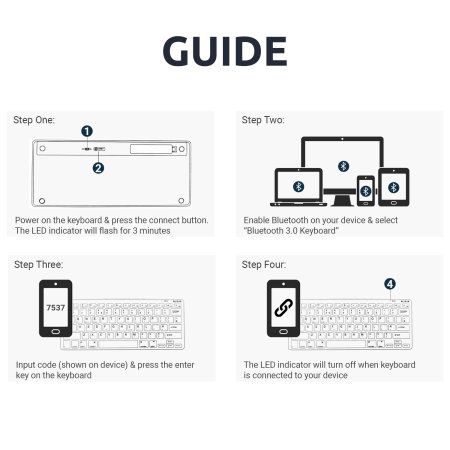 Specification:
Layout: QWERTY
Connection: Bluetooth V3.0
On/Off slide switch
Idle mode
Multimedia keys for: macOS, Windows and Android operating systems.
L&W: 28.5 cm x 12.5 cm
Weight: 276 grams (300 grams with batteries )
Please note that the Olixar Keyboard is 2 x AAA battery-powered. These are not included.
Was befindet sich in der Box?
1 x Olixar Black QWERTY Wireless Keyboard
Wesentliche Details
| | |
| --- | --- |
| Part No | OLX-89198 |
| UPC | 5056610800498 |
| Mobile Fun ID | 89198 |
| Farbe | Schwarz |
| Brand Name | Olixar |
Videos
Lieferung & Retouren
Liefermöglichkeiten für Deutschland / Österreich:

Warensendung - Versandkosten: 2,99 €
Zustellung ab Versand: in 4-8 Werktagen.
Warensendung mit Sendungsverfolgung - Versandkosten: 10,99 €
Zustellung ab Versand: in 2-4 Werktagen.
DHL Express für Deutschland - Versandkosten: 24,99 €
Zustellung ab Versand: am nächsten Tag (Mo-Fr) bei Bestellung vor 17 Uhr


DHL Express für Österreich - Versandkosten: 26,99 €
Zustellung ab Versand: am nächsten Tag (Mo-Fr) bei Bestellung vor 17 Uhr


HINWEIS: Sie können die Standardzustellung nur mit einem Einkaufskorb unter 60 € auswählen. Ist dies der Fall, müssen Sie eine nachverfolgbare Zustellungsmethode auswählen.
Wenn Ihr Warenkorb über 120 € liegt, müssen Sie aus Sicherheitsgründen DHL Express wählen.
Wenn Ihre Bestellung weniger als 150 € ohne Versandkosten beträgt, ist die Mehrwertsteuer bereits in dem Preis enthalten. Dies bedeutet, dass keine zusätzliche Mehrwertsteuer zur Zahlung fällig wird, wenn Ihre Bestellung an Sie geliefert wird. Weitere Informationen finden Sie an der Lieferbedingungen Seite.
Weigerung, Gebühren zu zahlen - Rückgaberecht
Wenn Sie sich weigern, den auf Ihre Sendung erhobenen Einfuhrzoll oder die Mehrwertsteuer zu zahlen, kann dies dazu führen, dass die Sendung an Mobile Fun zurückgesandt wird. In diesem Fall werden alle damit verbundenen Rücknahmegebühren zuzüglich einer Mindestverwaltungsgebühr von £ 5,00 (oder einer entsprechenden Währung zum aktuellen Wechselkurs) auf Ihren endgültigen Rückerstattungsbetrag angerechnet.