Pama Plug N Go 820 FM Transmitter With Holder And USB - Black
The Pama Plug N Go 820 FM Transmitter will not only allow you to listen to your own music in your car but with a built-in phone holder, your phone will be secure, leaving you truly hands-free. Check google maps whilst listening to your favourite music!
Key Features
Play music through your car speakers from your phone
Crisp sound quality
Charge your phone with USB-A port
350 degree rotation, Flexible arm phone holder
Beschreibung
Send music, podcasts and audiobooks through your car speakers
With the Pama Plug N Go 820 FM Transmitter, you're no longer at the mercy of the radio DJ, nor do you need to carry a huge bulky bag of CDs around with you. Simply connect the FM Transmitter to your Android smartphone, iPhone or other compatible smart devices via Bluetooth, select an FM frequency with the clearest signal and tune your car radio to that same frequency. Within seconds, you'll be listening to your favourite tunes or podcasts through your clear, booming car speakers.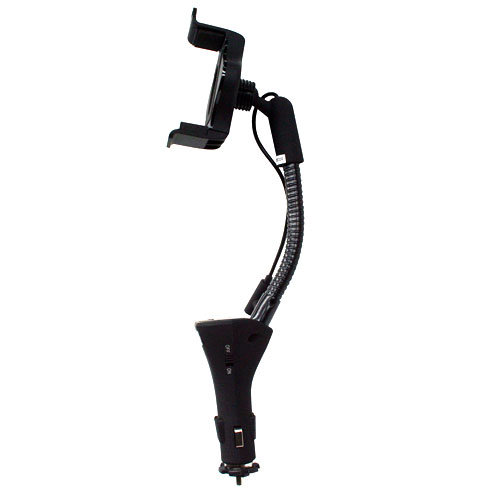 Clear and crisp sound
Using wireless Bluetooth to connect your phone to the Forever FM Transmitter, and then a free FM frequency to send the signal to your car radio - you can be sure of a crisp and clear sound that will greatly improve your music listening experience in the car when using your phone.
Charge your device while you drive
Lost in the wild and need to use battery-intensive GPS? The Pama Plug N Go 820 FM Transmitter also features a powerful universal USB-A port, so you can keep your phone alive while you find your way around. This charger is even mighty enough to power a tablet!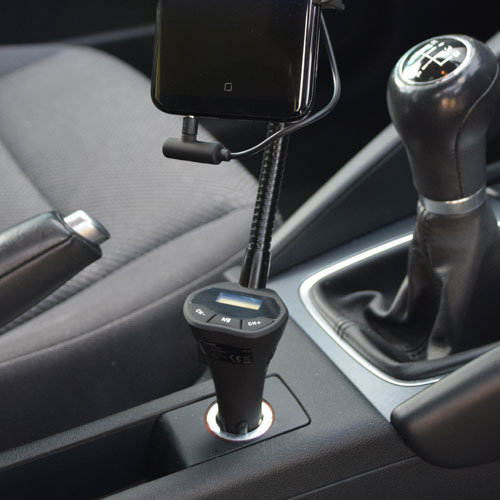 Easily visible display
The display on the Pama Plug N Go 820 FM Transmitter is clean, concise and easily visible from any angle, so you'll never need to worry about not being able to see the details you need. The interface is easy to view and configure, too, so anyone can make use of this convenient FM transmitter and charger.
Phone Holder
No more messing around finding a phone holder and a separate FM transmitter - the Pama Plug N Go 820 does both! The Pama Plug N Go 820 is not only an FM transmitter but also a phone holder also - 2 products in 1! Perfect if you need to save some space in your car.
Easy to use
No fuss no faff the Pama Plug N Go 820 FM Transmitter is easy to set up! Simply plug the bottom of the device into your in-car cigarette lighter compartment and you're ready to go!

Features and specifications:
Frequency Range: 88.1MHz-107.9MHz
LED display shows the current frequency
360° Rotation
Flexible arm Fits Devices between 58 - 85 mm
Restores last frequency and volume used
Handsfree calls through the car audio system
Automatically switches off when no audio is detected
DV5V 3.1A USB car charger

Wesentliche Details
| | |
| --- | --- |
| Part No | PNG820 |
| UPC | 5030745579634 |
| Mobile Fun ID | 89469 |
| Farbe | Schwarz |
| Brand Name | Pama |
Lieferung & Retouren
Liefermöglichkeiten für Deutschland / Österreich:

Warensendung - Versandkosten: 2,99 €
Zustellung ab Versand: in 4-8 Werktagen.
Warensendung mit Sendungsverfolgung - Versandkosten: 10,99 €
Zustellung ab Versand: in 2-4 Werktagen.
DHL Express für Deutschland - Versandkosten: 24,99 €
Zustellung ab Versand: am nächsten Tag (Mo-Fr) bei Bestellung vor 17 Uhr


DHL Express für Österreich - Versandkosten: 26,99 €
Zustellung ab Versand: am nächsten Tag (Mo-Fr) bei Bestellung vor 17 Uhr


HINWEIS: Sie können die Standardzustellung nur mit einem Einkaufskorb unter 60 € auswählen. Ist dies der Fall, müssen Sie eine nachverfolgbare Zustellungsmethode auswählen.
Wenn Ihr Warenkorb über 120 € liegt, müssen Sie aus Sicherheitsgründen DHL Express wählen.
Wenn Ihre Bestellung weniger als 150 € ohne Versandkosten beträgt, ist die Mehrwertsteuer bereits in dem Preis enthalten. Dies bedeutet, dass keine zusätzliche Mehrwertsteuer zur Zahlung fällig wird, wenn Ihre Bestellung an Sie geliefert wird. Weitere Informationen finden Sie an der Lieferbedingungen Seite.
Weigerung, Gebühren zu zahlen - Rückgaberecht
Wenn Sie sich weigern, den auf Ihre Sendung erhobenen Einfuhrzoll oder die Mehrwertsteuer zu zahlen, kann dies dazu führen, dass die Sendung an Mobile Fun zurückgesandt wird. In diesem Fall werden alle damit verbundenen Rücknahmegebühren zuzüglich einer Mindestverwaltungsgebühr von £ 5,00 (oder einer entsprechenden Währung zum aktuellen Wechselkurs) auf Ihren endgültigen Rückerstattungsbetrag angerechnet.