PopSocket Universal 2-in-1 Stand & Grip - Black
Super-sleek, compact & convenient, this black expanding stick-on accessory for all smartphones props up your device so you don't have to. Simply stick the PopSocket to the back of your phone, pull outward & watch your favourite shows at the perfect angle
Frequently bought together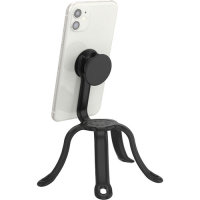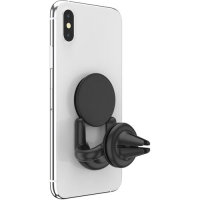 Key Features
2 essential accessories in 1 innovative, unique and super-functional package
Ingenious expanding and contracting design
Stand function for viewing media
Provides extra grip
Adds virtually no extra bulk
Compatible with many cases
Beschreibung
Once you've tried a PopSocket, you'll wonder why you never bothered with one before due to the extra added ease they add to your day. This sleek, black PopSocket not only props up your device, providing the perfect viewing angle for your shows but it also acts as another way to grip onto your phone, rather than having to stretch your hand across the whole device.
2 essential accessories in 1 innovative, unique and super-functional package
With PopSockets, you no longer need to choose between a desk stand and a grip for your device. PopSockets' grippy adhesive, robust construction and pop-and-collapse mechanism ensure that you'll always have an easy way to view media, check recipes, video call friends and more, as well as a handy way to take the pressure off your hands while you're holding your phone.
Ingenious expanding and contracting design
There really is nothing like PopSockets. All you have to do to take advantage of this wonderful item is attach it to the back of your phone, then pull outwards. Hey presto - your very own stand and grip. When you're done using PopSockets, simply press inwards and your mount contracts to maximise storage space and minimise bulk.
Stand function for viewing media
Working similar to many phone cases with a kickstand function - but entirely more versatile - PopSockets can be used in landscape or portrait orientation as a media viewing stand, perfect for those extended streaming service marathons. This is also ideal for keeping recipes close to hand while cooking, for example, or simply for keeping your device stable while typing.
Provides extra grip
PopSockets can also be used as a grip, taking the pressure off your hands while texting or talking. Now you don't need to worry about dropping your device while you're in the middle of an important conversation - the super-strong adhesive will keep your phone safe no matter what.
Adds virtually no extra bulk
Despite all this functionality, PopSockets barely take up any space on your device. Thanks to the contracting design, too, you can simply "fold away" your grip, ready to be expanded for next time you need it.
Compatible with many cases
The washable adhesive which PopSockets use is compatible with the majority of cases (some waterproof cases or silicone cases may not be compatible). Leave your protective case on your device and still enjoy all the benefits brought by PopSockets.
Wesentliche Details
| | |
| --- | --- |
| Part No | 800470 |
| UPC | 0842978135083 |
| Mobile Fun ID | 84627 |
| Farbe | Schwarz |
| Brand Name | PopSockets |
Lieferung & Retouren
Liefermöglichkeiten für Deutschland / Österreich:

Warensendung - Versandkosten: 2,99 €
Zustellung ab Versand: in 4-8 Werktagen.
Warensendung mit Sendungsverfolgung - Versandkosten: 10,99 €
Zustellung ab Versand: in 2-4 Werktagen.
DHL Express für Deutschland - Versandkosten: 24,99 €
Zustellung ab Versand: am nächsten Tag (Mo-Fr) bei Bestellung vor 17 Uhr


DHL Express für Österreich - Versandkosten: 26,99 €
Zustellung ab Versand: am nächsten Tag (Mo-Fr) bei Bestellung vor 17 Uhr


HINWEIS: Sie können die Standardzustellung nur mit einem Einkaufskorb unter 60 € auswählen. Ist dies der Fall, müssen Sie eine nachverfolgbare Zustellungsmethode auswählen.
Wenn Ihr Warenkorb über 120 € liegt, müssen Sie aus Sicherheitsgründen DHL Express wählen.
Wenn Ihre Bestellung weniger als 150 € ohne Versandkosten beträgt, ist die Mehrwertsteuer bereits in dem Preis enthalten. Dies bedeutet, dass keine zusätzliche Mehrwertsteuer zur Zahlung fällig wird, wenn Ihre Bestellung an Sie geliefert wird. Weitere Informationen finden Sie an der Lieferbedingungen Seite.


Notiz: Die voraussichtlichen Ankunftszeiten werden direkt den Angaben unserer Kuriere entnommen. Dies sind nur Schätzungen, Mobile Fun ist nicht verantwortlich, wenn dies variiert. Alle Produkte werden aus unserem Lager in Großbritannien versendet. Fehlende oder verspätete Artikel: Bitte beachten Sie, dass wir 20 Arbeitstage warten müssen, bevor wir verlorene Artikel zurückverfolgen, ersetzen oder erstatten können. Der Postdienst steht für Bestellungen mit hohem Wert nicht zur Verfügung, es wird die Expressversandmethode angewendet.
Weigerung, Gebühren zu zahlen - Rückgaberecht
Wenn Sie sich weigern, den auf Ihre Sendung erhobenen Einfuhrzoll oder die Mehrwertsteuer zu zahlen, kann dies dazu führen, dass die Sendung an Mobile Fun zurückgesandt wird. In diesem Fall werden alle damit verbundenen Rücknahmegebühren zuzüglich einer Mindestverwaltungsgebühr von £ 5,00 (oder einer entsprechenden Währung zum aktuellen Wechselkurs) auf Ihren endgültigen Rückerstattungsbetrag angerechnet.