Turtle Beach Stealth 600P Gen2 Wireless Gaming Headset - White
These White Stealth 600 Gen2 Gaming Headsets from Turtle Beach with breathable, ear cushions will provide you with the ultimate, SuperHuman audio advantage. Featuring a phenomenal 15 hour battery life, wirelessly connect to any console or device!
Key Features
Top selling wireless gaming headset
15 hour battery life
Wireless technology
Powerful, amplified audio
Easy access to audio presets
Omnidirectional flip-up mic for super-clear game chat
Windows sonic
Wide range of compatibility inc PS5 & Xbox Series X & Z
Beschreibung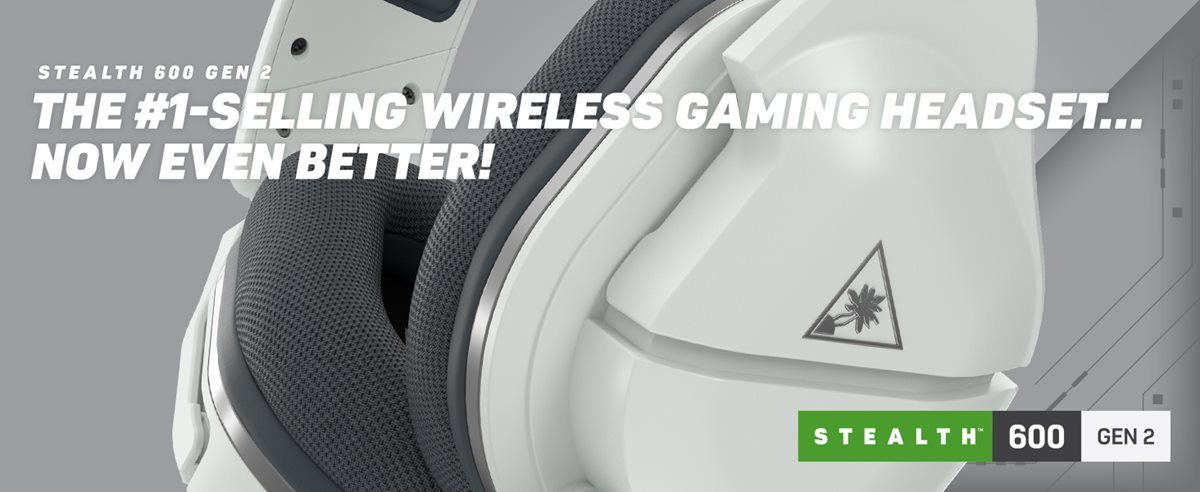 The Turtle Beach® Stealth™ 600 Gen 2 is the successor to the best-selling Stealth™ 600 wireless gaming headset. It wirelessly connects to your console or device, allowing you to listen to crisp audio for 15 uninterrupted hours.
Top selling wireless gaming headset
Turtle Beach are the number 1 gaming headset brand. They offer everything you need for gaming, working and every day music listening, including ultimate comfort, audio experience and battery life.
Not only are Turtle Beach headsets known for being the highest quality headsets on the market for the price, these Stealth 600p Gen 2 headsets are currently the best selling headset around. Turtle Beach have added even more features to this headset, like the moveable mic and prospecs technology which allows for gaming friendly comfort over long gaming sessions.
15 hour battery life
Turtle Beach have created a headset that, once charged, lasts for a phenomenal 15 hours long. This means they can last for nearly 1 whole day, or up to 2 working days without needing a charge; therefore if you're on a gaming night, you won't have to worry about your headphones dying on an important part! Also, if the charge gets low, they rapidly charge back up - this means if you go on a coffee break, you can simply plug them in and when you come back, they will have charged significantly, allowing you to use them for even longer!
Wireless technology
Rather than having wires that get in the way, these headphones are completely wireless! They use Bluetooth technology to connect to your device; allowing you to simply place them on your ears and forget they are there, immersing yourself in your audio experience - whether that be gaming, work or just listening to your favourite song!
Powerful, amplified 'SuperHuman hearing' audio
A unique feature of Turtle Beach is that they have 'superhuman hearing'. This is driven through precision-tuned 50mm speakers creating a deeply immersive, undistorted audio experience.
The Windows Sonic feature helps add even further to the audio experience. It provides immersive virtual surround sound and precise, distortion-free 3D audio to bring your games, movies and music to life.
Easy access to audio presets
The headset features 4, signature audio presets including bass boost, signtature sound, terble boost and vocal boost. With Stealth 600p Gen 2, you can find the perfect sound for you.
Omnidirectional flip-up mic for super-clear game chat
The renewed larger, high-sensitivity mic picks up your voice clearly, so your teammates will hear all your commands. Thanks to Mic Monitoring, you can hear your own voice while speaking so you're aware of your own voice volume and you don't have to shout. This will allow you to play into the night, without having to worry you're being too loud and keeping others up!
Once you're done speaking, you can simply flip the mic upwards to mute it! This is a really useful feature as it means if someone comes in to speak to you, or you just want to rant without others hearing, you easily can! Keep what you want to keep private, private with Turtle Beach.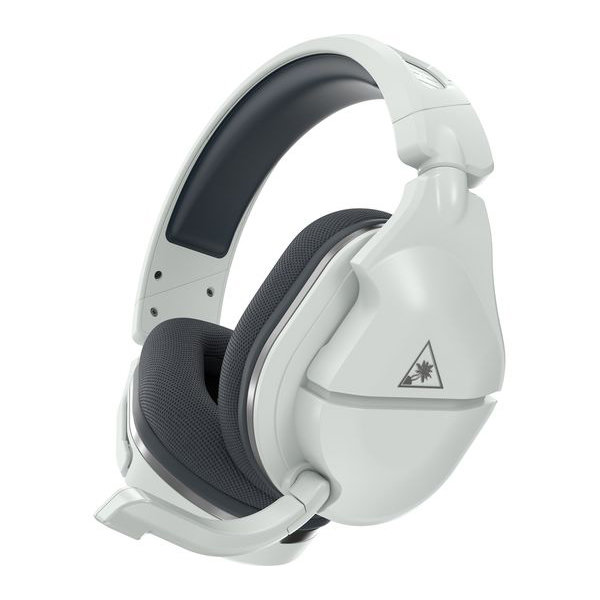 Ultimate comfort
Turtle Beach is made with comfort in mind. The new Gen2 headset has a completely new shape, making them even more comfortable and a better fit onto your ears for gaming comfort. The breathable ear cushions, will stop your ears getting uncomfortably hot when wearing them over time.
As well as high-quality, padded cushions, Turtle Beach have introduced ProSpecs technology. One of the main issues as a glasses wearer is that headsets can press down your glasses, making it uncomfortable, with ProSpecs technology, this is no longer an issue.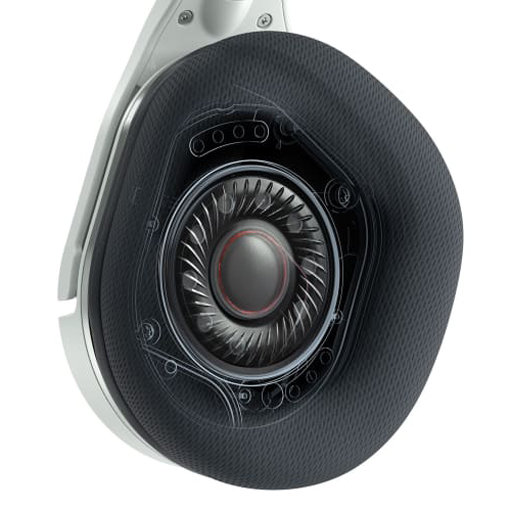 Wide range of compatibility
Turtle Beach allow you to make the headsets work best for you, no matter the situation. As long as the device you're connecting to has Bluetooth capability, these headsets will work perfectly. Whether you prefer PlayStation, Xbox or even mobile gaming, these headsets will work perfectly with any Bluetooth compatible device! Enjoy the simplicity and superiority of a direct connection from your headset to your console with this Stealth 600p Gen 2 headset– no wires, no base station, and no adapter needed.
If you decide to use the headsets to listen to music or game through your phone, you can simply connect via Bluetooth. Once connected, there is a high-quality app in which you can adjust everything you need - including volume, equalisers and mic sensitivity - to provide the highest quality listening and gaming experience.
You could even use these headsets for work! With these high-quality headsets, you'll never have to ask a colleague to repeat themselves again, nor will they have to ask you to repeat yourself - as the microphone will pick up all noise!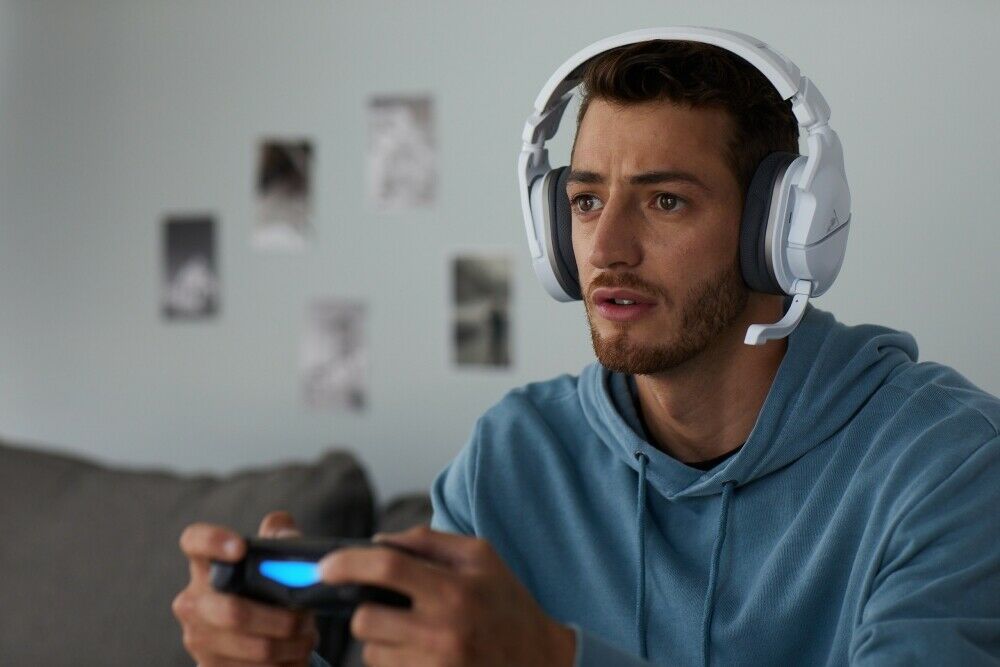 Was befindet sich in der Box?
Turtle Beach® Stealth™ 600 GEN 2 Gaming Headset
USB-C Charging Cable
Quick Start Guide
Turtle Beach Sticker
Wesentliche Details
| | |
| --- | --- |
| Part No | TBS-3145-02 |
| UPC | 0731855031450 |
| Mobile Fun ID | 84765 |
| Farbe | Weiss |
| Brand Name | Turtle Beach |
Videos
Lieferung & Retouren
Liefermöglichkeiten für Deutschland / Österreich:

Warensendung - Versandkosten: 2,99 €
Zustellung ab Versand: in 4-8 Werktagen.
Warensendung mit Sendungsverfolgung - Versandkosten: 10,99 €
Zustellung ab Versand: in 2-4 Werktagen.
DHL Express für Deutschland - Versandkosten: 24,99 €
Zustellung ab Versand: am nächsten Tag (Mo-Fr) bei Bestellung vor 17 Uhr


DHL Express für Österreich - Versandkosten: 26,99 €
Zustellung ab Versand: am nächsten Tag (Mo-Fr) bei Bestellung vor 17 Uhr


HINWEIS: Sie können die Standardzustellung nur mit einem Einkaufskorb unter 60 € auswählen. Ist dies der Fall, müssen Sie eine nachverfolgbare Zustellungsmethode auswählen.
Wenn Ihr Warenkorb über 120 € liegt, müssen Sie aus Sicherheitsgründen DHL Express wählen.
Wenn Ihre Bestellung weniger als 150 € ohne Versandkosten beträgt, ist die Mehrwertsteuer bereits in dem Preis enthalten. Dies bedeutet, dass keine zusätzliche Mehrwertsteuer zur Zahlung fällig wird, wenn Ihre Bestellung an Sie geliefert wird. Weitere Informationen finden Sie an der Lieferbedingungen Seite.


Notiz: Die voraussichtlichen Ankunftszeiten werden direkt den Angaben unserer Kuriere entnommen. Dies sind nur Schätzungen, Mobile Fun ist nicht verantwortlich, wenn dies variiert. Alle Produkte werden aus unserem Lager in Großbritannien versendet. Fehlende oder verspätete Artikel: Bitte beachten Sie, dass wir 20 Arbeitstage warten müssen, bevor wir verlorene Artikel zurückverfolgen, ersetzen oder erstatten können. Der Postdienst steht für Bestellungen mit hohem Wert nicht zur Verfügung, es wird die Expressversandmethode angewendet.
Weigerung, Gebühren zu zahlen - Rückgaberecht
Wenn Sie sich weigern, den auf Ihre Sendung erhobenen Einfuhrzoll oder die Mehrwertsteuer zu zahlen, kann dies dazu führen, dass die Sendung an Mobile Fun zurückgesandt wird. In diesem Fall werden alle damit verbundenen Rücknahmegebühren zuzüglich einer Mindestverwaltungsgebühr von £ 5,00 (oder einer entsprechenden Währung zum aktuellen Wechselkurs) auf Ihren endgültigen Rückerstattungsbetrag angerechnet.