XO USB-C Wired Earphones with Microphone - White
This pair of XO USB-C earphones in white is a must-have for any music lover. Ideal for use with your smartphone, laptop or tablet, this noise-reduction headset allows you to listen to your music in superb clarity, as well as handle calls hands-free.
Key Features
USB-C connection
Ergonomic design: improved comfort and performance
Active noise reduction technology
High-performance sound delivery in each ear
Integrated in-line controls for music & call control
Beschreibung

USB-C connection
With more and more devices ditching the traditional 3.5mm headphone jacks, a pair of USB-C earphones are a must-have! The XO white earphones come with a built-in USB-C connector, making it a breeze to seamlessly plug the headphones into your compatible devices.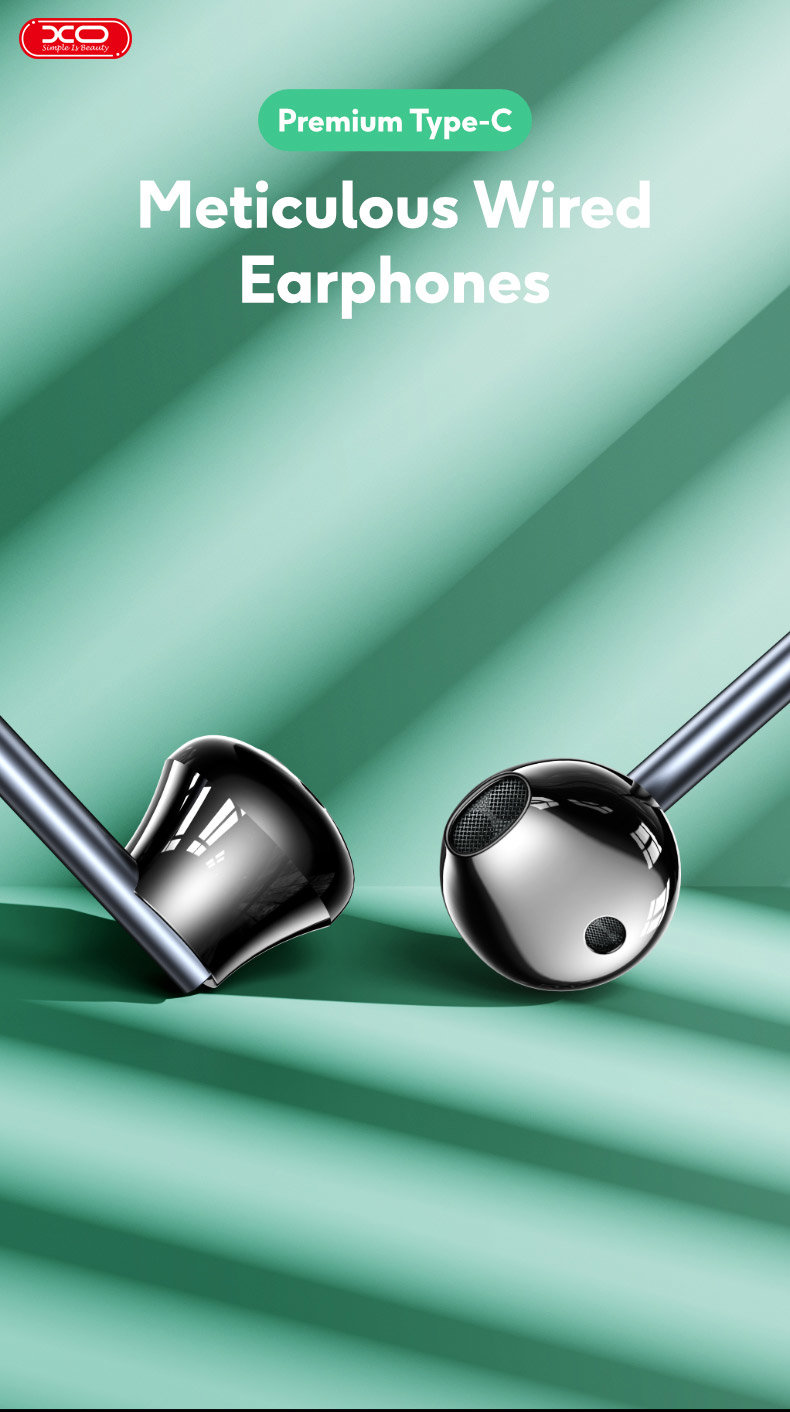 Ergonomic design: improved comfort and performance
This XO USB-C headset has been designed with comfort and quality in mind. The earphones are ergonomically designed so that they provide superior comfort whilst directing the sound straight into your ear so you get the highest possible sound quality with minimum sound loss.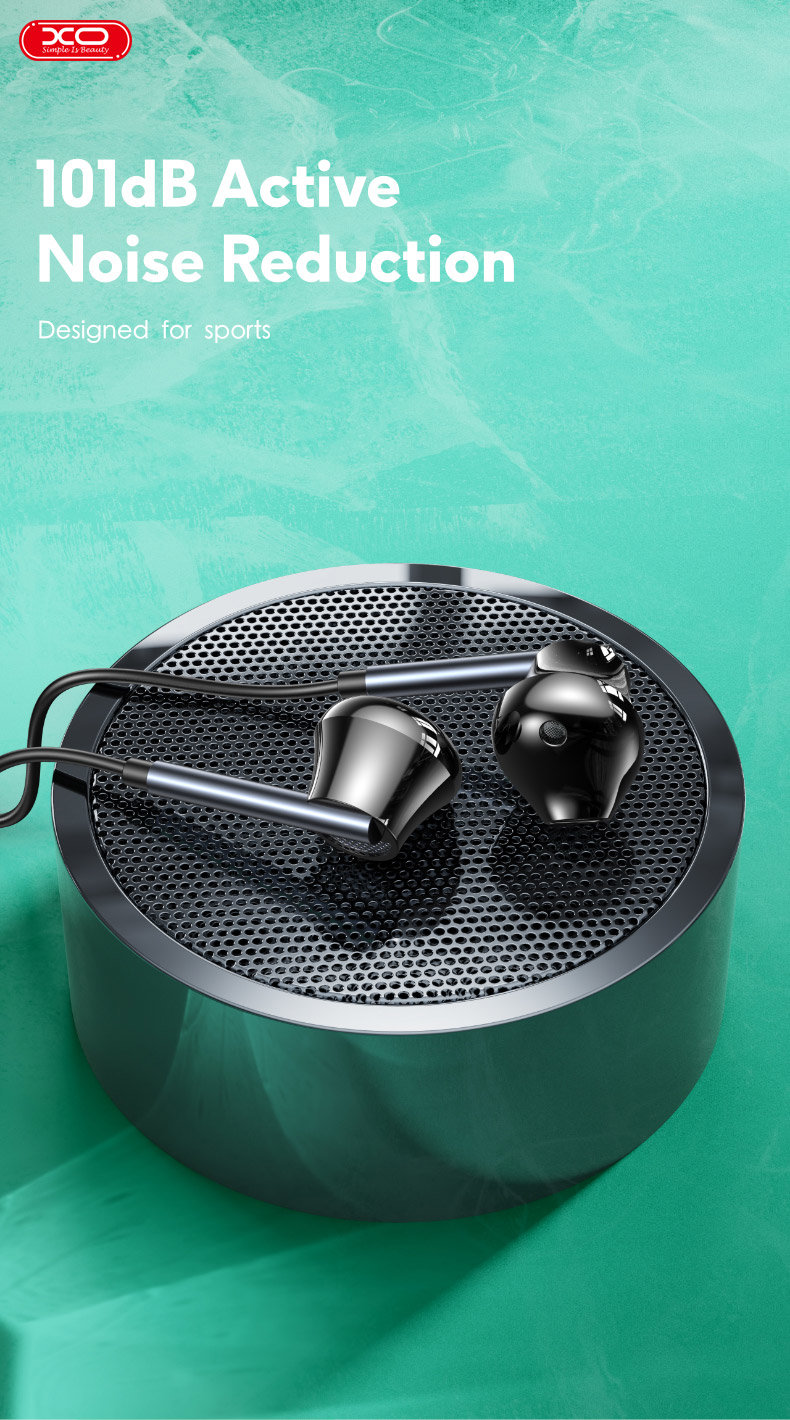 Active noise reduction technology
The XO earphones come equipped with 101dB active noise reduction, meaning that the earphones use microphones to reduce background and surrounding noises, making your music listening experience even more pleasurable. Due to their ANC capabilities, these earphones are also an ideal workout accessory.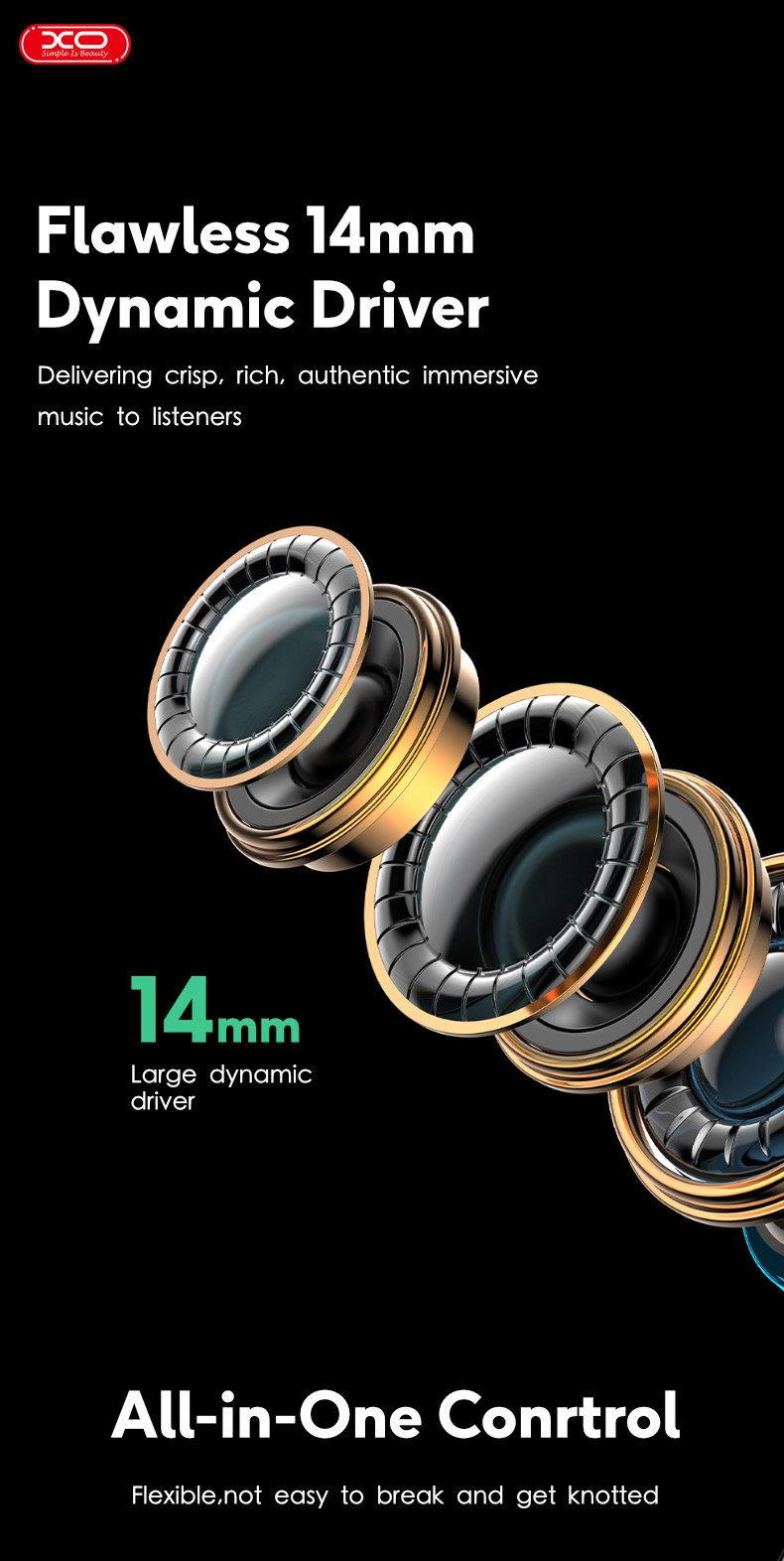 High-performance sound delivery in each ear
This official pair of headphones delivers balanced sound with a full frequency range due to their large 14mm dynamic drivers. The two earphones output sound with dynamic, deep bass and high-resolution treble, ensuring that you listen to your favourite tunes in Hi-Fi quality.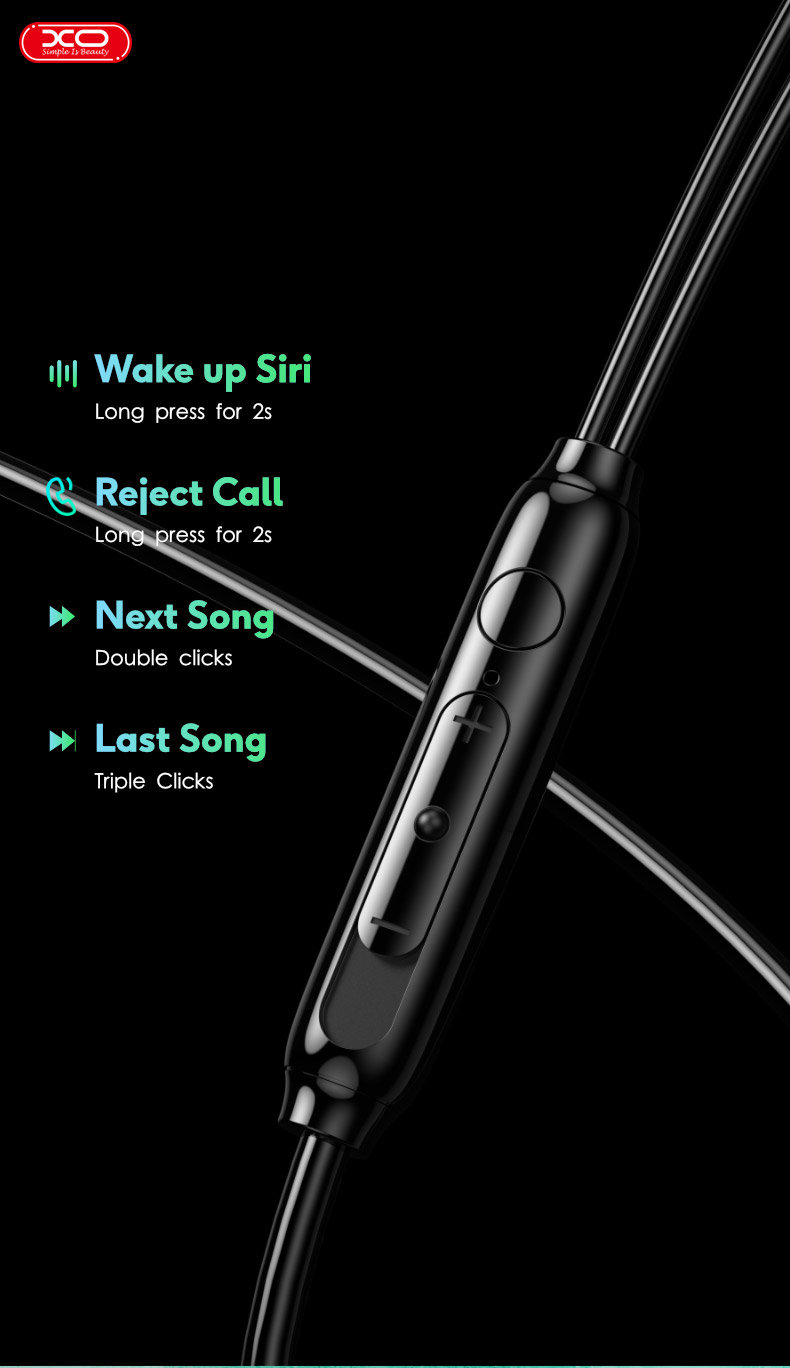 Integrated in-line controls for music & call control
Located on the cable are extremely easy-to-use multi-function controls, that allow you to control your music without having to touch your phone. A simple press of the multi-function controls enables you to change your device's volume, play/pause and skip the tracks of your music. You can even handle phone calls hands-free, making for the perfect way to talk when driving, exercising or just around the house when you need your hands free.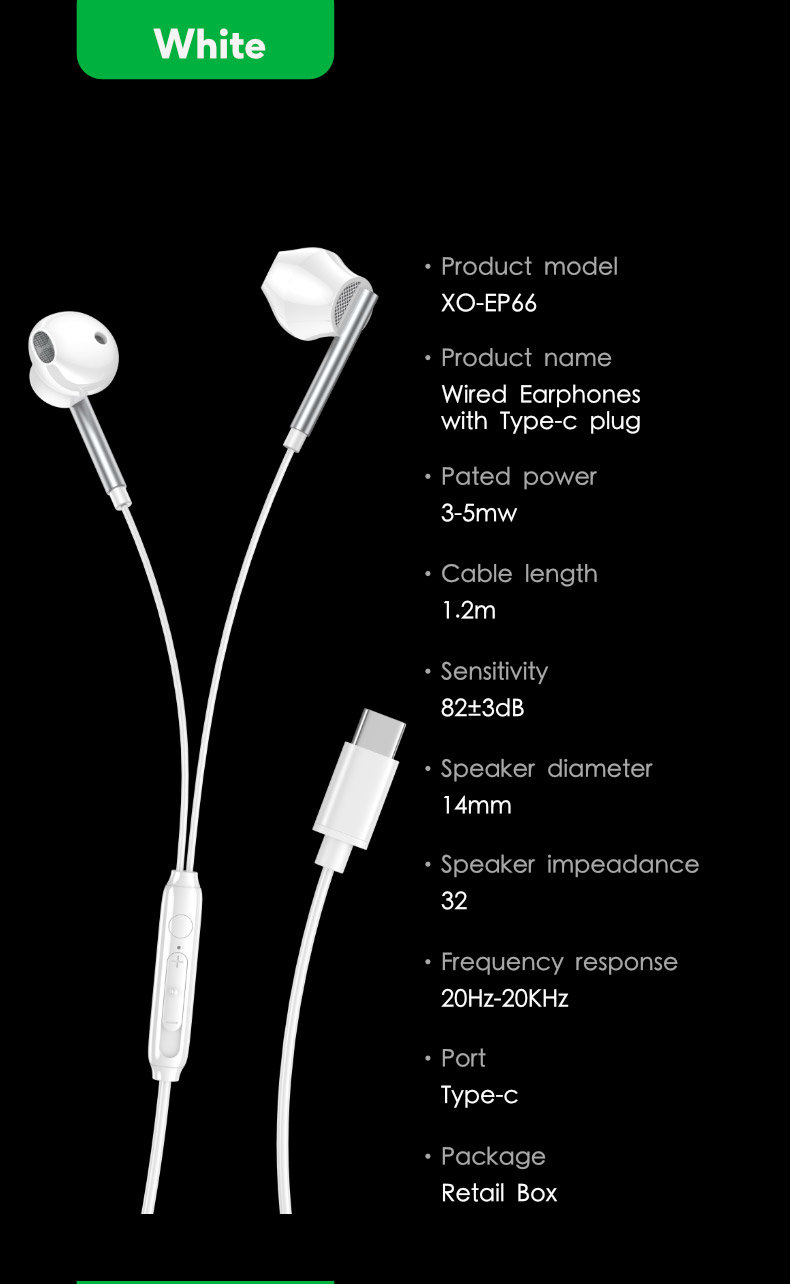 Please Note - these headphones only function with USB-C enabled devices, if you need to use them with a traditional 3.5mm Jack an adapter will be needed.
Wesentliche Details
| | |
| --- | --- |
| Part No | EP66 |
| UPC | 6920680834488 |
| Mobile Fun ID | 96700 |
| Farbe | Weiss |
| Brand Name | XO |
Lieferung & Retouren
Liefermöglichkeiten für Deutschland / Österreich:

Warensendung - Versandkosten: 2,99 €
Zustellung ab Versand: in 4-8 Werktagen.
Warensendung mit Sendungsverfolgung - Versandkosten: 10,99 €
Zustellung ab Versand: in 2-4 Werktagen.
DHL Express für Deutschland - Versandkosten: 24,99 €
Zustellung ab Versand: am nächsten Tag (Mo-Fr) bei Bestellung vor 17 Uhr


DHL Express für Österreich - Versandkosten: 26,99 €
Zustellung ab Versand: am nächsten Tag (Mo-Fr) bei Bestellung vor 17 Uhr


HINWEIS: Sie können die Standardzustellung nur mit einem Einkaufskorb unter 60 € auswählen. Ist dies der Fall, müssen Sie eine nachverfolgbare Zustellungsmethode auswählen.
Wenn Ihr Warenkorb über 120 € liegt, müssen Sie aus Sicherheitsgründen DHL Express wählen.
Wenn Ihre Bestellung weniger als 150 € ohne Versandkosten beträgt, ist die Mehrwertsteuer bereits in dem Preis enthalten. Dies bedeutet, dass keine zusätzliche Mehrwertsteuer zur Zahlung fällig wird, wenn Ihre Bestellung an Sie geliefert wird. Weitere Informationen finden Sie an der Lieferbedingungen Seite.


Notiz: Die voraussichtlichen Ankunftszeiten werden direkt den Angaben unserer Kuriere entnommen. Dies sind nur Schätzungen, Mobile Fun ist nicht verantwortlich, wenn dies variiert. Alle Produkte werden aus unserem Lager in Großbritannien versendet. Fehlende oder verspätete Artikel: Bitte beachten Sie, dass wir 20 Arbeitstage warten müssen, bevor wir verlorene Artikel zurückverfolgen, ersetzen oder erstatten können. Der Postdienst steht für Bestellungen mit hohem Wert nicht zur Verfügung, es wird die Expressversandmethode angewendet.
Weigerung, Gebühren zu zahlen - Rückgaberecht
Wenn Sie sich weigern, den auf Ihre Sendung erhobenen Einfuhrzoll oder die Mehrwertsteuer zu zahlen, kann dies dazu führen, dass die Sendung an Mobile Fun zurückgesandt wird. In diesem Fall werden alle damit verbundenen Rücknahmegebühren zuzüglich einer Mindestverwaltungsgebühr von £ 5,00 (oder einer entsprechenden Währung zum aktuellen Wechselkurs) auf Ihren endgültigen Rückerstattungsbetrag angerechnet.